Oil and gas company Schoeller-Bleckmann Oilfield Technology (SBOT) has purchased a Sapphire XC large-format 3D printer from metal 3D printing company Velo3D. The metal additive manufacturing system will be used by SBOT to expand its capabilities.
Calibrated for Inconel 718 metal parts, the new Sapphire XC 3D printer addresses rising demands for 3D printed parts from SBOT's customers. Distinguished by its advanced features, the latest addition to the company's 3D printing lineup significantly augments manufacturing capacities, facilitating the efficient production of substantial volumes of components while concurrently optimizing cost factors. Notably, this 3D printer is adept at fabricating sizable components, boasting a 3D printing capacity of up to 600 mm in diameter and 550 mm in height.
"We are thrilled to partner with SBOT and expand our presence in Europe with our first Sapphire XC installation at a contract manufacturer," said Benny Buller, Founder and CEO of Velo3D. "SBOT's commitment to delivering high-quality components aligns perfectly with our mission to enable manufacturers to unlock the full potential of their products through additive manufacturing. We are confident the Sapphire XC's advanced capabilities will empower SBOT to achieve new heights of innovation and excellence in their manufacturing processes."
Increased production with metal 3D printing
Providing SBOT with unprecedented geometric design flexibility, the Sapphire XC 3D printer facilitates the production of intricate, mission-critical components, ensuring precision and efficiency. With a substantial print volume, it stands among the largest print volumes available, says the company. SBOT functioning as a contract manufacturer supplements its offerings with a variety of conventional manufacturing capabilities such as CNC milling, turning, heat treatment, material testing, and polishing. This comprehensive approach enables SBOT to provide its customers with finalized, ready-to-use components.
SBOT possesses significant expertise in manufacturing high-quality components for the oil and gas industry, having provided additive manufacturing services to its customers for over a decade. Alongside its European operations, SBOT's subsidiary, Knust-Godwin, operates a fleet of Velo3D printers at its Katy, Texas facility. Encouraged by the performance and adoption of Velo3D's technology within the U.S., SBOT's collaboration expanded, resulting in its distinction as Velo3D's inaugural European contract manufacturer in November 2021. This recognition was marked by the acquisition of a calibrated Sapphire printer dedicated to 3D printing in Inconel 718. With the recent addition of a Sapphire XC printer, SBOT can seamlessly enhance the production of components formerly manufactured and approved using the Sapphire printer.
Velo3D's expanding European presence signifies a significant milestone for additive manufacturing. The partnership with SBOT reinforces Velo3D's leadership in advanced metal 3D printing, says the company. Leveraging its oil and gas expertise, Velo3D aims to enhance complex component production, boosting efficiency and reliability.
"Additive manufacturing continues to see growing adoption and through Velo3D's Sapphire XC 3D printer, our team can scale up the production of parts for customers with the Sapphire XC's 400% throughput increase over the original Sapphire," said Campbell MacPherson, SBO EVP of Advanced Manufacturing. "It will also increase the addressable use-cases for metal additive manufacturing by unlocking the capability of producing larger parts, allowing us to maintain our position as a leader in the industry."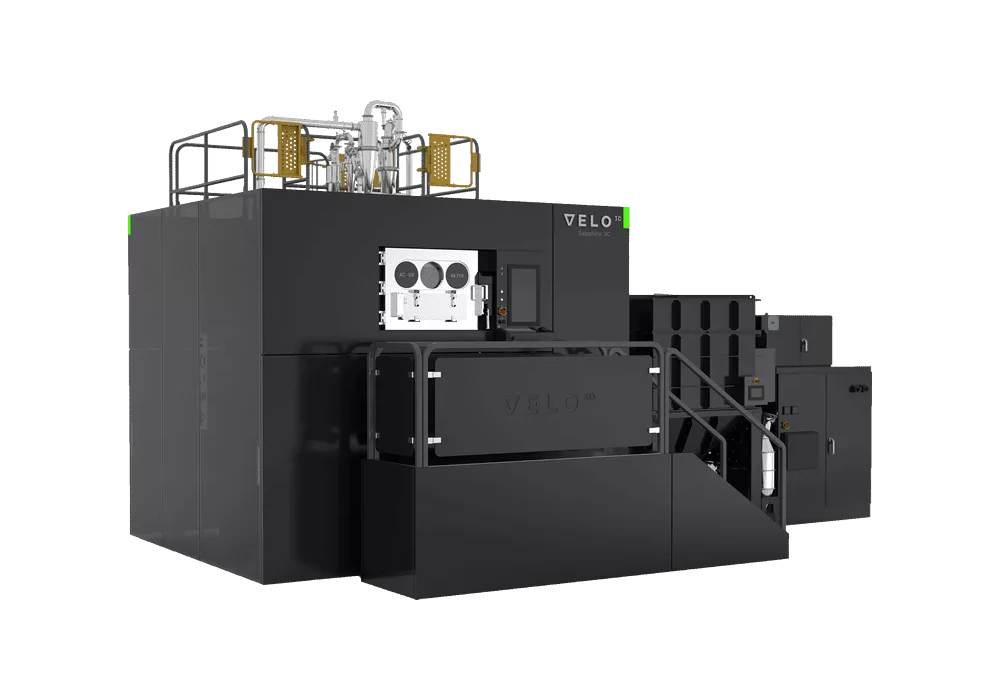 Metal additive manufacturing gaining traction in a variety of industries
US-based 3D printer manufacturer 3D Systems and Oerlikon group's AM division Oerlikon AM, collaborate to expand metal additive manufacturing. This partnership combined 3D Systems' Direct Metal 3D printing and Oerlikon AM's surface engineering, accelerating applications in aerospace and semiconductors. Oerlikon AM acquired its fourth 3D Systems DMP Factory 500 3D printer for its North Carolina facility.
Engineered materials company Uniformity Labs and Tekna expanded their partnership, with Tekna supplying an AlSi10Mg aluminum-based alloy to Uniformity. The alloy was to be used to make AlSi10Mg metal 3D printing powder, combined with Laser Powder Bed Fusion (LPBF) 3D printing systems. This expansion follows their earlier collaboration involving Ti64. CEO Adam Hopkins emphasizes how advanced technology contributes to industry sustainability. This relationship benefits customers by enhancing 3D printer efficiency and supply chain security through North American-sourced materials.
What does the future of 3D printing for the next ten years hold?
What engineering challenges will need to be tackled in the additive manufacturing sector in the coming decade?
To stay up to date with the latest 3D printing news, don't forget to subscribe to the 3D Printing Industry newsletter or follow us on Twitter, or like our page on Facebook.
While you're here, why not subscribe to our Youtube channel? Featuring discussion, debriefs, video shorts, and webinar replays.
Are you looking for a job in the additive manufacturing industry? Visit 3D Printing Jobs for a selection of roles in the industry.
Featured image shows metal 3D printed parts on display at Schoeller-Bleckmann Oilfield Equipment's offices in Ternitz, Austria. The parts shown were produced using Velo3D's fully integrated metal additive manufacturing solution. Image via Velo3D.