Defense contractor Naval Group has manufactured an entirely 3D printed propeller for a French Navy ship.
The company used its own specially developed DED-based process for the job, which it calls metal wire fusion. Sporting a 2.5-meter span and five individual 200kg blades, the propeller is reportedly the largest thruster of its kind to be 3D printed, and the first to be manufactured using Naval Group's own process.
Having left the Naval Group site of Nantes-Indret back in October, the propeller was mounted onto the intermediate shaft of the Andromède, a Tripartite-class minehunter, a month later. Then, December saw the successful completion of a series of sea trials with the propeller, cementing its place on all of the ship's upcoming operational missions.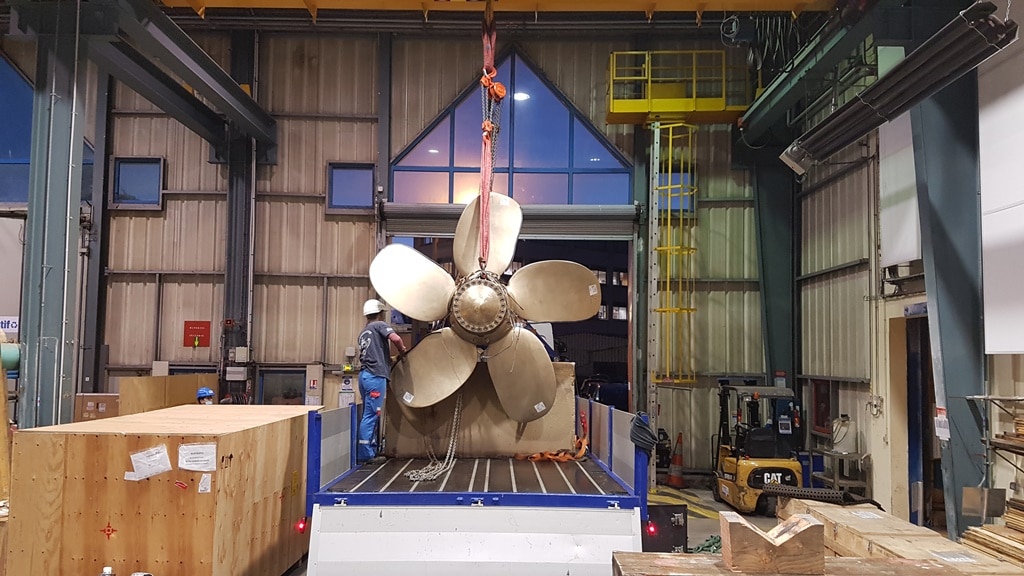 Meeting defense-grade quality requirements
It's safe to say military ships operate under some pretty harsh conditions, relating to corrosion, fatigue, and shock resistance to name a few. As such, their production must be held to equally harsh quality requirements. For the SSF (Fleet Support Services) and the DGA (French Defence Procurement Agency) to even authorize the testing of the blades in normal operating conditions, Naval Group had to work very closely with the certification company Bureau Véritas to develop a comprehensive technical justification file.
Emmanuel Chol, Director of the Nantes-Indret site where the propeller was 3D printed, stated, "Obtaining military naval quality requires rigorous development. Nearly three years of R&D – carried out by the Technical and Innovation Department in cooperation with the Ecole Centrale de Nantes within the framework of the LabCom Joint Laboratory of Maritime Technology – went into the development of the deposition process of metal wire fusion."
The benefits of 3D printing
While the 3D printing of the propeller is a major accomplishment, it is just the first step in a whole new development phase being undertaken by Naval Group. Riding off the back of the successful project, the company is set to focus on redesigning other maritime components that could benefit from 3D printing.
As well as weight savings and significant reductions in lead times, redesigning parts for 3D printing can increase energy and thrust efficiencies, and even improve the acoustic discretion of a component during stealth operations. Furthermore, DED-based technologies like metal wire fusion lend themselves quite well to part repair, alleviating further costs and downtime in the wake of destructive accidents.
Eric Balufin, Director of the Naval Group site of Brest where the blades were mounted, concludes, "The assembly of this 3D printed propeller shows great promise for the future. This new technology will enable us to considerably reduce technical constraints, and therefore allow for new manufacturing solutions for complex geometrical shapes which cannot be produced through conventional processes. It will also enable us to greatly reduce production time and consequently in-service support."
As Naval Group preaches, 3D printing has excellent potential in the maritime sector – both technologically and logistically. Just last month, digital part storage specialist Ivaldi Group announced that it was taking on the role of project manager in a Phase II Joint Industry Program to advance spare part 3D printing for Singapore's maritime industry. Citing print speed, part performance, and cost reductions as hurdles to jump, Ivaldi hopes to bring together 14 key industry players to 3D print, certify, and install end-use parts onboard vessels in the region.
Elsewhere, the Indian Navy has previously partnered with 3D printing service provider think3D to help fabricate spare parts on demand for both on and off-shore military components. The collaboration was aimed at remedying the issue of spare part availability, which is reportedly a recurring problem for the Indian armed forces.
Subscribe to the 3D Printing Industry newsletter for the latest news in additive manufacturing. You can also stay connected by following us on Twitter and liking us on Facebook.
Looking for a career in additive manufacturing? Visit 3D Printing Jobs for a selection of roles in the industry.
Featured image shows the 3D printed propeller. Photo via Naval Group.