The Dutch Navy has invested in INTAMSYS 3D printer technology to improve its on-demand spare part manufacturing capabilities.
When a typical Dutch naval vessel ventures out for a mission, there are approximately 30,000 spare parts on board. These can be anything from critical engine components to shower drain covers and weed filters for the water system. By housing high-performance 3D printers on board its frigate ships, the Navy hopes to be less dependent on its conventional supply chains in a bid to reduce operational downtimes.
Max Nijpels of the Expertise Centre Additive Manufacturing (ECAM), a 3D printing lab within the maintenance department of the Royal Dutch Navy, adds, "If we could print ten percent of those 30,000 parts, we would reduce our logistics footprint dramatically while saving storage space and reducing weight. At the same time, additive manufacturing enables us to increase operational deployability."
A mobile repair center
The initial investment includes a FUNMAT HT and two FUNMAT Pro 410 3D printers. To house these systems, ECAM has developed what it is calling the Additive Manufacturing Container for Defence (AMCOD), a mobile repair center in the form of a shipping container. These modular printing hubs are designed for installation on any type of defense ship, and can be up and running within about an hour.
Each shipping container is kitted out with air conditioning, ventilation, and an uninterruptible power supply (UPS) for round-the-clock polymer part production, regardless of the surrounding ambient conditions on board the ship. As well as the three 3D printers, the AMCOD design also features two purpose-built CAD workstations, providing an end-to-end printing environment for the engineers onboard a ship.
Users of the AMCOD can also utilize MARAMEX, the Navy's own in-house platform for the exchange of 3D part files and print parameters. MARAMEX is already home to hundreds of tested and validated components, although ECAM personnel are also trained to reverse engineer parts if they are not readily available for download.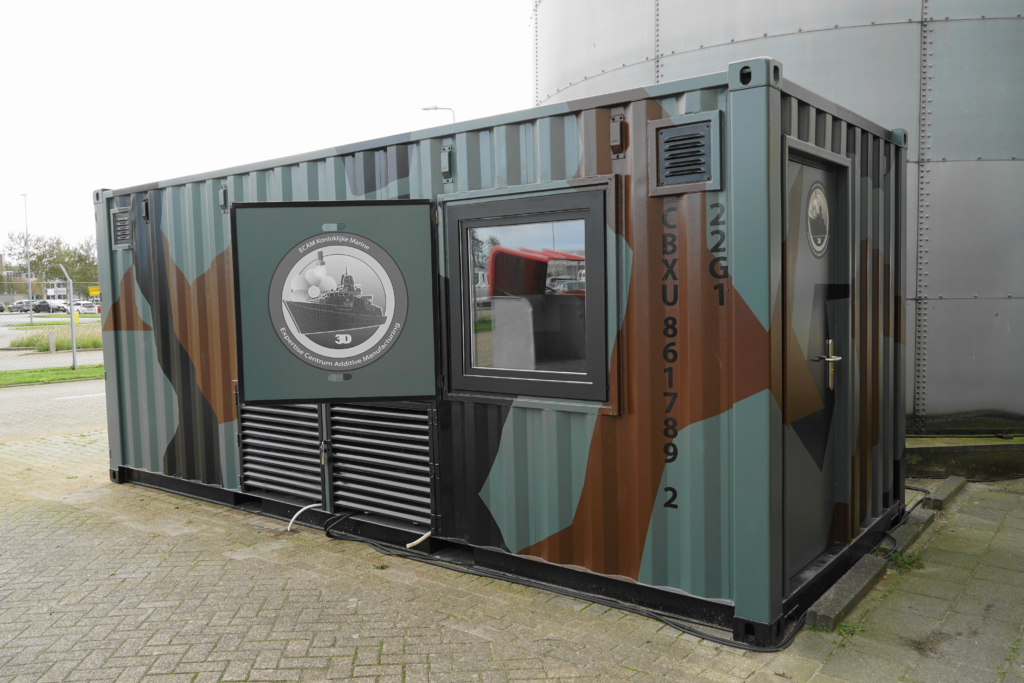 Why did the Navy choose INTAMSYS?
While printing non-critical PLA parts can be done on virtually any FFF machine, ECAM is looking to step up its on-demand production capabilities with materials such as PC or PEKK. This is where the high-temperature nozzles and enclosed build chambers of the INTAMSYS machines come in quite handy.
Nijpels adds, "We want to print replacement parts that can be used in, for example, the engine compartment, where the temperature can rise sharply or in applications in which the part is subjected to heavier mechanical stress. These INTAMSYS 3D printers will work together with the standard FFF printers. Where they fail in terms of printing material, we will use the new INTAMSYS printers."
The open materials platform promoted by the company was reportedly another major factor in the Navy's decision. Due to certain part certification requirements, the Navy is required to be completely independent in its choice of filaments – a benefit granted by INTAMSYS 3D printers and their extensive third-party filament compatibility.
Nijpels concludes, "We want to ensure process certification in the future. For some parts, Lloyd's/DNV certification is necessary. For this, we need to know which raw materials are used in the filament."
The Dutch Navy isn't the only naval force to leverage additive manufacturing technology in recent months. The French Navy very recently received an entirely 3D printed ship propeller from defense contractor Naval Group. Sporting a 2.5-meter span and five individual 200kg blades, the propeller is reportedly the largest thruster of its kind to be 3D printed and the first to be manufactured using Naval Group's own specially developed DED-based process.
Elsewhere, the U.S. Navy has previously adopted 3D printing to produce communications system components for the MH-60S Seahawk helicopter. Specifically, over 200 units of the multi-mission aircraft received new Full Motion Video (FMV) systems to extend their operational capabilities, an upgrade comprising new antennas, equipment racks, and electronics mounts.
Subscribe to the 3D Printing Industry newsletter for the latest news in additive manufacturing. You can also stay connected by following us on Twitter and liking us on Facebook.
Looking for a career in additive manufacturing? Visit 3D Printing Jobs for a selection of roles in the industry.
Featured image shows the AMCOD mobile repair center. Photo via INTAMSYS.