Nominations are currently in progress for the 2023 3DPI Awards. We shall publish the shortlists once both the 3D printing experts and readers have made their nominations.
The shortlists will be published on October 18th, and winners will be announced at our gala dinner on November 30th at Lincoln's Inn Great Hall in London.
Once the shortlists are published, most tickets for the winner's ceremony will be made available to those companies.
However, we do have a limited number of tickets available for the black tie event.
If you'd like to join us for the evening, you can buy tickets here.
The Great Hall of Lincoln's Inn is a stunning historic building in central London. Guests will enjoy a three-course dinner and an evening with the leaders of the 3D printing industry.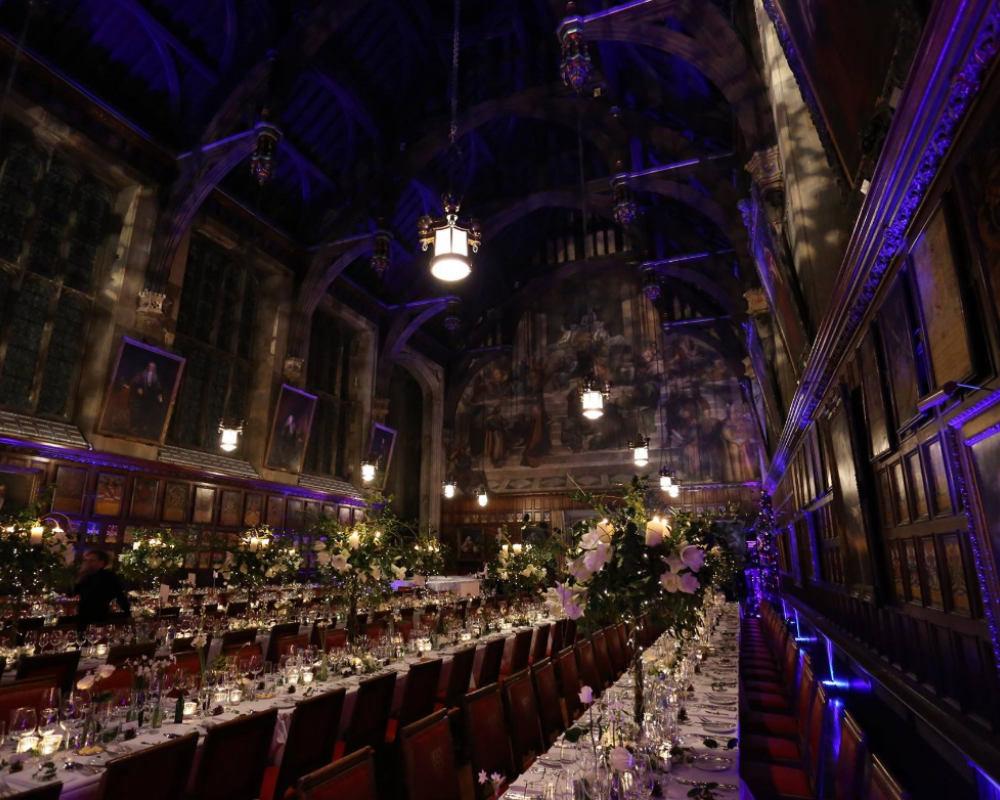 2023 3D Printing Industry Sponsors
3D Printing Industry is extremely grateful for the support of our sponsors. 
AMT

AMT is a global leader in automated post-processing technology for 3D printing. With a suite of advanced technologies and services, the company strives to improve the efficiency, reliability, and quality of post-processing in the additive manufacturing industry. Committed to exceptional service, continuous innovation, and delivering value to customers, AMT stands at the forefront of the 3D printing post-processing sector.

Envelop Risk
Envelop Risk is a global specialty cyber underwriting firm based in London (UK) and Bermuda. The firm began underwriting cyber risk in late 2018 and has established itself as a leading cyber reinsurer globally, with over $500m in GWP underwritten to date. Envelop's mission is to become the leading global capital allocator for cyber-related risk by combining superior capital management, underwriting, structuring, and data-driven proprietary modeling.
Envelop's advanced cyber modelling tools include threat intelligence, cyber posture analytics, global economic and financial data, and comprehensive global claims history. The firm is backed by Softbank Vision Fund 2, MS Re, Alpha Intelligence Capital, and Integra Partners, and Chimera Abu Dhabi.
Devout Solutions
Devout Solutions is a technology consultancy dedicated to assisting businesses in harnessing technology to enhance efficiency and spur growth. They offer a spectrum of services, from collaborative consultancy to software development and project management. With a focus on custom solutions, Devout aids businesses in digital transformation, emphasizing innovation and expert guidance. Their portfolio includes projects like "upsoft," a digital platform for rapid business transformation, and collaborations with firms like Smartbox.ai to leverage AI for regulatory challenges.
Located in London, Devout Solutions combines a tech-agnostic approach with a vast skill set, including AI integration, mobile app development, and e-commerce solutions, positioning itself as a comprehensive business partner.
ThirdLook
ThirdLook is a digital agency specialising in social. Using our experience working with some of the world's top brands, we provide best-in-class solutions. We are multi-platform experts in both paid and organic, allowing us to provide consulting and implementations to help you reach marketing goals.
Want to sponsor the 2023 3D Printing Industry Awards? Get in touch.
Supporting Charity
Aside from an opportunity to celebrate excellence in our sector, the 3D Printing Industry Awards also support good causes. In 2022, we donated to 3D Sierra Leone – a charity using 3D printing to bring life-changing prosthetics to those in the West African nation.
The 2023 3D Printing Industry Awards charity of choice will be the Sanjay Mortimer Foundation (SMF). SMF was established to continue the legacy of the E3D co-founder and support those with neurodivergent minds to fulfill their potential in the engineering world.
Subscribe to the 3D Printing Industry newsletter to keep up to date with the latest 3D printing news. You can also follow us on Twitter, like our Facebook page, and subscribe to the 3D Printing Industry Youtube channel to access more exclusive content.
Are you interested in working in the additive manufacturing industry? Visit 3D Printing Jobs to view a selection of available roles and kickstart your career.

3D Printing Industry has contracted with Lincoln's Inn for the hire of inn facilities but is not part of or an agent for the Inn.