Danish toy manufacturer LEGO has issued its first official 3D printed piece.
Handed out at a LEGO House adult fan event, the toy is a scaled-down replica of the firm's original 1935 duck. As with the genuine article, the tiny red recreation features turning wheels that allow it to be pulled along, snapping its beak as it goes.
The move comes just three years after LEGO issued takedown notices to the 3D printing community that required makers to remove downloadable STL files of unsanctioned recreations of its products.
On Linkedin, LEGO's Senior Director of Additive Design & Manufacturing Ronen Hadar said: "I'm extremely proud to share our first pilot at LEGO House. The team has been working hard to develop, approve and manufacture this super cool element, in collaboration with our talented designers. This is an important milestone for the team. We are looking forward to sharing more news with you in the coming future."
LEGO's avian 3D printed throwback
Offered to guests at a LEGO House event hosted at LEGO's 12,000 m2 base in its hometown of Billund, its first sanctioned 3D printed model represents a throwback to its original toy. Initially made of wood, the company first recreated the 1935 model from plastic bricks and released it as a Billund-exclusive edition in 2020.
This piece of LEGO memorabilia, the 40501 Wooden Duck, which comes with a display stand and is made up of 621 parts, now sells at a premium of up to £149.99. Unlike the original toy, the remake's internal mechanism doesn't operate using rigid wire, and instead relies on a combination of elements developed as part of the firm's functional vehicle-focused Technic product range.
Remarkably, in a similar fashion to the 2020 edition, the 3D printed handout still packs the same functionality in that it walks and talks like a duck, but it comes in a much smaller package. What's less clear is the availability of diminutive red replica. The print is likely to have been made exclusively for LEGO House attendees, but it may prove possible to get one on the aftermarket for less than 40501 Wooden Duck.
Voir cette publication sur Instagram
LEGO in the maker community
As of 2019, LEGO's stance on 3D printing was that the technology was useful for prototyping new bricks and elements, and it was continuing to explore new ways of deploying it. Until now, however, the company has yet to launch an officially-sanctioned 3D printed model, thus its handout of tiny red replica ducks offers a glimpse into how additive manufacturing is now being used in-house.
That said, LEGO's stance towards 3D printing replicas of its bricks hasn't always been the friendliest, and that year, it issued a series of takedown notices to those uploading unsanctioned replicas of its bricks to file sharing websites.
At the time, the move hit life-long LEGO enthusiasts in the 3D printing community who had found novel ways to creatively express the pleasure the brand brings them. One of those affected was designer Stian Ervik Wahlvåg who had even managed to integrate electronics into his designs, resulting in a 3D printable scaled-up LEGO Space Blaster and a 3D Printed Human Scale Working LEGO Parrot.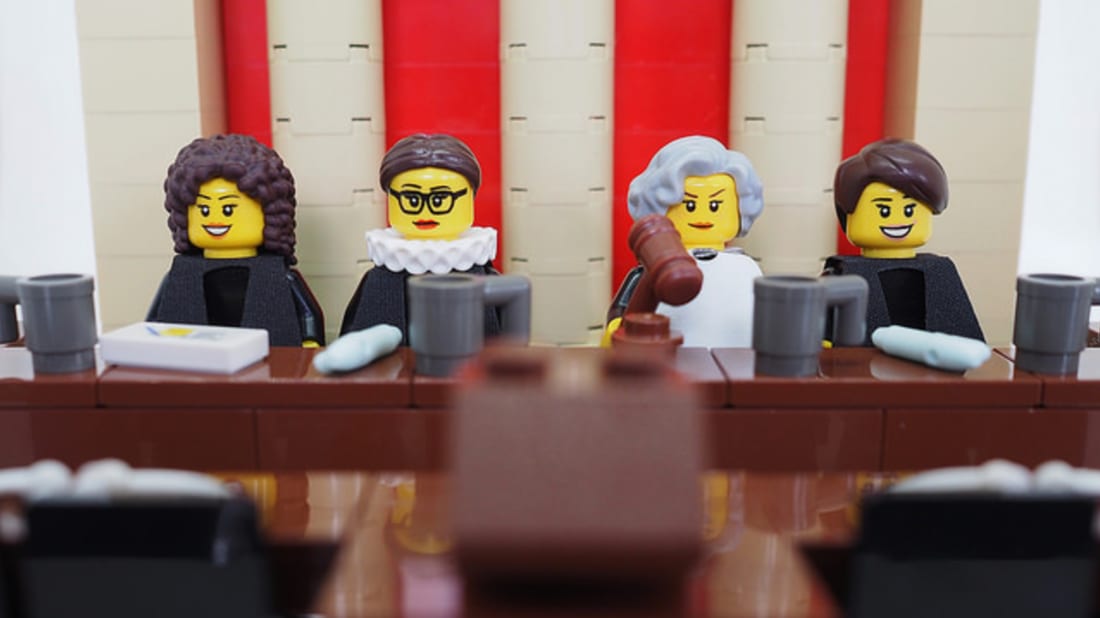 The Danish company's move was backed by a 2010 ruling made by the European Court of Justice (ECJ), which found that the classic LEGO brick was not protectable by trademark, but its minifigures would still be granted protection.
Following criticism from the 3D printing community, LEGO later defended its takedown notices. Specifically, the firm said it was necessary to ensure that the "LEGO wordmark or IP protected elements" does not erode over time. What's more, LEGO added that its 'Fair Play Policy' describes offers guidelines on how it would like to be referred to, and what it deems a permissible use of its name by enthusiasts.
In the aftermath of LEGO's takedown requests, Michael Weinberg, Executive Director of the Engelberg Center on Innovation Law & Policy at NYU Law, described them "as a bit of a stretch for some of the models targeted," and questioned if it could "stop all uses" of its name. As it stands, 3D printed bricks and models bearing the LEGO name continue to be available via various file sharing sites.
To stay up to date with the latest 3D printing news, don't forget to subscribe to the 3D Printing Industry newsletter or follow us on Twitter or liking our page on Facebook.
While you're here, why not subscribe to our Youtube channel? featuring discussion, debriefs, video shorts and webinar replays.
Are you looking for a job in the additive manufacturing industry? Visit 3D Printing Jobs for a selection of roles in the industry.
Featured image shows LEGO's tiny 3D printed duck. Photo via aioris_mocs, Instagram.