Lafarge Cement Zimbabwe, a subsidiary of building materials specialist LafargeHolcim, is set to build affordable, low-carbon homes in Zimbabwe using the company's concrete 3D printing technology.
The project aims to address Zimbabwe's chronic shortage of housing and school infrastructure, with construction expected to begin later this year.
"To showcase the capabilities of 3D printing, Lafarge Cement Zimbabwe will construct 10 units in Knockmalloch under the affordable housing project currently underway," the company told The Herald.
"This project will afford relevant stakeholders to witness and experience the capabilities of this innovative technology and it is anticipated that this will attract more projects towards the use of the technology to provide decent affordable housing."
Meeting Africa's affordable housing demand
The concrete 3D printing technology Lafarge Cement Zimbabwe will use during the project was developed by 14Trees, a subsidiary of LafargeHolcim and joint venture with CDC Group, the UK's publicly owned impact investor.
Using a proprietary ink from LafargeHolcim, the 3D printing technology is expected to significantly reduce the time and costs of building homes and schools. The project initially began in Malawi, where the first prototype house was built. The walls of the house were printed in just 12 hours, while the first prototype school was printed in 18 hours.
As well as speeding up the construction of new buildings, 14Trees' 3D printing technology reportedly reduces the carbon footprint for building new homes by up to 70 percent through optimizing the use of materials.
"I am very excited about the work of our joint venture 14Trees, innovating in 3D printing technology to accelerate affordable and sustainable building, from homes to schools," said Miljan Gutovic, Region Head Middle East Africa and LafargeHolcim Executive Committee member, in December when the project was first announced. "This is a great example of our commitment to build for people and the planet."
The technology was initially deployed in Malawi during the first phase of the project before being rolled out to Kenya and Zimbabwe. LafargeHolcim recently opened a new $2.8 million dry mortar plant in Zimbabwe that will produce the 3D printable ink required for local construction projects.
LafargeHolcim's 3D printing technology
LafargeHolcim's concrete 3D printing process used in the project consists of a 3D printer with a robotic mechanical arm that deposits the proprietary ink into patterned layers that eventually make up the walls of a building.
The company's technology and proprietary building materials have also been involved in several other 3D printing construction projects.
For instance, over the last couple of years, the firm has been working with GE Renewable Energy and Danish 3D printing construction company COBOD to develop 3D printed "record-tall" turbine towers. The partners successfully printed a 10-meter tall turbine tower last year, and the environmental benefits of the project were recently presented to world leaders at President Joe Biden's climate summit.
LafargeHolcim has also been awarded a design-build contract for a 3D printed 40-meter pedestrian footbridge in preparation for the 2024 Olympic Games in Paris. The company forms part of a consortium made up of civil engineering firm Freyssinet, Levigne and Cheron Architects, computing and artificial intelligence (AI) firm Quadric and large scale 3D printing firm XtreeE, which will work together to construct the deck of the bridge entirely from 3D printed concrete.
LafargeHolcim has previously taken part in a collaborative 3D printing research and development project that sought to develop innovative 3D printing systems and materials for construction. Spanish construction consortium 3DCONS, of which LafargeHolcim is a part, hopes its research will enable the future automation of building construction, rehabilitation, and thermal insulation with 3D printing.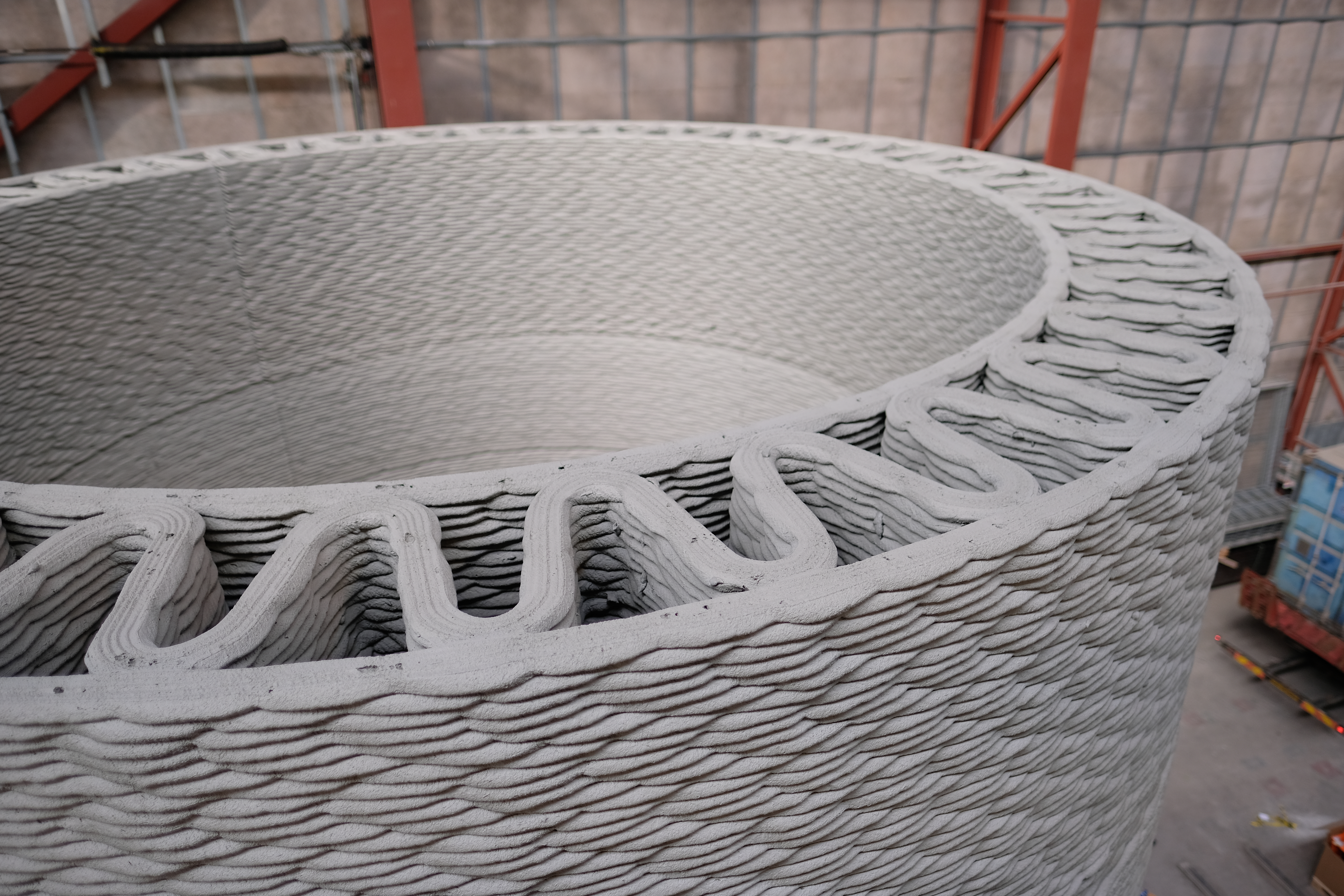 Subscribe to the 3D Printing Industry newsletter for the latest news in additive manufacturing. You can also stay connected by following us on Twitter and liking us on Facebook.
Looking for a career in additive manufacturing? Visit 3D Printing Jobs for a selection of roles in the industry.
Featured image shows 14Trees is using 3D printing to address Africa's housing and infrastructure shortage. Image via 14Trees.