3D Printing Industry has followed the work of innovative fashion designer and PhD researcher Mingjing Lin for some time.
Most recently, I attended an exclusive performance of Farewell My Concubine by Beijing Opera singers at the Royal College of Art, London (RCA) to see how Mingjing Lin and Tsai-Chun Huang are working with Polish SLS 3D printing company, Sinterit.
The resulting pleated and woven garments combine traditional techniques with 3D printed textiles made on the Sinterit LISA using TPU. After the performance I asked Mingjing Lin about the use of 3D printing in art, fashion and mixing technology with tradition.
3D Printing Industry: What was the reason for selecting 3D printing to make the costumes?
Mingjing Lin: I have been discovering the innovative use of 3D printing in textiles for my PhD. But instead of only seeing 3D printed textiles in fashion catwalk (in which models only wear the design for walking and there are much less body movement compared performance) I would like to test or challenge whether 3D printed textiles could be used in more interesting bodily practices, whether 3D printing could have more fluidity and more dynamics. And I believe this technology has a lot more to offer in terms of body movement.
Tsai chun and I chose the costumes for Beijing Opera firstly because it followed my route since last year, Interfashionality, in which I combined 3D printing, Chinese Qipao and physical performance.
We think Beijing Opera is a more suitable media to translate the fluidity because of its beautiful, delicate, much more meaningful movement and body language. Also, the costumes of Beijing Opera hasn't changed for centuries, we questioned, whether the more modernized design and technical element could help Beijing Opera to reach broader and younger audiences.
3DPI: How does 3D printing fit into your practice as an artist?
ML: I wouldn't describe myself as an artist, maybe researcher is a more suitable title. I was against cutting-edge technology for a while, and many of my designs were based on handicraft.
I really love the tactility of material, I want to touch, feel the life of things, the raw edge, nature, the Wabi-sabi*, for example, inspired me alot. But once I tried 3D printing, I just can't let it go, since 3D printing really offers me opportunities to design the things out of imagination. Many of the geometries and pattern you could hardly see in nature, or impossible to make by hand, or just a machine error, a serendipity. So as mentioned, the combination of craft and technology can be found easily in this research.
And the more exciting fact is that with the development of technology, I could access various soft material and advanced digital modelling tools. In this project I was really lucky to try the soft SLS material from Sinterit, and had the chance to discuss the design with parametric designers Peng Xie and Filippo Nassetti.
3DPI: What has been the reaction (by the Opera Company and others) to the work?
ML: I interviewed one of our performers, she said when she was little, she was taught by a Beijing Opera master who said, "if you had no choice, wear the wrecked costume but never the inappropriate one."
It seems there are very strong regulations, rules and formats for Beijing Opera. But on the contrary, people are still interested. I know it is hard to let them accept something dramatically different, but I am not expecting to destroy the tradition. Tradition is tradition, people love it and let's keep the way it is. I am more interested in offering something different. It is neither here nor there, neither west nor east, neither craft nor technology, it is a hybridity in the Elsewhere.
3DPI: What are you working on at the moment and what is your next project?
ML: At the moment I am analyzing the data I collected from the performance, and will then write about it. And the next project, definitely will still relate to 3D printed fashion and textiles, performance and cultural exchange.
3DPI: How would you like to see 3D printing advance?
ML: I'd like to see more interesting materials,  so that I could use them in bodily practices.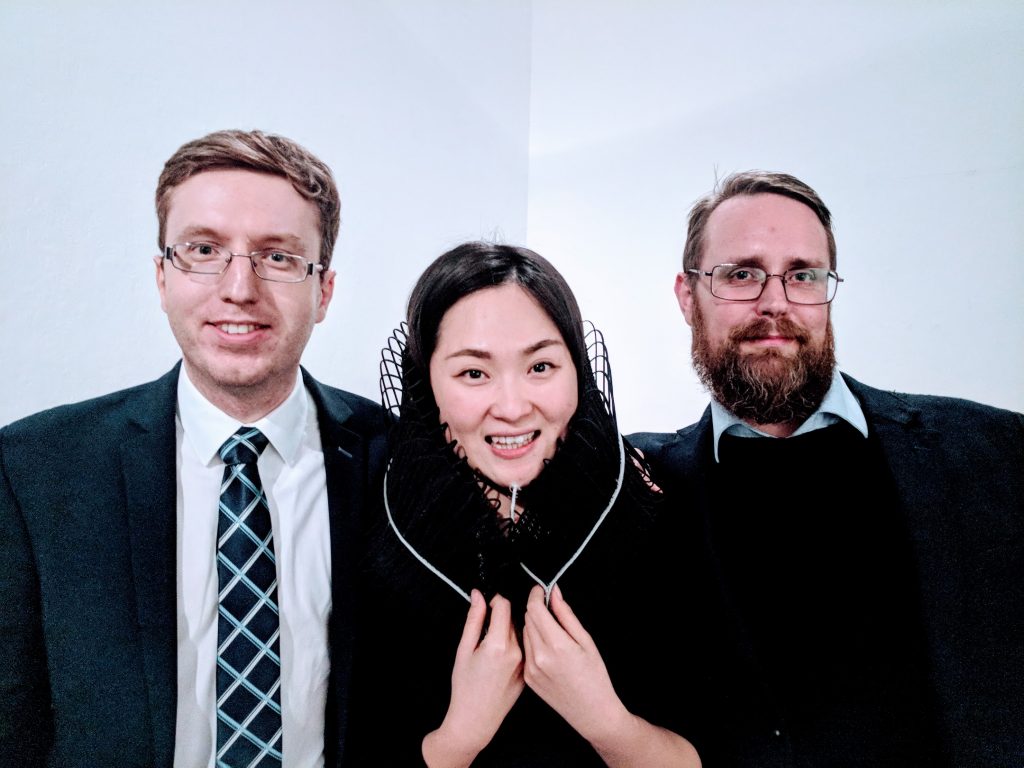 More information about Mingjing Lin is available here.
*Wabi-sabi is an an aesthetic concept sometimes described as flawed beauty. The perspective can evoke transience, imperfection and embracing the change that occurs in objects over time.
We want to hear about other creative uses of 3D printing. nominations for the second annual 3D Printing Industry Awards are now open. Make your selections here.
For all the latest 3D printing industry news, subscribe to the 3D Printing Industry newsletter, follow us on Twitter, and like us on Facebook.