Graphy, a South Korean-based manufacturer of 3D printable photopolymer resins, has unveiled what it claims is the "world's first" direct 3D printed aligner that features a shape memory function.
Graphy's 3D printed aligner is reportedly the only one currently available on the market that has this feature, which the company says will accelerate the treatment process for patients and remove the need for replacement aligners.
The firm showcased its new product at this year's International Dental Show (IDS) 2021 in Cologne between 22-25th September.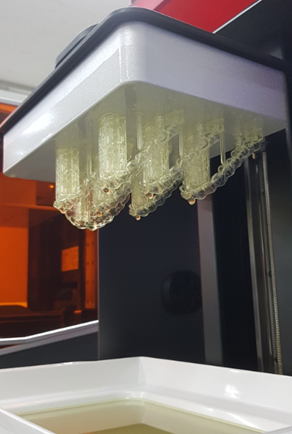 3D printing dental aligners
According to the 2019 US National Health and Examination Survey, 65 percent of Americans could benefit from orthodontic treatment, but many never receive it due to cost and accessibility barriers. The 3D printed dental market has seen a raft of new dedicated materials, hardware, and projects come to the fore over the past year, with potential applications growing increasingly wider.
Several 3D printer manufacturers have recently launched new machines developed specifically for dental applications. For instance, Stratasys launched its multi-material PolyJet J5 DentaJet 3D printer in March, while Nexa3D launched its resin-based NXD200 3D printer in April, and in June UNIZ launched its latest high-speed dental 3D printer, the NBEE.
Regarding materials, Liqcreate has unveiled two new dental-oriented photopolymer resins which feature ultra-low shrinkage and a matte finish suited to the production of orthodontic models, while Desktop Metal's healthcare subsidiary Desktop Health launched cobalt chrome on its Shop System to offer binder jet 3D printing capabilities to dental labs.
More recently, Formlabs revealed several new dental-related updates to its portfolio, including the dental validation of its Fuse 1 SLS 3D printer and reformulation of its Model Resin, and Prodways announced it has received a contract to produce up to a million dental aligners per year.
Graphy's shape memory aligners
Since its founding in 2017, Graphy has been working to carve out its own niche in the dental 3D printing market. The firm has won numerous awards and registered several patents for its technology, which ultimately aims to improve the safety and mass production of new materials for the 3D printing dental market.
In December last year, the company developed its own dental 3D printing material, Tera Harz. Exhibiting flexibility and heat-resistant properties, the photocurable resin has been designed with two carbon backbones which allow the material's molecular formula to be closely controlled and customized to specific customer requirements.
If deformed or stretched, Tera Harz's shape can be restored when it comes into contact with hot water, which is what gives Graphy's dental aligners their shape memory function. According to the firm, dental aligners from other companies are not able to return to their original shape after becoming deformed, and therefore lose their orthodontic force and need to be replaced.
With Tera Harz's shape memory property, a single dental aligner is capable of completing an entire treatment step, compared to an average requirement of two-to-three aligners. This therefore accelerates the treatment process while also reducing the amount of material used per patient.
3D printing a clear aligner with Tera Harz can reportedly take as little as one hour, whereas conventionally manufactured aligners can take between one and two weeks to be produced. The company also claims the material streamlines manufacturing operations and costs as film or vacuum forming processes are not required.
Regarding cleaning, Graphy's 3D printed dental aligners are able to be brushed and sterilized due to the material's scratch resistance and ability to remain in hot water of up to 100 degrees celsius for one to two minutes.
Functionally, the firm's dental aligners have a couple of advantages over other aligners, such as the ability to move teeth backwards and rotate teeth by up to 35 degrees celsius, a feat reportedly unachievable by others on the market. Graphy's dental aligners have received CE certification and are pending 510(k) clearance from the US Food and Drug Administration (FDA).
Ultimately, Graphy believes its Tera Harz material could make one-day orthodontic treatment a possibility for patients, while enabling dental laboratories to produce large volumes of products with minimal factory investment.
Subscribe to the 3D Printing Industry newsletter for the latest news in additive manufacturing. You can also stay connected by following us on Twitter and liking us on Facebook.
Looking for a career in additive manufacturing? Visit 3D Printing Jobs for a selection of roles in the industry.
Subscribe to our YouTube channel for the latest 3D printing video shorts, reviews and webinar replays.
Featured image shows dental aligners 3D printed with Graphy's Tera Harz material. Image via Graphy.