Popular 3D printer materials brand Fillamentum has launched three new shades of its ASA Extrafill filament for FFF/FDM. Noticing a rise in users switching from ABS to the higher resistance thermoplastic, the company states, "ASA is getting really popular among designers, and that happens for its properties. ASA is optimal for outside usage but its great also for prototyping."
Fillamentum 3D printer materials
Headquartered in the Czech Republic, Fillamentum is a well established provider of high quality 3D printer filaments. It's materials range currently covers 9 different grades of polymer, from PLA Premium, and PLA Crystal Clear, through to ABS Extrafill and high-technical CPE.
Prior to the most recent release, Fillamentum ASA Extrafill was available in nine different colors including Metallic Grey, Natural, Sky Blue, Green Grass and Traffic Yellow. The three new shades that have been added are decidedly more industrial in appearance, namely White Aluminium, Grey Blue and Anthracite Grey.
In terms of strength and properties, ASA is often compared to common ABS filament. In fact, ASA was developed as an alternative to its high-strength cousin, improving upon ABS' resistance to weather and UV light.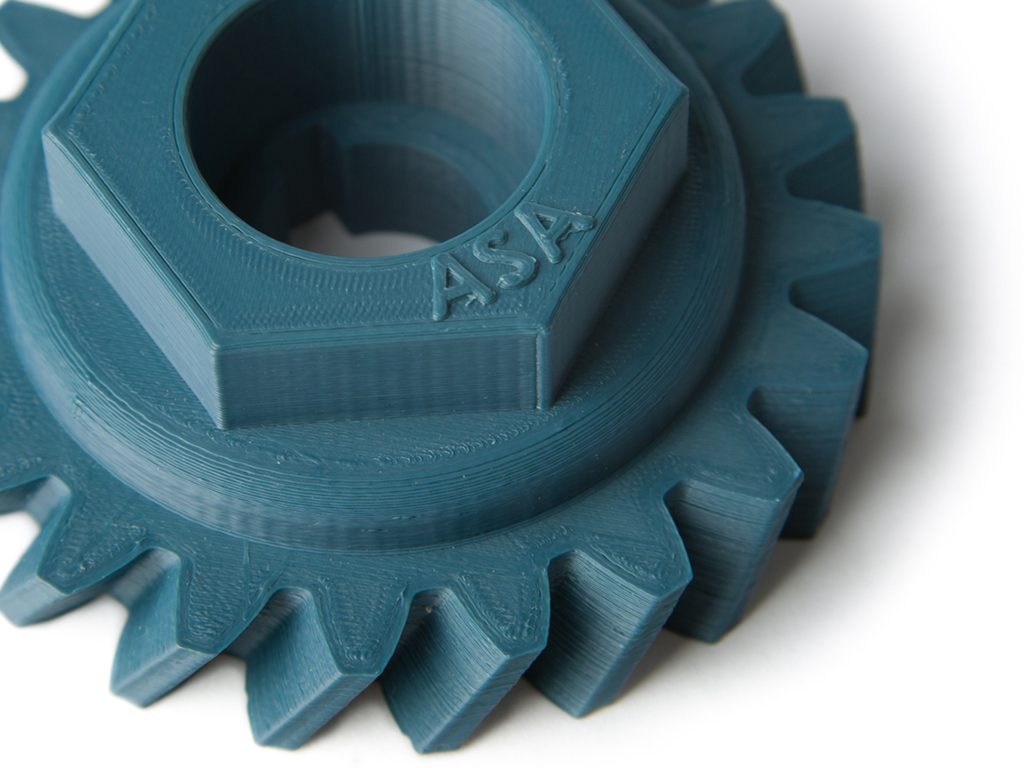 ASA vs ABS
So, how exactly do the two materials compare? The tensile strength of ASA Extrafill is 40 MPa, with 35% elongation at break, and a flexural strength of 62 MPa.
ABS Extrafill, by comparison, has a slightly lower tensile strength of 32/39 MPa (dependent on test conditions), 20% elongation at break and 60 MPa flexural strength.
The thermal properties of ASA are also superior to ABS. Fillamentum ASA Extrafill typically distorts at temperatures of 86/96 ºC (1.8 MPa verses 0.45 MPa test conditions), whereas ABS has a heat deflection temperature up to 81 ºC. As such, the print temperature of ASA is typically higher than ABS, recommended within the range of 240-255 ºC, compared to ABS' recommended range of 220-240 º.
When printing, ASA Extrafill has strong interlayer adhesion, lower comparable warping than ABS, and fewer styrene emissions. It is also a recyclable material.
A recommended material for prototyping
Like ABS, ASA is not recommended for contact with food, or medical applications, but it is better suitability to products made for outdoors, and has a higher rigidity than comparable ABS strains. RoHS compliant, the material is ideal prototyping electrical components. The wide range of ASA colors offered by Fillamentum also help to better serve these applications, giving designers the ability to create vivid concepts close to the appearance of a final product.
So far the ASA Extrafill filament range from Fillamentum has received a lot of positive support from its customers. Tom Jackson, the maker behind the Filament Frenzy channel on YouTube, says "I've never had good results with any ABS and I'd heard ASA boasted some of the same properties. Then I got the opportunity to try Fillamentum ASA and this product is outstanding.
"Combine those stunning properties with amazing colours and you have one special material: practical yet beautiful, Fillamentum did it again."
ASA Extrafill is currently available directly from Fillamentum in 1.75 and 2.85 mm 750g spools online, and 2.5 kg spools on request. You can check out the new White Aluminium, Grey Blue and Anthracite Grey shades here.
Nominate your Materials Company of the Year and more in the 2019 3D Printing Industry Awards. Subscribe to our free newsletter, follow us on Twitter and like us on Facebook for all the latest news updates. Find 3D printing jobs near you now.
Featured image shows 3D printed gears made from Fillamentum ASA. Photo via Fillamentum