UK-based fluid power systems manufacturer Domin has collaborated with metal 3D printing specialist Renishaw to redevelop some of its products. High-performance direct drive servo valves, used for transforming signals into pressure, at the company have been made smaller, cheaper and more efficient using the technology. Renishaw's metal powder bed fusion printer RenAM 500Q has been used to produce the redesigned rotary valve.  
The fluid power sector
Fluid power systems utilize liquids or gases under pressure to generate and transmit energy. The pressurized fluid bearing performs work directly on a piston in a fluid motor. Then the fluid motor creates a torque which sets the fluid in rotary motion. To regulate the system, valves are used as control components. Compared to mechanical or electrical drives, fluid power systems are more compact, last longer and allow more precise control. Major markets for fluid power are Formula 1, space, aerospace, automotive, mobile hydraulics and industrial plants. Domin's new direct drive servo valve in particular serves both aerospace and industrial markets. 
Additive manufacturing in the fluid power sector
A variety of sectors are employing additive manufacturing in high value, small volume production. For example, 3D printing software company Betatype used RenAM 500Q to make orthopedic implants. "Additive Manufacturing is a key technology for Domin," Martin McMahon, AM Lead Technical Consultant at Renishaw commented. "It gives the company the ability to build complex parts, free of tooling and with minimal operations and assembly. Trying to integrate such complex functionality into such a small design would not be possible using conventional manufacturing techniques."
Launched in 2017, RenAM 500Q is a quad laser metal additive manufacturing machine from Renishaw that builds complex metal components directly from digital CAD files. Its high deposition rate of maximum 150 cm³/hour significantly improves productivity and lowers cost per part. The machine also features automated powder and waste handling systems to ensure consistent process quality.
The design freedom of 3D printing has allowed Domin to engineer a new stable design of a direct drive servo valve. The redesigned drive is 25% more powerful than the original but only a quarter of the size. It was produced for a third of the cost, and the cycle times has reduced from 5.5 hours to just one. In this sense metal additive manufacturing also reinvented the relationship between cost and weight of fluid power machinery. Traditionally, the more material you remove from a part, the more expensive a part becomes. Now with metal additive manufacturing, the lighter the part, the cheaper the part when installed.
While weight-critical markets such as aerospace and defense benefit from the reduced weight, cost-critical markets such as automotive and mobile hydraulics benefit from the reduced costs from using additive manufacturing.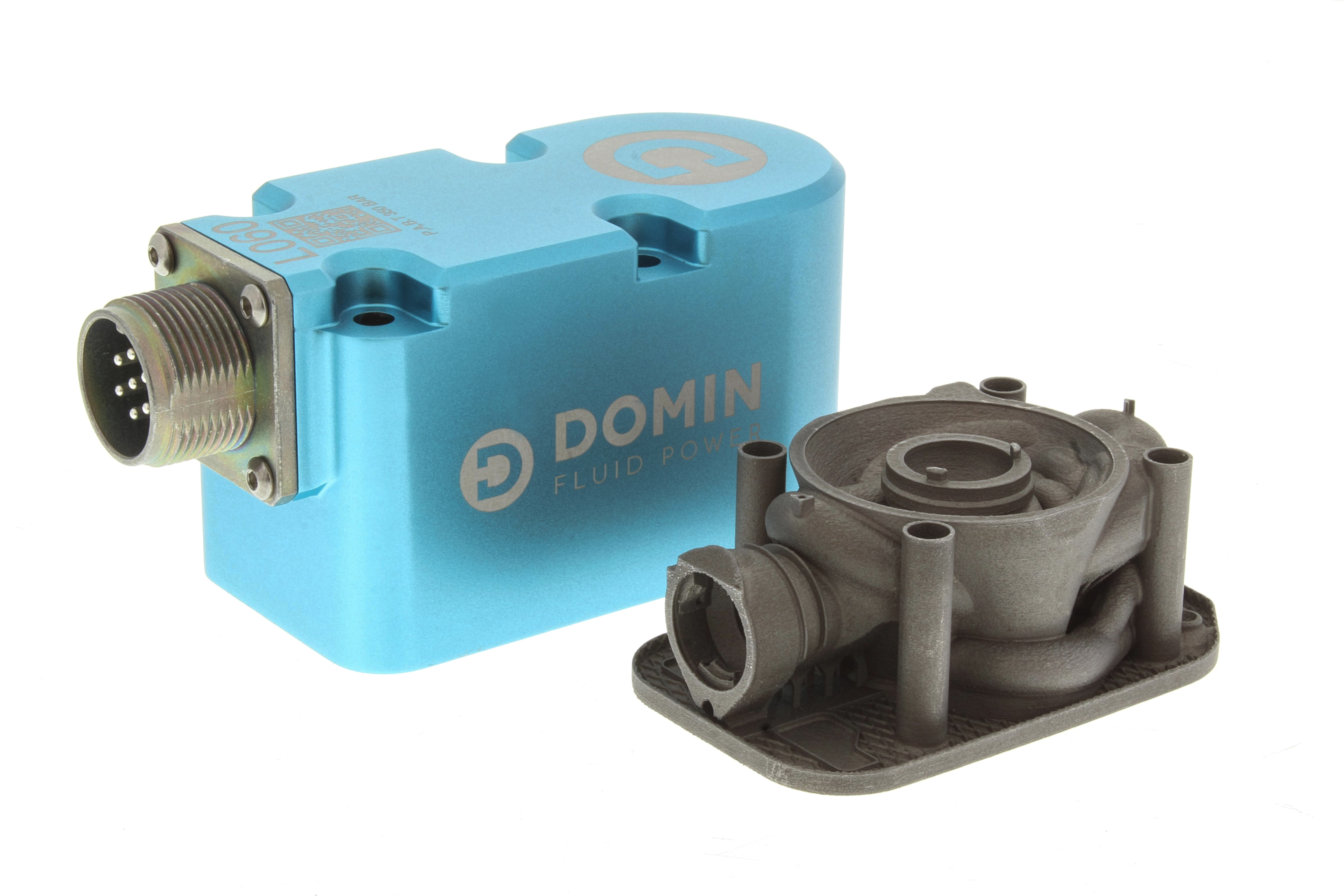 For more news on metal 3D printing, subscribe to our 3D printing newsletter. You can also visit us on social media, Facebook and Twitter.
Looking for a job? Visit our 3D Printing Jobs site.