TNO is an independent company, committed to developing scientific research in the Netherlands. They are behind the Print Valley project that emerged in 2012, showing 3D printers capable of rapid manufacturing on a conveyor belt system. Until now, it was supposed that developments to the Print Valley process had come to a standstill. However, at formnext 2016, the company have signed a cooperation agreement with BigRep, German manufacturers of large-format 3D printers, and now a medium sized 3D printer that was also announced at the trade show.
The collaboration will kickstart the 'AMSYSTEMS' project and 'develop a fully automatic, continuous 3D printing process, in which numerous objects can be printed simultaneously and in the shortest time possible'.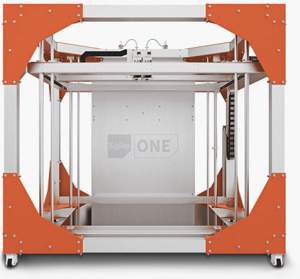 The world's next industrial revolution
It's exciting news for the industry, as one of the main barrier to making 3D printing a more widespread technology for production is the time it takes to produce a 3D printed part. This news is a step forward for the industrialisation of the process, and will mean big things for the 'third industrial revolution'.
Gif shows the process of 3D Printing at Print Valley from TNO on Youtube.
The announcement comes at a time when other 3D printing industry major players are looking to achieve the same thing. For exampe, 3D Systems have their Figure 4 technology, hoping to bring stereolithography to a high throughput application. Not only are the companies working with bigger machines and KUKA robotic arms, we are also witness to the development of new, eco-friendly, hybrid, materials that are applicable to most any industry you can think of.
Gif shows Figure 4: The Future of Manufacturing from 3D Systems on Youtube.
Stratasys' Infinite Build machine is another 3D printer looking to literally turn the industry on its side. 3DPI got an in-depth look at the printer earlier in the year when it was on shown at IMTS in Chicago. The largest component the team had managed to print back in September was a 16-foot-long ventilation duct. Stratasys also have strategic partnerships in place with some of the world's leading manufacturers; Ford, Boeing and Airbus to name just a few. At formnext this year Stratasys announced the evolution of a partnership with Siemens, this will see the 3D printing company collaborate more with the robotic motion control specialist.
Speaking on the partnership with TNO, Rene Gurka, CEO of BigRep said:
When I saw the 'sushi printer' as we call the prototype of the fully automated 3D printing production system at BigRep, I immediately realized that we would deliver the next generation of 3D printing. You can imagine this printer as an assembly line: the extruders remain static, but the bottom plate moved.
A new fully functional demo of the Printvalley system is expected to be completed in the next 18 months.
Featured image shows a TNO 'Printvalley' conveyor belt Image via: TNO