Nominate now for the 3D Printing Industry Awards 2023.
Desktop 3D printer manufacturer Bambu Lab Has launched the A1 mini and AMS lite, their newest FDM multi-color 3D printer offering.
This new desktop 3D printer offers 4-color capability, automatic calibration, active flow rate compensation, active motor noise cancellation, and a 180x180x180 mm3 build volume.
An entry-level product, Bambu Lab claims that its newest 3D printer will bring high-end, state-of-the-art features to beginners, making multi-color 3D printing more accessible to more people.
The A1 mini and AMS lite combo can be pre ordered now through the Bambu Lab online store. The initial product batch is set to be dispatched from local warehouses in mid-October.
A collection of Bambu filament colors is included in each A1 mini and AMS lite combo retail package, along with a random mystery box. Bambu Lab recommends that customers use the Bambu Handy App to scan the QR code on the mystery box for more instructions.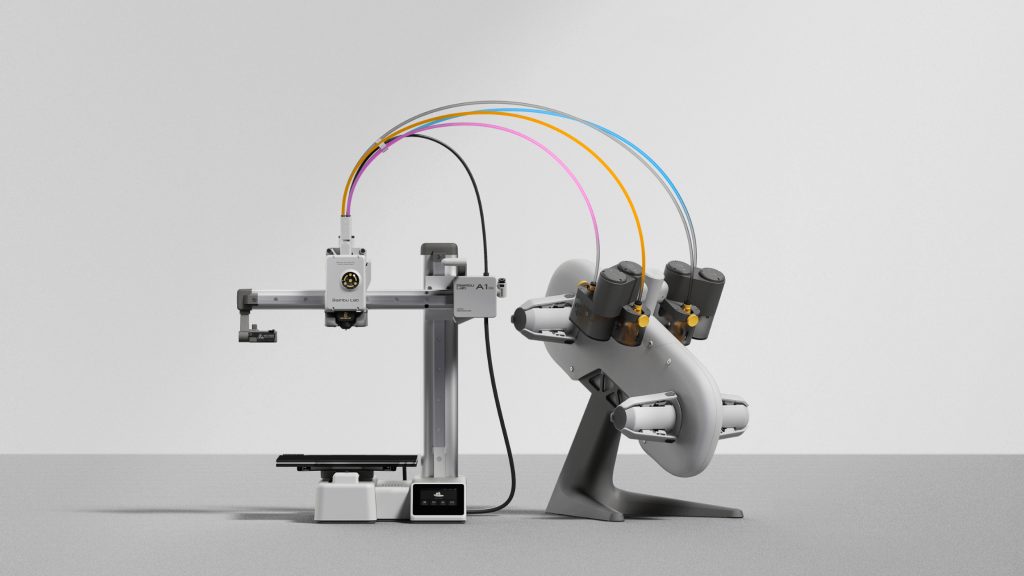 Key features of the new A1 mini
The A1 mini arrives pre-assembled, pre-squared, and pre-tuned. Thus, Bambu Lab claims that the new 3D printer works right out of the box, with no assembly or adjustment requirements.
All calibrations are handled by the A1 mini. The Z-offset, bed level, and X & Y axis vibration resonance are all automatically calibrated before each 3D print job. The A1 Mini also comes equipped with a new nozzle pressure sensor, which automatically calibrates the flow dynamics.
Bambu's newest 3D printer also incorporates an all-new touchscreen UI that is billed as being simple and intuitive. The UI's IPS touchscreen is said to make operation as smooth as a smartphone, with the system guiding users through all 3D printing steps and assisting with any issues regarding the HMS system. What's more, thanks to the new MakerWorld platform, the A1 mini can load preset files in the 3mf format, with users able to start 3D printing with just one click.
The A1 mini is also easy to maintain, featuring a Quick Swap Hotend. This includes only a single clip, allowing for quick and easy hotend removal. Indeed, the entire hotend swap process can be completed in under 30 seconds, with no electronic connector involved in the process.
Bambu Lab's newest 3D printer has also been designed with aesthetics in mind, sporting a subtle color scheme and clean CMF design. In keeping with its name, the A1 mini possesses a relatively small footprint, measuring 347x315x365 mm3. Taking up slightly more surface space than an A4 piece of paper, the A1 mini can fit into various workspace environments.
Active Motor Noise Cancellation technology is also added to the new A1 mini. Bambu Lab claims that this effectively reduces motor movement noise, resulting in a quieter 3D printing experience. Once turned on for the first time, the A1 mini will conduct a motor calibration process to calibrate the vibration characteristics of the 3D printer's specific motors.
Reliability is also highlighted as being a key draw of the A1 mini, with the 3D printer featuring all-metal rails and linear bearings. All metal rails provide extra rigidity and accuracy than traditional plastic V-wheels. Moreover, the A1 mini's structure requires minimal tuning and maintenance, making it more accessible to beginners.
The A1 mini's drive system is protected by a cover, helping to prevent accidents and interference from external particles. The covered Z-axis also keeps the user's hands clean from the dirty screw rod.
Bambu Lab claims that its newest offering also possesses the "most advanced" filament monitoring systems on the market. Unlike most 3D printers which possess filament runout sensors to detect filament presence, the A1 mini measures the existence of filament, its speed and odometry, the tension above the extruder, and the pressure under the extruder. This allows users to monitor filament runout, tangles on the spool, and slips on the extruder. 3D prints are also automatically paused whenever a problem is detected, with the HMS system able to accurately pinpoint what the issue is.
The Bambu HMS code system has been designed to be especially user-friendly, allowing specific problems to be quickly and easily diagnosed by looking up the specific code. Additionally, all consumable parts are modular and easy to swap, making part replacement convenient and affordable.
Fast 3D print speeds are also highlighted as being key to the new 3D printer. Indeed, the A1 mini can 3D print at up to 500mm/s, with a top acceleration of 10000 mm/s2. Vibration calibration for both the X and Y axes is performed at the beginning of each 3D print job, ensuring high-speed 3D printing accuracy.
Most 3D printers on the market use preset values which remain unchanged throughout the 3D printing process. However, the A1 mini calibrates the values before each 3D print, accommodating for 3D printer tension and environment temperature. Additionally, an Eddy Current sensor is located at the hotend, measuring extrusion pressure before 3D printing. This compensates the extrusion flow rate, ensuring stable extrusion throughout the 3D printing process.
Multi-color 3D printing with AMS lite
The AMS lite is a new and updated version of the original AMS, enabling simple and easy multi-material 3D printing. This new AMS possesses fewer parts than its predecessor and exposes all of the maintenance-intensive parts, improving reliability and making it more maintenance-friendly. For instance, Bambu Lab claims that it is "super easy" to remove a snapped filament from the PTFE tube.
Bambu RFID readers are also added to AMS lite, enabling automatic filament synchronization. As such, AMS lite can automatically detect and sync Bambu filament types with Bambu Studio, optimizing the 3D printer profile accordingly.
Bambu Lab has informed 3D Printing Industry that AMS lite is compatible with the A1 3D printer series, whilst the original AMS is compatible with Bambu Lab X1 and P1 3D printers.
In terms of material compatibility, Bambu Lab claims that the AMS lite is compatible with the same materials as the original AMS. As such, the AMS lite can use multiple filament materials and colors. However, flexible filaments such as TPU, TPE and absorbent filaments like PVA "should be avoided with the AMS lit," according to Bambu Lab.
Technical Specifications and pricing
The A1 mini is priced at $299 USD and the AMS lite comes in at $249 USD. Both products can also be purchased together as the A1 mini and AMS lite combo for $459 USD.
| | |
| --- | --- |
| Build Volume | 180x180x180 mm3 |
| Chassis | Steel + Extruded Aluminum |
| Hot End | All-Metal |
| Extruder Gears | Steel |
| Nozzle | Stainless-Steel |
| Max Hot End Temperature | 300℃ |
| Nozzle Diameter (Included) | 0.4 mm |
| Nozzle Diameter (Optional) | 0.2 mm, 0.6 mm, 0.8 mm |
| Filament Cutter | Yes |
| Filament Diameter | 1.75 mm |
| Compatible Build Plate | Bambu Textured PEI PlateBambu Smooth PEI Plate |
| Max Build Plate Temperature | 80℃ |
| Max Speed of Tool Head | 500 mm/s |
| Max Acceleration of Tool Head | 10 m/s2 |
| Max Hot End Flow | 28 mm2/s @ ABS (Model: 150×150 mm single wall; Material: Bambu ABS; Temperature: 280℃ |
| Ideal Supported Filaments | PLA, PETG, PC, PA, PVA |
| Monitoring Camera | Low Rate Camera (up to 1080P)Time Lapse Supported |
| Filament Run Out Sensor | Yes |
| Filament Odometry | Yes |
| Power Loss Recover | Yes |
| Filament Tangle Sensor | Yes |
| Physical Dimensions | 347x315x365 mm3 |
| Net Weight | 5.5 kg |
| Input Voltage | 100-240 VAC, 50/60 Hz |
| Display | 2.4 inches 320×240 IPS Touch Screen |
| Connectivity | Wi-Fi, Bambu-Bus |
| Storage | Micro SD Card |
| Control Interface | Touch Screen, APP, PC Application |
| Motion Control | Dual-Core Cortex M4 |
| Slicer | Bambu StudioSupport third parts slicers which export standard Gcode such as Superslicer, Prusaslicer and Cura, but certain advanced features may not be supported |
| Slicer Supported OS | MacOS, Windows |
Subscribe to the 3D Printing Industry newsletter to keep up to date with the latest 3D printing news. You can also follow us on Twitter, like our Facebook page, and subscribe to the 3D Printing Industry Youtube channel to access more exclusive content.

Are you interested in working in the additive manufacturing industry? Visit 3D Printing Jobs to view a selection of available roles and kickstart your career.

Featured image shows the new Bambu Lab A1 mini and AMS lite. Photo via Bambu Lab.