Aurora Labs (ASX:A3D) an Australian stock exchange listed developer of metal 3D printers has teased new plans of a forthcoming large format machine. Aiming to 3D print metal up to a size of 1.5m x 1.5m x 2.5m (L x W x H) at a rate 100 times faster than existing systems, Aurora's plans are ambitious.
3D Printing Industry speak to Nathan Henry, Director of Marketing and Business Development at Aurora Labs, to learn more about the Large Format Printer (LFP) technology.
DMLS, SLM and DED
"We have a process that we are developing and are now testing, that we generically call "Large Format Printer" (LFP) technology," explains Henry, "It is essentially the same technology in all [existing] models and scaled to the print envelope on the specific machine."
Aurora Labs' existing system, the S-Titanium Pro, is considered a Medium Format Printer (LFP) with a build area of 200 ×200 ×500 mm. It operates in three different 3D printing modes: direct metal laser sintering (DMLS), selective laser melting (SLM) and directed energy deposition (DED). The LFP will essentially operate using the same mixture of 3D printing technologies, though Henry maintains "It is completely different in a number of ways, most have not been disclosed publically yet,
"It has been designed to overcome the fundamental bottlenecks that have stifled significant increases in printing speed to date."
Starting slow
Two video clips of the current LFP prototype demonstrate early parameter tests of the system, which are encouraging to further development. In the first clip, the LFP system melt a bare plate of metal. Though no metal powder is melted, Henry explains "it is easy to see the speeds that may be possible as we continue to carry out tests for our next milestone."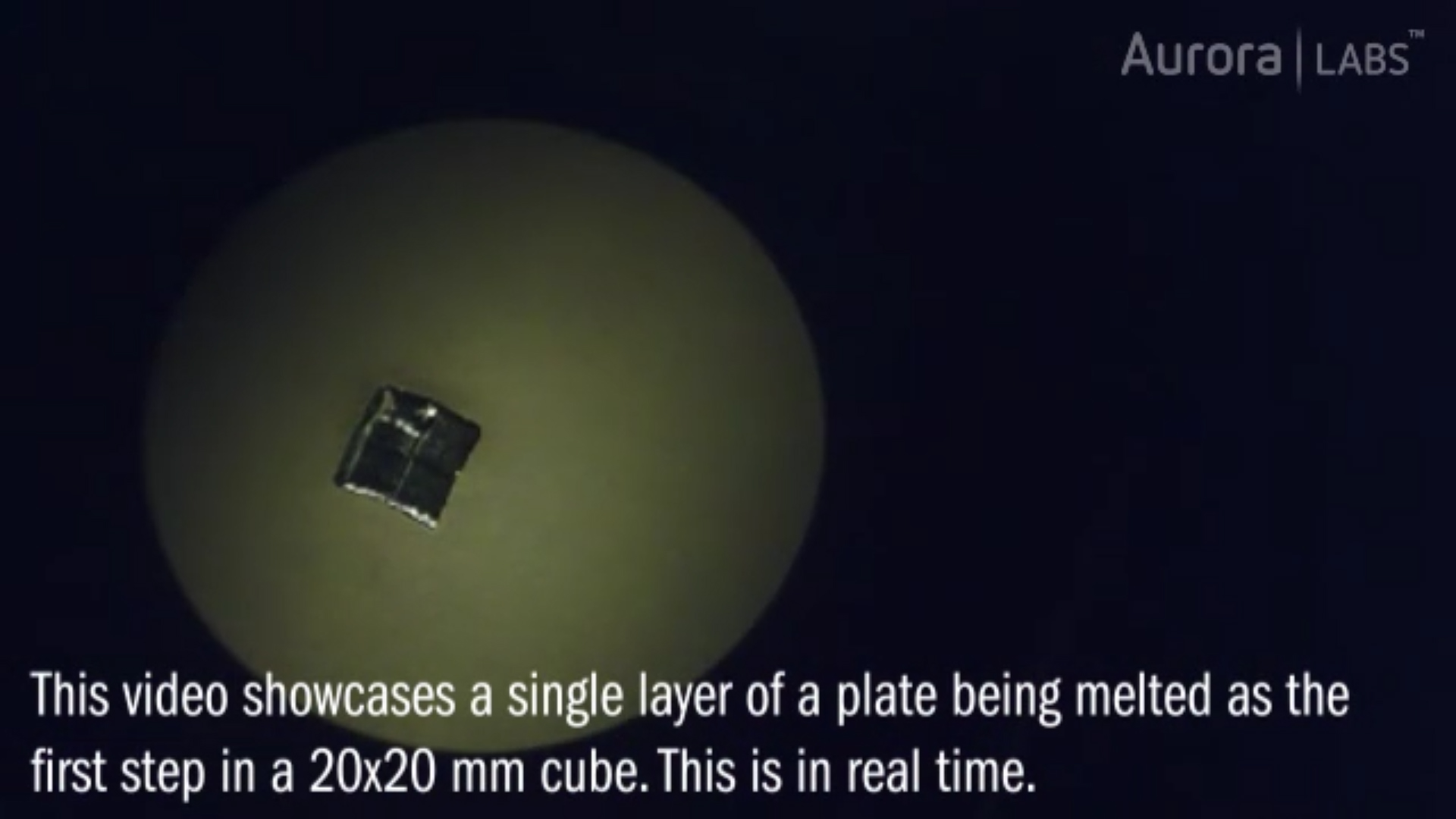 In the second clip, the LFP system is shown "slowly" 3D printing the first layer of a 20 mm x 20 mm cube. The rate is currently at a speed comparable to current metal 3D printing techniques. A rate that Aurora states is "a necessary first step" to achieving its grand ambitions.
David Budge Managing Director of Aurora Labs comments, "When we talk about printing simple parts slowly, this is equivalent to the same speed of other metal 3D printers currently in the market, while printing complex parts rapidly is targeting speed that are approximately 100 times faster than existing 3D printers."
"We look forward to announcing the achievement of addition goals along the way as we advanced the development, and ultimate commercialisation, of the technology."
Recently, the company has also signed a $100,000 3D printing research deal with the Commonwealth Scientific and Industrial Research Organisation (CSIRO). The shared objective is to bring more metal 3D printers to the commercial market, a goal also planned for LFP technology, potentially by 2019.
Stay up to date with Aurora Labs' development of Large Format Printing and other additive manufacturing advances by subscribing to the most widely read newsletter in the industry here, liking 3D Printing Industry on Facebook and following us on Twitter.
Is this award-winning technology? Nominate Aurora Labs now in the 2018 3D Printing Industry Awards.
Featured image shows the first slow steps of Large Format Printing. Clip via Aurora Labs