The Figure 4 3D printing platform from 3D Systems continues to find new applications. Under a new initiative announced today, US Air Force-sponsored research will look at how 3D printing can be used in the aircraft maintenance supply chain.
Figure 4 is high accuracy and high speed modular 3D printing platform that permits a significant increase in throughput when compared to earlier additive technology.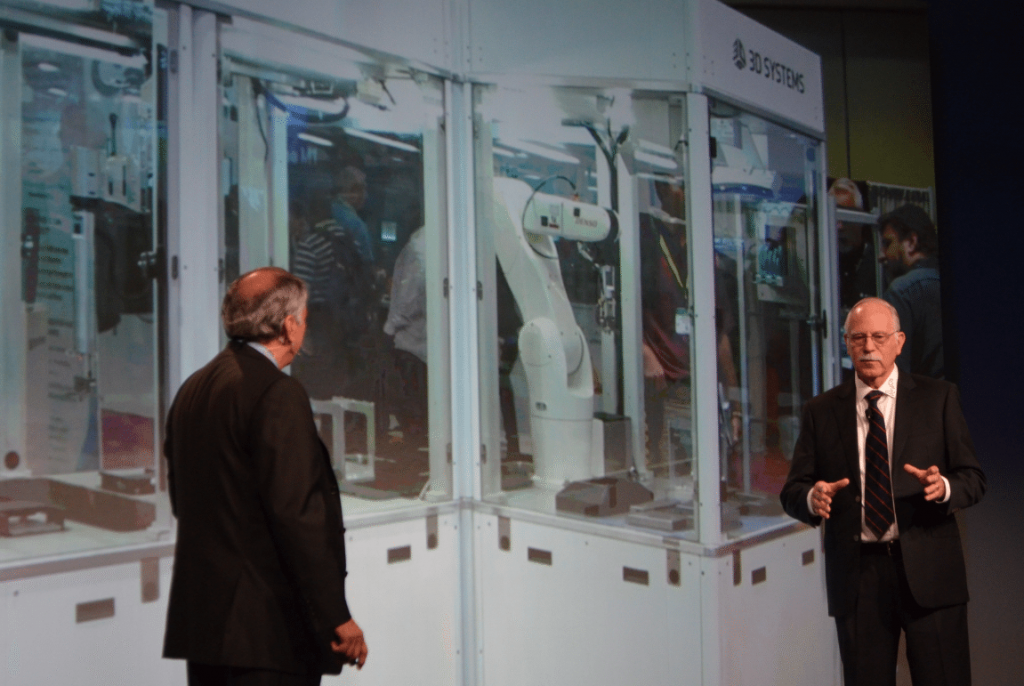 The research will be overseen by America Makes, the US national additive manufacturing innovation institute that frequently serves as a collaborative partner and facilitator between industrial 3D printing enterprises and wider industry.
Other America Makes initiatives include the additive manufacturing technology roadmap, a pathway intended to, "promote inquiry, knowledge-sharing, and technical advancements across the industry."
The University of Dayton Research Institute (UDRI) will lead the Figure 4 research project. Other participants include 3D Systems, Lockheed Martin, Orbital ATK and Northrop Grumman.
Industrial 3D printing for aircraft
The participants intend to explore how the Figure 4 system can be used to 3D print aircraft components across a range of older planes. This includes aircraft where the supply chain of replacement may have been disrupted.
With the focus on maintaining an older fleet, the project has echoes of the Deutsche Bahn 'mobility goes additive' initiative. Under the German additive manufacturing program Deutsche Bahn is also seeing how spare parts can be additive manufactured, the project has had significant success in digitizing and 3D printing replacement components.
Like that initiative the Air Force sponsored research hopes to reduce the need for keeping high volumes of inventory in warehouses. This in turn is anticipated to allow the rapid delivery of parts on demand, and thus reduce the time aircraft are kept out of service.
Dr. Tim Osborn, research scientist: additive manufacturing, multiscale composites and polymer division, University of Dayton Research Institute said, "We were pleased with the speed, resolution, surface finish, and scalability that we achieved utilizing 3D Systems' solution."
Our goal is to further explore this technology and establish a clear development, vetting, and transition pathway for the emerging DLP technology in the Figure 4 machine for transition to the U.S. Air Force.
The project is part of an ongoing Air Force program, "Maturation of Advanced Manufacturing for Low-cost Sustainment" (MAMLS). MAMLS is now moving to Phase III.  3D Systems has participated in previous phases, although this is the first time the Air Force has deployed, "Digital Light Processing (DLP) technology," for 3D printing low criticality components. Potential candidates for 3D printing on the Figure 4 include electrical connectors, knobs, elastomeric grommets, and spacers for legacy sustainment equipment.   
Expanding arsenal of Figure 4 applications

Chuck Hull, co-founder and chief technology officer, 3D Systems said, "Additive manufacturing is the perfect lean solution because it avoids the need for time-consuming and costly tooling,"
Continuing Hull added, "We are pleased to support the Air Force in its effort to reduce production costs and delivery times through Figure 4, our novel additive manufacturing technology.  We look forward to our continued collaboration with UDRI and other partners – helping expand their arsenal of Figure 4 applications."
The most recent data on Figure 4 shows final part print speeds up to 65mm/hr, while in prototyping mode speeds of up to 100 mm/hr are possible. The Figure 4 platform also uses a UV curing to further decrease the time taken to get a final component.
3D Systems describes the Figure 4 as yielding, "the world's fastest additive manufacturing throughput and time-to-part" and cite this as a primary factor in the selection of the technology for testing by the research team.
Figure 4 is nominated in the 2018 3D Printing Industry Awards. Make your vote now.
For all the latest 3D printing news sign up to the 3D Printing Industry newsletter, follow us on Twitter, and like us on Facebook.

Join our new 3D printing jobs board to hire additive manufacturing specialists.

Featured image shows 3D Systems Figure 4 configuration. Photo by Michael Petch.