Don't let yourself be fooled by appearances, while 3D Systems's new Cube Pro looks elegant and stylish like an iPhone, it is a tough machine built for rapid prototyping and engineering of small and medium size mechanical components. It is not just a fancy toy or something you just want to have fun with: it is a professional level 3D printer that allows you to print large PLA and ABS (and soon nylon as well) parts with ease, in up to three colours, with an extremely competitive price point. Don't think of using it to 3D print bracelets or toys, though, for that you should probably go for a Cube 3.
Courtesy of 3DZ, Italy's leading distributor of 3D Systems' 3D printers and 3D scanners, I was sent a Cube Pro to test and review (and, unfortunately, return). I have to admit it was larger (and, at almost 40 Kg, definitely heavier) than I imagined, It came on a small size pallet, wrapped and boxed up with a number of accessories. It does, however, look like something straight out of the future. It is a radical departure from its predecessor, the CubeX, both in terms of appearance and also for the quality of its new components, which ensure that the Cube Pro can print (and pause) and print seamlessly, for hours upon hours without even so much as a glitch in its mechanical H-bot structure.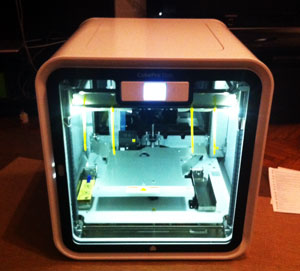 The only issue is the material cartridges. Pricing them above 70 euro for less than one Kg of PLA or ABS is the only way for 3D Systems to keep the price of a 285 x 270 x 230 mm build volume machine as low as €2,399 (for the single extruder model), however the complexities of using enclosed cartridges with a chip to measure usage go well beyond the advantages they offer. The machine recognizes the cartridge: it can tell you how much filament is left and, most importantly, it can self regulate its temperature and extrusion parameters so that you don't have to do anything.
On the other hand, if the filament gets tangled or breaks you will have to open it up to pull out a new end. Closing it back up, while leaving the electronic chip in place and the filament free to flow, is an annoying task to say the least. Once you have settled that, though, having all the filament settings preloaded on the machine is a big advantage for the professional user. Especially since the Cube Pro will soon introduce full nylon (natural, black and white) 3D printing capabilities, opening up a whole new range of possibilities in terms of the mechanical and thermal resistance properties of its prints.
Much like MakerBot's newest Replicators, the Cube Pro comes in a huge box with all the accessories accurately packed away in their own smaller boxes: two for the filament, one for the toolkit, one for the waste bin (which is used to automatically clean the nozzle after the first extrusion) and glue, and one for the glass build plate. Setting it up through the on board computer and full color LED touch screen, is the easiest part. The plate self regulates and the controlled, enclosed environment makes it possible (and safe) to build large size ABS prints even without using a heated plate.
Assembling the machine and getting started is very simple. You can access the 3D printer both from the removable top or from the "front door" and all components are easily put together. The waste bin fits against the back wall of the machine, while the print bed simply lays on the metal plate that holds it. Setting it up from the control panel is also very straightforward, and the Cube Pro has built in wifi connectivity, which you set up directly from the on board computer and panel, just like you do with a new iPhone. Adding the filament cartridges is a bit more complex, as you have to feed the filament into the plastic tubes that lead it to the extruder motor, before locking the cartridge in place.
3D Systems offers around twenty colors for both ABS and PLA, and with the Cube Pro, much like the CubeX before it, you are able to use up to three of them at the same time in a triple extrusion system. The Cube Pro ecosystems makes it so that the most difficult part about multi-color 3D printing is actually designing the object, but once you have that (or once you have downloaded it from the Cubify network), the machine simply executes your digital instructions. To begin with, I settled for a single color print, a "controversial" low poly Pokemon from my friend Agustin Flowalistik. Needless to say the Cube Pro 3D printed it perfectly, albeit somewhat slowly, as I had set it for 70 micron layers, the highest possible resolution.
Although sufficiently accessible and complete, the free Cube Pro software, that prepares the file for printing by converting it into the .cubepro forrmat read by the printer, could be improved, especially from a graphic interface standpoint. The printer is a lot prettier than its software, showing, to me at least, that 3D Systems focuses on more concrete aspects but it clashes with the company's clear intention to try to reach out to the wider public.
It does, however, do everything it needs to do, letting you set up the 3D printer and even connect to it wirelessly. You can then set up the filament color and type and decide which one (or which ones) you want to use for printing in the "build object2 screen', where you also select whether you want to add a raft, what type of supports and which printing pattern to follow (lines, diamonds or honeycombs). In the Advanced Setup section you can also set wall thickness, the fill spacing, and top and bottom surface layers size.
Once the file is on the virtual print plate all you need to do is follow instructions and wait. The machine tells you when to apply the glue to hold the first layer down and gives you time to do it, asking you to let it know when to move on, while heating up the jets. That's because 3D Systems refers to its own version of FFF technology as "Plastic Jet Printing" (PJP).
After the first print the Cube Pro printed practically non stop for two weeks without any error or mechanical complication. The only issue took place at around midnight, as my next door neighbour threatened to kill me if I did not shut it off immediately. The machine is not very quiet, but then my house walls are extremely thin and her bedroom is right next to my living room. As I was far from finishing the print job, I paused it for the entire night and the next morning it started right back up with no issues. Although the Cube Pro is still somewhat distant from fulfilling 3D Systems' dream of a 3D printer in every home it is a lot closer to the reality of a 3D Printer in every semiprofessional studio.