Voting has now started for the 2023 3D Printing Industry Awards. Cast your vote now!
3D printer manufacturer 3D Systems has used its point-of-care technologies to create a patient-specific 3D printed cranial implant for a procedure at the University Hospital Basel in Switzerland.
The initiative was led by Prof. Florian Thieringer, Head of Medical Additive Manufacturing Research Group (Swiss MAM) at the hospital's Department of Biomedical Engineering (UNIBAS DBE) and involved collaboration with Prof. Raphael Guzman and the Department of Neurosurgery. This achievement is noteworthy as it marks the creation of the first cranial implant produced at the point of care that complies with current Medical Devices Regulations (MDR). As per 3D Systems, the market for cranial implants is projected to reach approximately $2.1 billion by 2030, offering solutions for trauma, defects, and reconstruction.
"The successful implantation at the University Hospital of Basel is a pivotal moment for medical 3D printing, demonstrating its potential to revolutionize patient care," said Prof. Thieringer. "Our collaboration with hospitals across Europe, along with the invaluable expertise provided by POC APP AG around QMS and regulatory guidelines, showcases the power of advanced technology and collaboration in improving healthcare outcomes."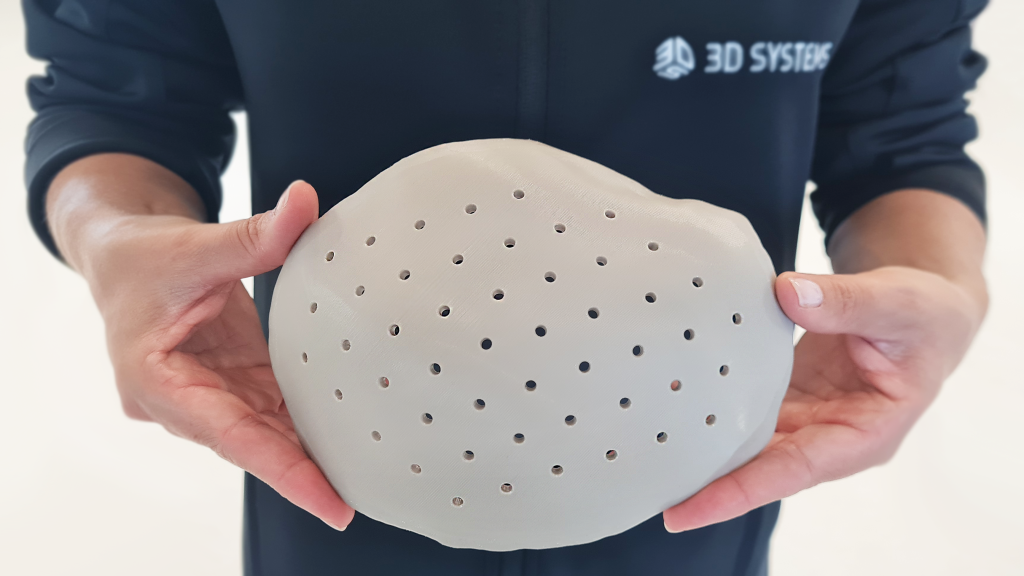 Applications of 3D Systems' point-of-care technologies
3D Systems utilized extrusion printing technology known for its ease of use in creating durable, biocompatible implants using polyetheretherketone (PEEK) material. Additionally, this technology allows for the production of patient-specific geometries directly at the hospital, offering advantages for both surgeons and patients. The implant produced by the University Hospital Basel team was successfully used to replace a section of a patient's disintegrating skull. This patient, a 46-year-old male, had experienced complications following a stroke in 2019.
Initially presenting with visual disturbances, severe headaches, dizziness, and a sinking forehead due to skullcap disintegration, the patient's journey involved the acquisition of a computed tomography (CT) scan of his skull. The scan served as the foundation for creating a customized implant model tailored to the patient's unique anatomy. Subsequently, the implant was developed in the hospital's 3D printing lab using Evonik's VESTAKEEP i4 3DF PEEK on 3D Systems' EXT 220 MED extrusion platform. The choice of PEEK was informed by its suitability for applications due to its lightweight and resistance to thermal and ionizing radiation, rendering it similar to human bone. Importantly, the 3D Systems printing technology adheres to stringent requirements for healthcare applications within sterile environments.
On a similar note, Salzburg University Hospital's success with a patient-specific cranial implant for a 55-year-old male with craniosynostosis highlights the effectiveness of 3D Systems' point-of-care solution. Under the guidance of Dr. Neha Sharma, Ph.D., in-house clinicians used software to create 3D models from the patient's CT images and designed a patient-specific occipital prosthesis, which was produced using VESTAKEEP i4 3DF PEEK by Evonik on 3D Systems' extrusion platform.
Additionally, the hospital's Department of Neurosurgery also used the technology for patient-specific post-decompressive craniectomy implants. Prof. Christoph Griessenauer, the department's chairman, mentioned the hospital completing about 40 decompressive craniectomies annually. After the swelling decreases, a patient-specific cranioplasty implant replaces the removed bone. The department has already completed four cranioplasty surgeries within a month, with more planned.
Healthcare sector taking strides by 3D printing implants
Chicago-based biofabrication firm Dimension Inx's FDA-approved 3D printed bone graft, CMFlex, was used in its first clinical cases. This synthetic bone graft targets oral and maxillofacial surgery for bony defects, with a complex 3D architecture promoting bone regeneration. Dr. Brian Farrell DDS, MD, of the Carolinas Center for Oral & Facial Surgery and Dr. Derek Steinbacher Director of West River Surgery Center conducted the surgeries, including mandibular angle augmentation (surgery of the lower jaw) and maxillary segmental osteotomy (surgery of the upper jaw).
Queen's University Belfast researchers developed personalized 4D printed breast cancer implants, marking the first use of 4D printing for such implants. With this technology, the team created adaptive breast implants for a better fit in a patient's tissue cavity, enhancing personalization and aesthetics. Furthermore, the 4D printed implants could release chemotherapy drugs exactly where they were needed, protecting the patient from the return of cancer cells in the affected area.
What does the future of 3D printing for the next ten years hold?
What engineering challenges will need to be tackled in the additive manufacturing sector in the coming decade?
To stay up to date with the latest 3D printing news, don't forget to subscribe to the 3D Printing Industry newsletter or follow us on Twitter, or like our page on Facebook.
While you're here, why not subscribe to our Youtube channel? Featuring discussion, debriefs, video shorts, and webinar replays.
Are you looking for a job in the additive manufacturing industry? Visit 3D Printing Jobs for a selection of roles in the industry.
Featured image shows 3D Systems' creates first cranial implant using its point-of-care 3D printing technologies. Photo via 3D Systems.