On March 3, 2009, when the financial crisis had taken US stocks to some record lows and the S&P Index had hit an intraday low of 666, President Obama went on record saying that "buying stocks now is potentially a good deal, if you've got a long-term perspective on it." Since then, the S&P has more than tripled to a record high of 2070 (in early February), thus making Obama's one of the best stock calls of all time. Those who own stock in the 3D printing industry are sure hoping the same will be true for this technological microcosm, which does not necessarily follow dynamics that are in line with those of the stock market as a whole.

While we do not have a "composite" 3D printing stock index – as 3D printing companies stocks are traded on many different markets – judging by my own portfolio, which includes most traded 3D printing companies, those stocks are tanking. In late 2013, the enthusiasm around the discovery of 3D printing by consumers had driven several companies to pursue IPOs and see their stock prices rapidly inflate, with industry leaders 3D Systems and Stratasys climbing to record market capitalization of several times their yearly revenues.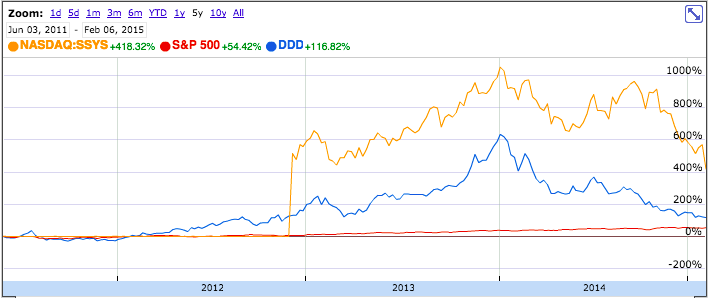 Since then, newly traded companies such as voxeljet and ExOne have dropped close to 80% of their stock value, while 3D Systems, which at one point was trading above $80, is now trading at $28.5, and Stratasys has gone from well above $120 to $61. There are more examples of 3D printing "pure players" struggling on the financial markets: Belgian 3D printing service Materialise is down from a $12 IPO price to about $8, and so is German Alphaform (from €5 to about €3) and American Protolabs (from a $80 high to $65). Organovo, the only public 3D bioprinting company, is down about 50% from its all time high of $12. SLM Solutions, which is traded on the German XETRA, and Arcam Metals, which is traded on the Swedish NASDAQ have dropped around 20% of their value since their respective highs in February and June 2014.
The 3D printing-related companies that are doing very well are "mixed players" (those expanding into AM), such as Reniswhaw. The UK company produces two SLM 3D printers and has seen some significant growth from a low of about £1,400 in June 2014 to today's £2,340 per stock. The biggest gainers in this scenario are the larger 3D software companies: Autodesk and Dassault Systems. Investors are probably aware that, before additive manufacturing fully takes hold, it will take place at a software level and are, thus, rewarding the two companies that are fueling this shift. They both recorded significant gains over the past few months, which have taken them to near record highs of $57 and €58 respectively. The same goes for Hewlett Packard, which has made some minor gains since its "blended reality" announcement. If you are a non-US resident that bought stocks denominated in dollars, you also stood to gain from the US dollar's recent appreciation.
Gartner's hype cycle curve is, thus, proving quite accurate, as 3D printing moves away from the peak of initial consumer enthusiasm. The good news is that this also entails a new phase of consistent organic growth. This seems to be confirmed by most 3D printing companies' real economic data, which sees revenues growing between 35% and 50% from most companies, including 3D Systems, Stratasys, and Voxeljet in the first part of FY 2014 (with yearly reports due out soon). ExOne has reported a decrease in machine revenues; however, it has been investing considerably in incrementing its production capabilities with new facilities in Germany and the US.
It is unlikely that stocks will reach the heights of the late 2013 hype anytime soon, and are likely to actually decrease some more to fully reflect the companies' real revenues (and not their perspective revenues). So, if you are in it for a quick gain, you might be better off investing in something else. Although, this also reminds me of another graph I saw recently, which showed how small investors usually chose to buy and sell just a little too late. Listening to Obama in 2009 may have seemed like folly, as confidence was at an all time low and darker times loomed ahead. With 3D printing stocks, the outlook is not as bleak and I will go on record saying that they seem like a potentially good deal. If you have a long term perspective on it, of course.