Today in Sliced, our 3D printings news digest, we take a glance at the latest restructuring at Aleph Objects; delve into the Bloodhound supersonic car; seek out the latest 3D printer releases; and even find a robot capable of playing holiday tunes…
Companies featured in this article include Snapmaker, Hensoldt, Okuma, Nano Dimension, MIT Enterprise Forum Cambridge and Stratasys.
The Blooudhound, Aleph Objects, DyeMansion,  Navajo Technical University
The Bloodhound supersonic car, that features 3D printed parts, has been saved after the project failed to secure investment earlier in December. Ian Warhurst, a businessman from Barnsley in South Yorkshire, provided the cash needed to keep the project afloat. Speaking to the BBC Warhurst, the previous owner of turbocharger manufacturer Melett, said, "There's a bit more sorting of the car to do, but nothing major, to get to that first step of testing it at high speed […] It just had to carry on."
In a personnel restructuring at Aleph Objects, Inc., parent company of Lulzbot brand 3D printers, Grant Flaharty, President of the company, has taken on a secondary role as CEO. Flaharty steps into the role following Steven Abadie, who has been CEO of Aleph Objects since its founding in 2011 and is now the company's CTO. Jeff Moe, Founder of Aleph Objects, comments,
"The internal re-alignment of the company will ultimately serve to maintain a stronger focus on new product introduction going into this period of massive growth."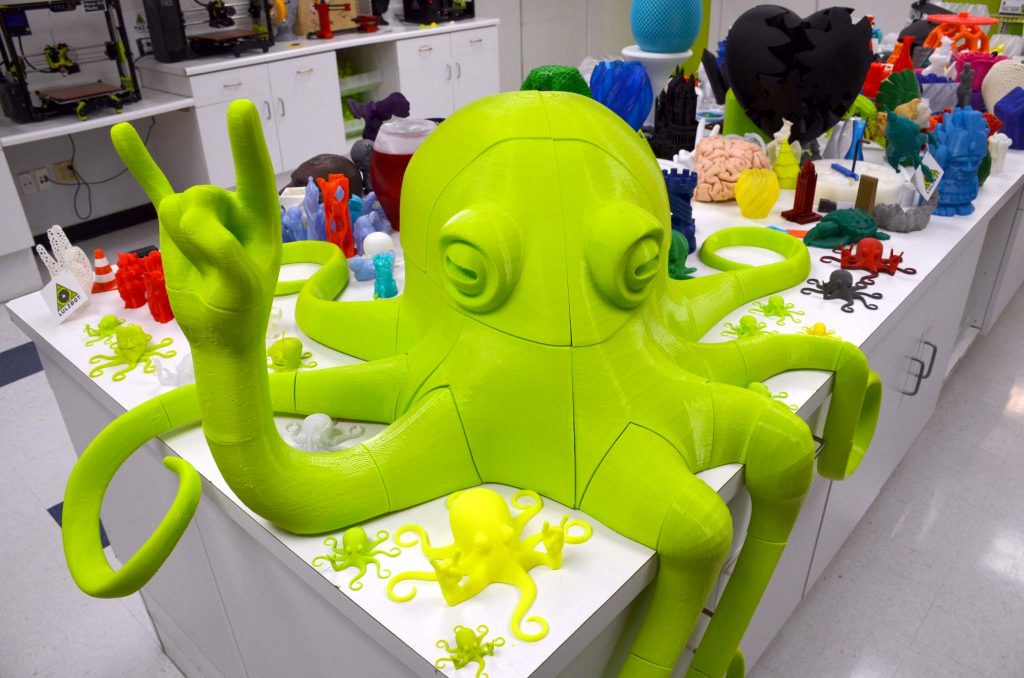 Navajo Technical University in Crownpoint, New Mexico, is to build a Center for Advanced Manufacturing, including metal 3D printing, with a  $3.5 million grant from the National Science Foundation (NSF).
New 3D printers: Snapmaker, Hensoldt, Okuma
California-headquartered Desktop 3D printer manufacturer Snapmaker has hinted at the launch of a new 3D printer. Dubbed the "Snapmaker 2," the second generation system from the company is tipped to be launched via Kickstarter in 2019.
Multinational defense corporation Hensoldt has become the latest customer of Nano Dimension Dragonfly Pro 3D printer.
And Japanese-headquartered machine tool manufacturer Okuma has released a new hybrid subtractive and additive manufacturing system. 3D printing in the MCR-S (Super) is achieved via LMD, and the machine is best suited to producing high quality dies.
As seen at IMTS this year, traditional machine manufacturers are beginning to encroach more and more upon the 3D printing sphere.
Latest 3D printing education opportunities in India and the U.S.
Stratasys India, a regional subsidiary of leading 3D printer manufacturer Stratasys, is set to launch the nation's first additive manufacturing certification course. The product of a partnership with the esteemed Nettur Technical Training Foundation (NTTF) the new training program will prepare student with "future proof" fabrication skills.
Over in the U.S., the MIT Enterprise Forum Cambridge, a startup support affiliate of the Massachusetts Institute of Technology (MIT), is to host a session titled "Manufacturing the Future." Scheduled for January 9, 2019, the session will give participants the opportunity to speak with a panel of 3D printing experts and gain an insight into this technology.
Jingle bells, jingle bells…
And finally, as the festive season is upon us, this robotic arm-controlled 3D printed hand from the University of Cambridge seems like the perfect thing to play us off…
Think any of the companies mentioned here have earned a 3D Printing Industry Award? Nominate them companies and more in the 2019 3D Printing Industry Awards.
Keep up with all the latest news – subscribe to the 3D Printing Industry newsletter, follow us on Twitter, and like us on Facebook. Post a vacancy or find your next career move on 3D Printing Jobs.
Featured image shows Sliced logo over the Bloodhound Super Sonic Car. Original photo via Autoexpress