Indiana's Thermwood Corporation, the developer and provider of Large Scale Additive Manufacturing (LSAM) technology, has conducted a joint demonstration program with global aircraft manufacturer Boeing.
Completed in August 2018, the project culminated in Boeing's purchase of an LSAM system and Thermwood's delivery of a 12 foot long, 3D printed aircraft trim tool for development on the Boeing 777X plane series.
Large Scale Additive Manufacturing
Founded in 1969, Thermwood Corporation is traditionally a manufacturer of CNC routers and systems serving woodworking, automotive, aerospace/aviation and defense industries. By applying its CNC expertise to 3D printing, the company introduced its line of LSAM systems to the market in 2016.
With a build volume of up to 10 ft x 5 ft x 100 ft, LSAM machines are production-ready systems for industrial application. Installed at ground mobility company Local Motors LSAM is used to produced parts for the autonomous Olli bus. The technology is also employed by the U.S. Navy.
In a project with chemical producer Techmer PM and Purdue University, Thermwood previously used an LSAM machine to produce a single-piece drip pan mold for a Boeing Chinook helicopter.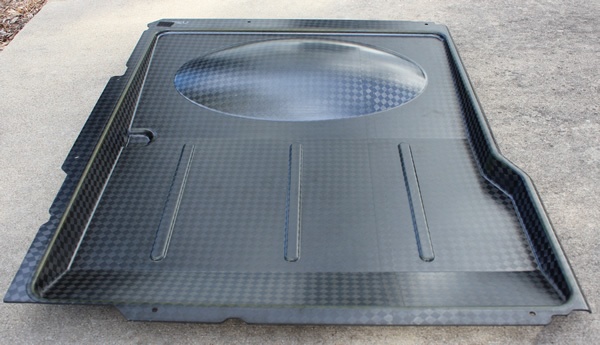 Vertical Layer Print
The Boeing 777X trim tool delivered by Thermwood this year was 3D printed using the company's upgraded toolhead, which allows the deposition fiber reinforced composites. As such, it consists of 1,540 lbs of 20% carbon fiber reinforced ABS plastic.
In total, the tool took 43 hours 20 minutes to print, also served as a demonstration of Thermwood's latest LSAM upgrade: Vertical Layer Print (VLP). Instead of depositing horizontally onto a print bed, VLP literally flips LSAM system on its side so parts are built up vertically, instilling different mechanical stresses in the layers.
After 3D printing the part was trimmed, within the same gantry system, to give a smooth surface finish.
The most 3D printing-inclusive aircraft yet?
The 777X series of commercial airplanes by Boeing have been in development since 2017 and are scheduled to fly in Q1 2019.
In addition to the 12 foot long trim tool made using LSAM technology, the 777X series also sees the introduction of Boeing's record breaking assembly tool 3D printed at Oak Ridge National Laboratory (ORNL).
The GE9X engine driving 777X aircraft also includes 3D printed fuel nozzles by GE.
For all of the latest additive manufacturing application updates subscribe to the 3D Printing Industry newsletter, follow us on Twitter, and like us on Facebook. Search and post additive manufacturing vacancies on 3D Printing Jobs. 
Featured image shows LSAM VLP of the Boeing 777X trim tool. Image via Thermwood Corporation