3D printing technology developer Headmade Materials has partnered with 3D printing service bureau Element22 to develop a novel 3D printed bike pedal design.
Dubbed MyTi, the clipless titanium pedals were prototyped using Cold Metal Fusion (CMF), Headmade Materials' proprietary take on the metal SLS 3D printing process. Set to launch this summer under the joint Titanum brand, the pedals are now available for backing on Kickstarter, and have already passed their pledge goal of €24,700 ($29,000).
The MyTi clipless pedals
Firstly, a little background on bike pedals. Clipless pedals are characterized by their lack of overfoot straps, meaning users often have to latch to them via cleats on the bottom of their riding shoes instead. Unfortunately, it's not uncommon for competitive bike riders to accidentally unlatch their cleats while pedaling too hard or pulling up during a jump. The MyTi is designed to fix this issue, as it only allows cleats to be unlatched with a sideways pulling motion.
Compatible with both road and mountain bikes, the MyTi clipless pedals were built with performance in mind. They are double-sided, feature a low stack height of just 7.3mm, and are extremely light at 69g. 3D printed in Ti64, the pedals are around twice as strong as aluminum and 40% lighter than a steel equivalent.
One of Titanum's co-founders, Rico de Wert, has been experimenting with the pedal design for a number of years now, but has historically run into issues regarding either technical feasibility or high production costs. By enlisting the help of Element22, de Wert jumped these hurdles and earlier this year, the Titanum brand was born.
Having already 3D printed the first batch of MyTi prototypes, the Titanum team has now fine-funed the design and filed a patent application. The pedals have even been field-tested by a number of renowned bike specialists such as Ralf Holleis from huhncyles and Tom Sturdy from Sturdy Cycles.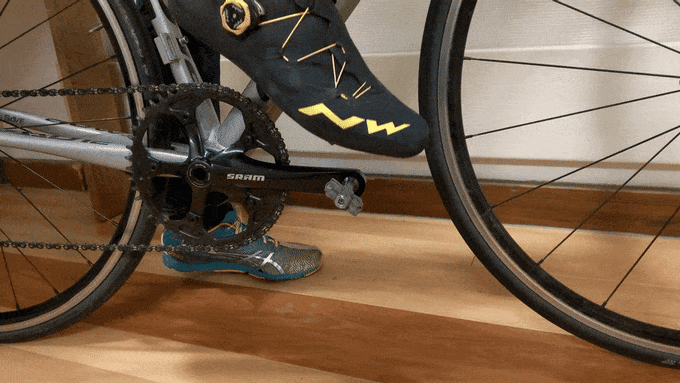 What makes CMF 3D printing special?
As well as providing the geometric freedom required to fabricate the abstract MyTi structure, the CMF 3D printing process allows for mass production, which will enable the Titanum team to serially manufacture the pedals in the thousands.
Where most metal SLS systems might struggle with thermal stresses, abundant support structures, and low productivity, Headmade Material's CMF is designed to excel. The process borrows ideas from both SLS and binder jetting, and involves mixing the metal feedstock powder with a functional binder.
Since it's only the binder that is melted and not the actual metal, the system can afford to use much less energy and increase its scan speeds. As such, print speeds are drastically improved and there is no need for heat sink structures. Once a part is printed, it is debinded and sintered to obtain a fully dense titanium pedal.
Late last year, sportswear giant Adidas revealed what it called the ultimate 3D printed running shoe, the Futurecraft 'STRUNG'. The STRUNG sneakers, featuring the latest Futurecraft insoles produced by 3D printer manufacturer Carbon, have been created using an industry-first textile printing process based on user-specific anatomical data.
Elsewhere, Carbon also partnered with sports goods manufacturer CCM Hockey to 3D print the world's first NHL-certified hockey helmet liner. Produced using Carbon's proprietary Digital Light Synthesis (DLS) resin process, the Super Tacks X with NEST (Next Evolution Sense Technology) features a digitally printed lattice structure on the inner lining.
As well as its applications in heavy industries such as automotive and aerospace, 3D printing is slowly seeing a rise in the sporting goods sector.
Subscribe to the 3D Printing Industry newsletter for the latest news in additive manufacturing. You can also stay connected by following us on Twitter and liking us on Facebook.

Looking for a career in additive manufacturing? Visit 3D Printing Jobs for a selection of roles in the industry.

Featured image shows a MyTi prototype batch. Photo via Titanum.