Most people in 3D printing are driven by a passion that is hard to describe. In the field of bioprinting this passion and enthusiasm can go even further, possibly because the final reward is actually producing functional, replacement tissues and organs. In other words, creating (or extending) life itself.
Research is moving fast in this field, especially in the low-cost segment, with incredible projects such as the ones from BioBots and CELLINK. Now a new project by Jemma Redmond's and Stephen Gray's Ourobotics is taking the bar a little further with a low-cost bioprinter capable of using 10 different materials (and potentially even more) in the same bioprinted structure.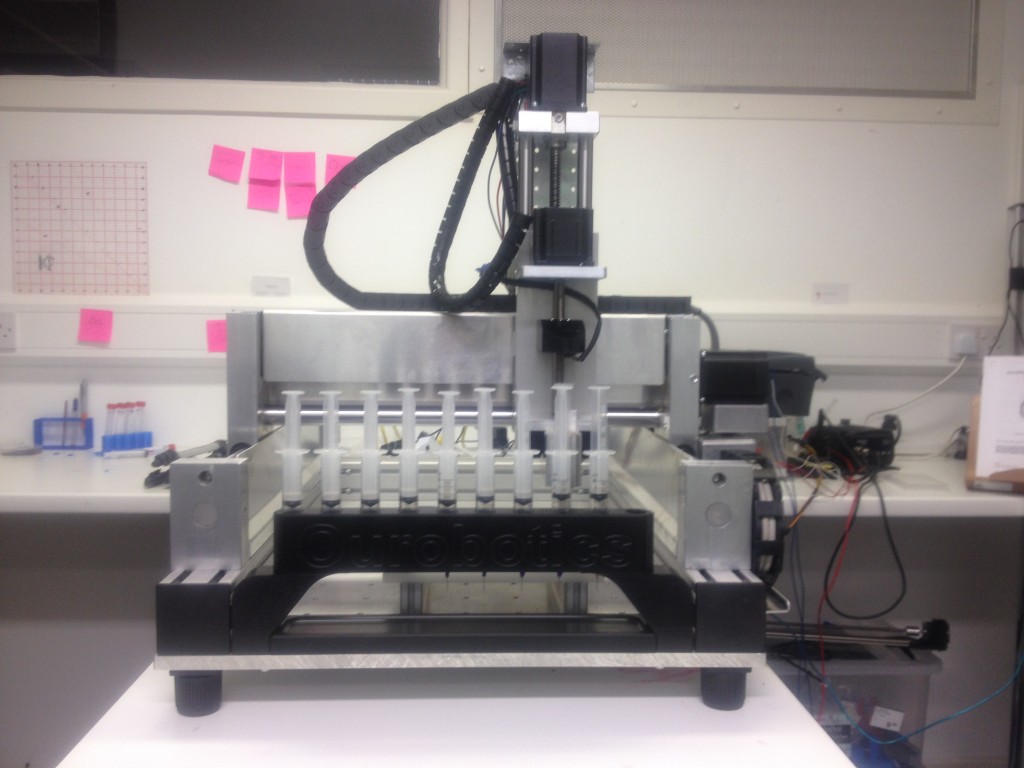 In bioprinting, just like in 3D printing, multi-materiality is one of the biggest hurdles to being able to create functional, complex structures. So four years ago, Jem, who is also an expert in gel materials for bioprinting, set out to approach this challenge.
Stephen Gray, a Bioengineering PhD Candidate at Professor Peter Weinberg's Lab, Department of Bioengineering, Imperial College London also worked on the project, approaching it from a synthetic biology and bioengineering side. His own work was sponsored by the British Heart Foundation Centre of Research Excellence.
"I started building bioprinters on my kitchen table," Jem told me. "At the time I was also printing human fingers for my thesis… I obtained some funding and built printers that could print into liquid, so i mimicked in vivo conditions, kind of like a womb: bioprinter meets bioreactor. After the funding ran out Hax8lr backed by SOSV stepped in and we put together a team, went to china and built 4 bioprinters in 4 months including a robotic arm."
The team then went to San Francisco where they did a demo at Autodesk, built a lab and worked day and night to finally crack a problem that allowed them to print with up to 10 materials. "We can in theory print with any number of materials but this printer is set at 10 for the moment," Jemma went on. "The machine works by changing out its own materials. It works kind of like how a human would and feels where the syringe is… so in a way its almost like taking a regular printer and giving it a hand… literally!"
One of the most amazing features of the Ourobotics Revolution 3D bioprinter is the price, set at €12,500. Co-founders Stephen Gray and Jemma Redmond intend to offer a limited number of these machines in order to get feedback to build the next version. The current model is reconfigurable so that different bioprinting setups can be run from the printer in future, which means that it can be upgraded and expanded. I also comes with a heated enclosure to keep cells alive. Current possible applications range from Human tissue, Pharmaceuticals, Food, Synthetic Biology, Electronics, Batteries, and even Textiles as the machine can print with just about every gel-like substance including Collagen, Gelatin, Alginates, Chitosan and more.
"We have been having a go at printing simple tubes/arteries in well plates and even attempting to print simple batteries. We called it the 'revolution' bioprinter partially because we now crossed a threshold.. but also partially because of the name of the revolution space in San Francisco. Also there is also the word 'evolution' in there, which, in fact, it is," Jem explained.
Gel extrusion technologies present some extreme complexities and possibly only represent the very beginning of what organ bioprinting will become. However progress is moving fast, and full (R)evolutions are happening more and more frequently. It is a great time to be a bioengineer.