GKN Aerospace, a global engineering firm based in Worcestershire, UK has received a contract from Ariane Group, a joint venture of multinational aerospace companies Airbus and Safran, to develop and additively manufacture two full-scale turbines.
The turbines will be integrated into a low-cost reusable rocket engine, named Prometheus, which will use liquid oxygen-methane propellants "to power Europe's future [space] launchers."
The Prometheus Project
Last year, Ariane Group, formerly Airbus Safran Launchers, signed a €75 million contract with the European Space Agency (ESA) for a next-generation rocket engine. This contract sought to use new propellant and innovative manufacturing technologies such as 3D printing, to create a cost-effective full-scale engine demonstrator.
Prior to this, in 2015, Safran began prototyping of the engine with metal 3D printing methods. One of the predecessors to the Prometheus, the Vulcain 2.1, contains 3D printed structural components. Nevertheless, Prometheus is said to be produced at costs ten times lower than these engines. Following over six generations of Vulcain engines, the Prometheus is expected to be the first engine to make full use of design complexities enabled by 3D printing.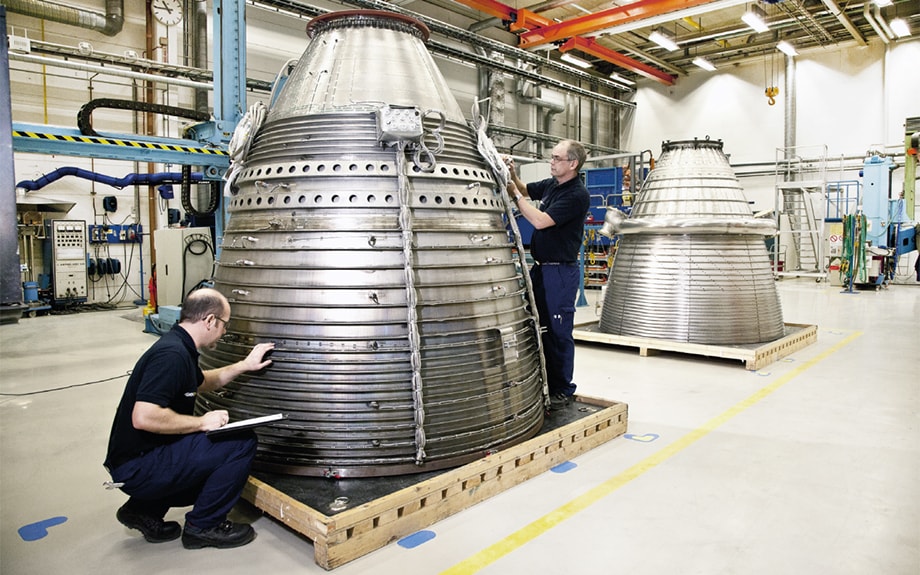 Skyrocketing additive manufacturing technology
GKN's 3D printed turbines will generate power for Prometheus' fuel system. One of the turbines, set to be delivered at the end of 2019, contains challenging loads including very high pressure, high speed, and high temperatures. According to GKN, additive manufacturing technologies have allowed higher performance, lower lead times and a 90% cost reduction for critical components within the turbines.
This has also decreased the number of parts from over 100 to 2 while still supporting pressure, temperature and rotational speed. Manufacturing continues to take place in cooperation with partners and at GKN Aerospace's highly automated engine systems centre of excellence in Trollhättan, Sweden.
Ground tests of the Prometheus engine for the Ariane 6 rocket are set to take place in November 2020.
"We look forward to demonstrating the benefits and the added value in weight and cost reduction, and in faster production rates. These factors, along with our established expertise in space turbines, have resulted in the award of this engine turbine contract," said Sébastien Aknouche, Vice President and General Manager, Services and Special Products Engine Systems, GKN Aerospace Sweden.

Catch more of the latest 3D printing news by subscribing to the 3D Printing Industry newsletter, Also, follow us on Twitter, and like us on Facebook.
On the lookout for new talent or seeking a career change? Search and post 3D Printing Jobs for opportunities and new talent across engineering, marketing, sales and more.
Featured image shows GKN Aerospace using a metrology device to analyze a 3D printed metal part. Photo via GKN.