Formnext 2016 is open, and 3D Printing Industry bring you the first look at the latest additive manufacturing technology.
New machines unveiled
3D Systems have a large booth with a figure 4 modular configuration running, it will be interesting to see how this solution is adopted by industry and 3DPI will be listening carefully for updates.
Another large area is taken by the UK's Renishaw with the their path to industrialization showing the AM400 and AM500 machines. Roland DG Benelux are also here and have unveiled a binder jetting ceramic process. To fabricate the intricate ceramic pieces on display requires two machines, one to grow the part and a second to act as a kiln and cure the green part. The 3D ceramic printer will be producing green parts during the show, but the sintering phase will not be demonstrated.
Another company working with 3D printed ceramics, but also metals is XJet. XJet have a large area with their Nano Particle Jetting 3D printer ready to draw a large crowd. The machine is also certainly large and after speaking with Chairman of the Board, Yair Shamir it seems the company also have big plans. The incredibly intricate parts are really quite impressive and sure to generate a similar buzz as when the company appeared early this year at RAPID.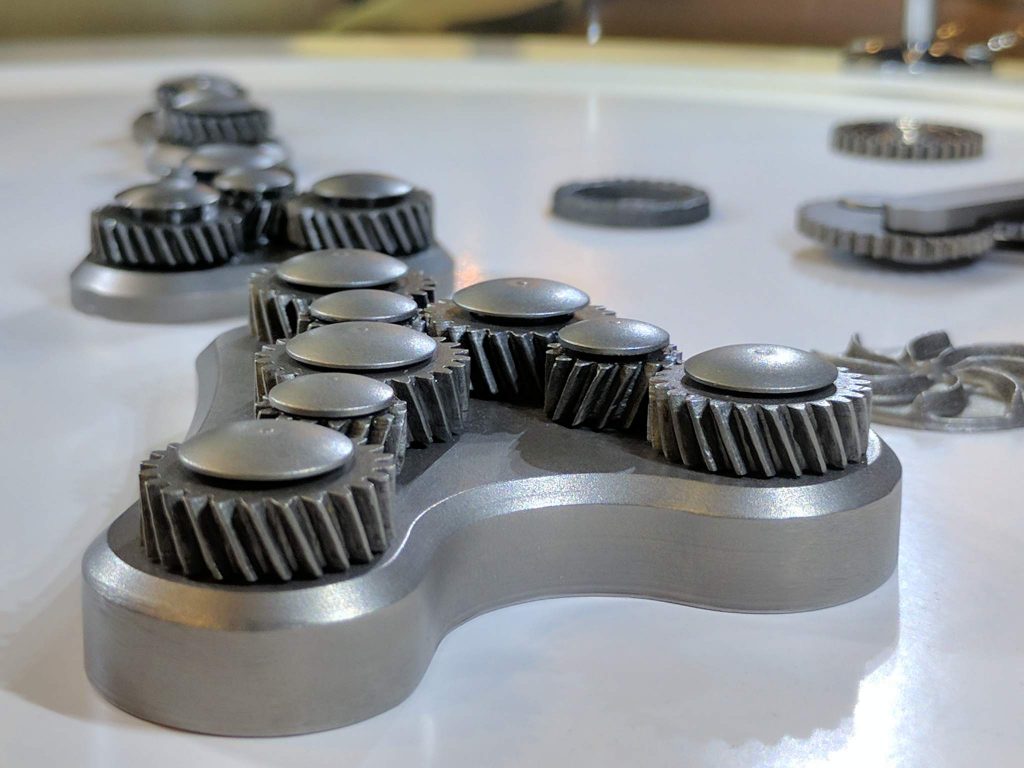 Fellow Israeli company Nano Dimension have a smaller booth in the startup up area, their DragonFly 2020 PCB prototyping 3D printer is in the process of launching and will be available to users beyond the initial partners in 2017. The machine at Formnext will not be producing parts, but samples of the eagerly anticipated multilayer PCBs will be available. The samples include a 3D printed Arduino PCB.
Another European debut
Moving additive manufacturing to the industrial level is key theme for many. Stratasys are again promoting their Infinite Build and Robotic Composite demonstrators but the working displays from IMTS are absent. Instead visitors can don a virtual reality headset and be transported to Chicago where the machines were last shown to the public. For Formnext the company are putting the greatest effort into the recently launched J750. Boasting soluble supports and vivid colors, along with the tagline that "Stratasys invents 3d printing again."
Also featured in the Stratasys booth are several MakerBot Replicator+'s and the Replicator Z18 with a larger build area.
Remarkable by their absence are ExOne and Carbon. Neither of the U.S. 3D printer manufacturers have a presence on the trade show floor.
Step into the additive manufacturing holodeck
Siemens are another company promoting the industrialisation of AM with eye catching holograms representing the directed energy deposition, powder bed fusion and extrusion 3d printing techniques.
EOS are showing an intriguing "flexible and automated solution for integrated production." It features a robot that can move modules to various stations where powder removal, post processing or set up can take place.
GE have festooned several of the concourses outside the expo hall with bold claims for the future of AM and are co-exhibitors with Materialise. Interestingly the SLM Solutions and Concept Laser booths are just across from each other, which may be a little like bumping into an ex and their new partner, fortunately SLM have a large bar at the center of their booth with which to drown any sorrows after the GE deal was scuppered by Paul Singer's Elliot Management Corporation hedge fund.
At a press conference this morning Concept Laser announced several new products including doubling the power of the lasers on the 200R and are demonstrating their industrial additive solution, the M Line Factory that works with a Kuka robot.
Millions to expand center of excellence
Frank Herzog, President and CEO of Concept Laser said earlier, "In General Electric we have found our ideal partner." He added that GE have selected the company's Lichtenfels site as a center of excellence, this means that "investments running into the hundreds of millions will be made in the short term in order to further expand Concept Laser's leading global position."
Hybrid Additive Manufacturing
French company BeAM haa their hybrid AM tech ready to show. The company had a muted presence in Chicago, which their booth at Formnext certainly corrects. Last year BeAM were in the start-up area but with another 12 months behind them and two machines, the Magic 2.0 available now and Modulo coming soon, the company is progressing rapidly. Also aiming high in the hybrid AM market is DMG Mori who have one of the largest machines at Formnext on display.
But the title of biggest booth this year, if not 3D printer, goes to HP. The U.S company has even built an amphitheater to amp up excitement, expect more announcements from HP and partners including chemical giant BASF. The company has brought several of their MultiJet Fusion machines and engineers testing one printer last night were smiling, a good sign that bodes well for European public debut today.
Tickets for the regular shows and demo's are likely be in high demand and HP advised me to quickly secure a place!
Trends in 3D printing
Across from HP are Korea's InssTek who have a small, marginally larger than a fridge, DMT metal 3d printer and an impressive array of metal prints. This looks like a interesting example of an expected trend, as 3D printing technology advances both the size of machines and costs will fall.
FDM/FFF is moving in the other direction, as far as the size of the 3D printers goes anyway. On display are various large format machines from companies including, Raise3D, BigRep and Zortrax.
The future of manufacturing
With almost 300 companies representing 3D printing, 3D scanning, 3D software, 3D printing materials plus the full conference program, Formnext is not only where the deals that seal the fate of a company's fourth quarter get struck, but also a vivid spectacle of the future of manufacturing.
If you want to make sure you keep upto date with all the news at Formnext 2016, be sure to subscribe to our newsletter here, and also follow us on twitter here.
Featured image: 3DPI reporting from the heart of Formnext 2016. Image shows full color 3D printed anatomical hearts by Stratasys. Photo via: Michael Petch