California 3D printing service provider Forecast 3D has opened a new 3D Manufacturing Center to offer full-run, large-scale production using HP Multi Jet Fusion (MJF) technology.
The new facility, opened at Forecast 3D's Carlsbad headquarters, is equipped with twelve HP Jet Fusion 3D 4200 printers and is believed to be the first to offer MJF production at this scale.
"Forecast 3D now has MJF!" Clip of 3D printing on on HP's machine. Via FORECAST3D on YouTube.
A one-stop HP solution 
"We've been among the most ardent supporters of Multi Jet Fusion since it launched," says Corey Weber, Forecast 3D co-founder/CEO, "and the positive feedback from our clients has been overwhelming."
"That's why we're so excited that our new 3D Manufacturing Center makes us the first company to offer clients a complete, one-stop HP 3D printing solution, allowing us to meet the growing demand for Multi Jet Fusion production and make 3D printing available to an even broader spectrum of companies."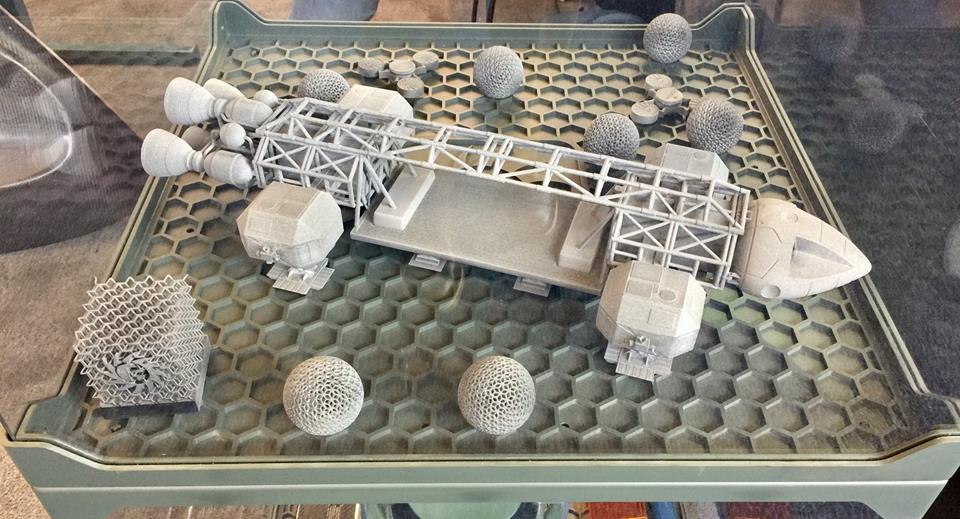 Established in 1994, Forecast 3D's rapid manufacturing facility has steadily grown to cover applications in aerospace, automotive and medical industries.
According to Industry Week, the company's annual turnover is now around the $14 million mark, and with addition of new MJP 3D printers that figure is set to grow.
600,000 parts in a single week
Before the 3D Manufacturing Center, Forecast 3D relied on a full aerospace production facility of eight SLS 3D printers, and added space for post processing.
With the inbuilt processing compartments of HP Jet Fusion 3D 4200 printers, transferring and finishing 3D printed parts is much easier and more intuitive.
Air blasting a 3D printed Space 1999 Eagle Transporter. Clip via FORECAST3D on YouTube.
In a single week the facility is capable of producing up to 600,000 end-use production parts.
HP's Corey Weber explains, "MJF gives us the capability to print an incredible amount of high-quality, engineering-grade parts in a very short period of time, which has transformed the way we think about manufacturing."
"Multi Jet Fusion is shaping the future"
Tim Weber, the Global Head of 3D Printing Materials and Advanced Applications at HP, gave us his view of the Future of 3D Printing as part of our guest article series.
For the team at Forecast 3D, HP is also a deciding factor in progress, "These 12 HP 3D printing units now allow us to handle all kinds of full-production schedules for any type of vertical, and do it with speed, cost-efficiency, and quality that's just not possible anywhere else, " adds Weber.
"Multi Jet Fusion is shaping the future of manufacturing, and we're very proud to be a part of it."
Other companies to recently adopt MJF technology into production include Shining 3D ePrint, 3D Hubs, Sculpteo, FATHOM and insole manufacturer Superfeet.
Looking for jobs in engineering, rapid prototyping or sales? Sign up to 3D printing jobs site now.
For all the latest 3D printing news updates, sign up to the most widely-read newsletter in the industry, follow us on Twitter and like us on Facebook.
Featured image: HP Multi Jet Fusion 3D printers at the 3D Manufacturing Center in Carlsbad, CA. Photo via Forecast 3D