A team at the Digital Building Technologies (DBT) unit at ETH Zurich is exploring the use of foam 3D printing in the construction sector.
By 3D printing intricate formwork using mineral foam, the researchers have developed a new method of casting geometrically optimized concrete slabs.
The printable foam, which was developed at ETH Zurich with the help of insulation specialist FenX AG, is made using recycled waste. It can be used to print both functional stay-in-place and temporary, recyclable formwork.
According to the DBT unit, its resource-efficient formwork can result in up to 70% less concrete being used when compared to a conventional, filled-in concrete slab. As well as being much lighter, the optimized slabs also reportedly offer improved insulation characteristics.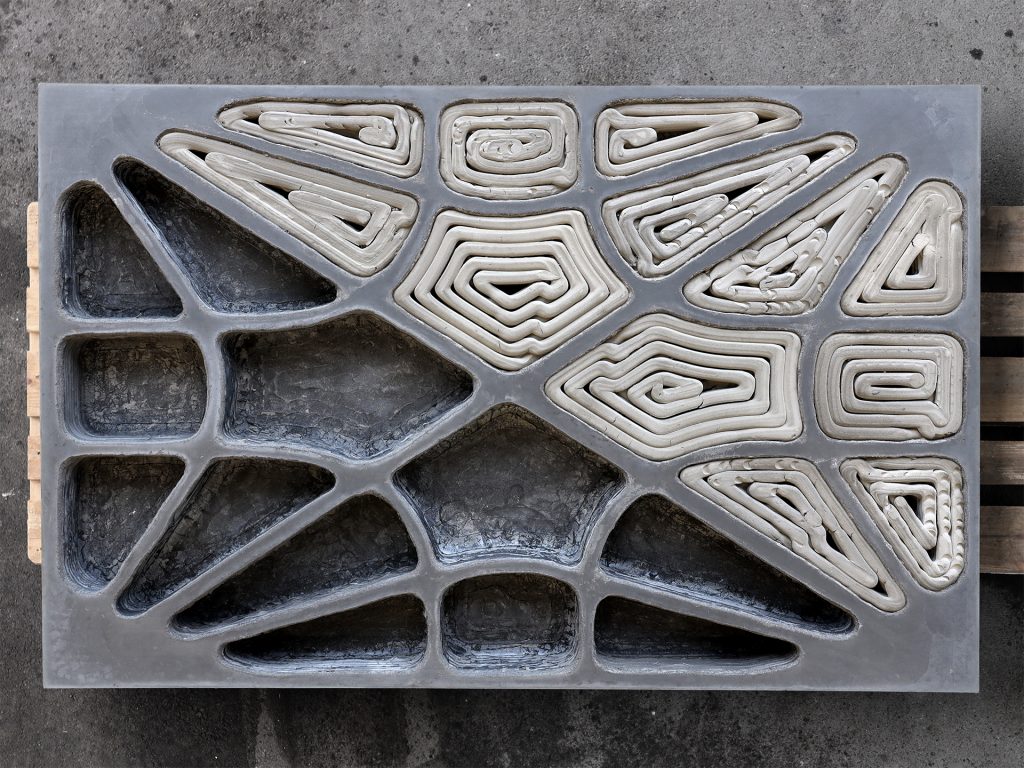 Replacing formwork with foamwork
The word formwork is used to describe the process of creating a mold or cast in which to pour concrete. Conventional formwork is often made using timber, but it's also possible to use steel, glass fiber-reinforced plastics, and other materials. The age-old craft is great for casting simple shapes such as walls or columns, but as soon as more complex, intricate geometries are involved, it becomes extremely time- and labor-intensive.
By opting for the foam 3D printing route instead, it becomes possible to fabricate geometrically complex formwork elements that were previously wasteful or simply unfeasible. Beyond just the performance benefits, there are sustainability advantages too as the approach lends itself to less material and energy usage, both of which are ongoing issues in the construction industry.
Additionally, thanks to FenX's specialism in transforming mineral waste into high-performance and sustainable insulation, the 3D printed foam material can even be removed and recycled. This means it can be reclaimed to print an entirely new formwork, further reducing material usage across the circular workflow.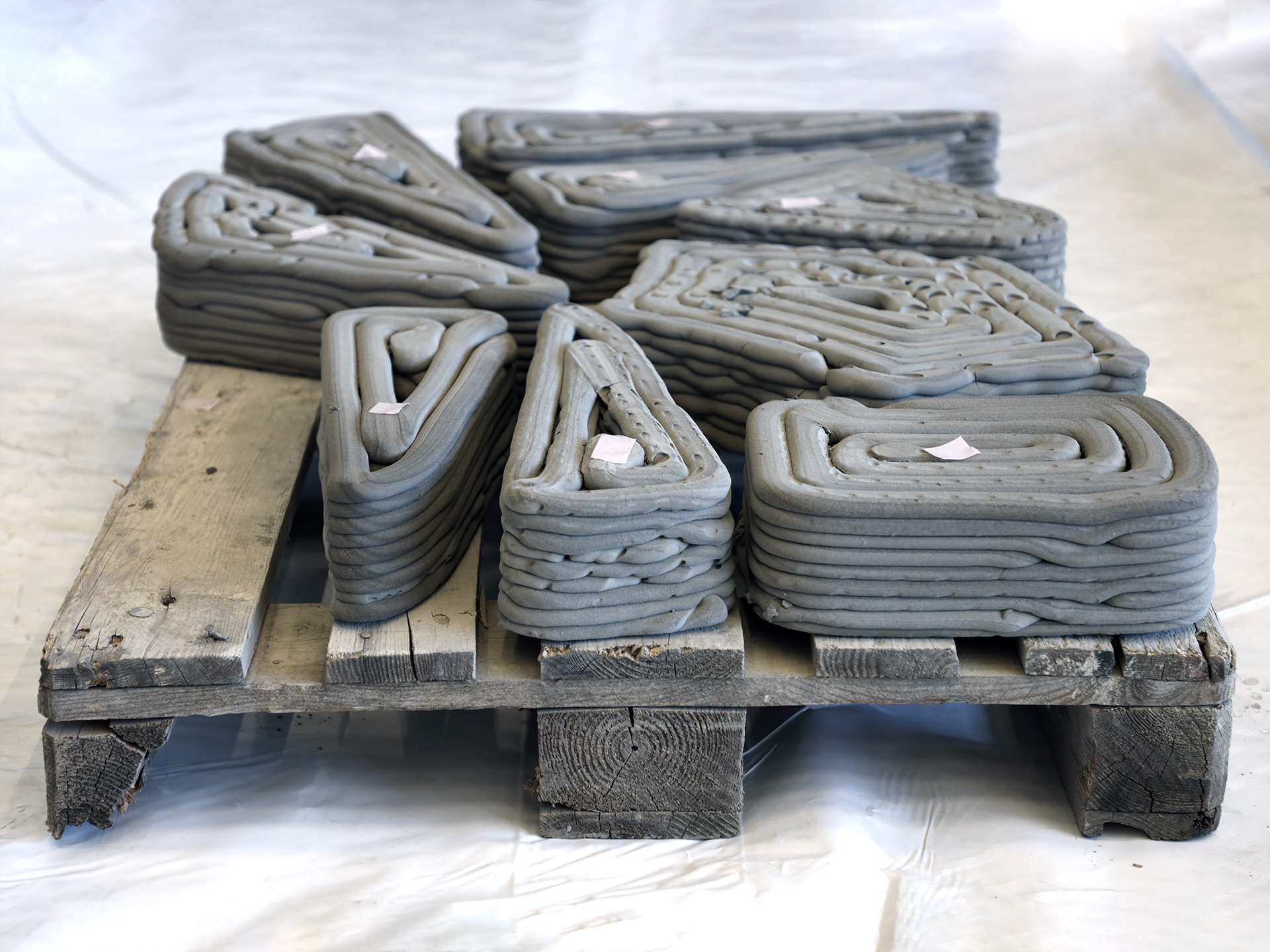 24 foam elements, 12 unique shapes
To demonstrate its novel technique, the DBT team 3D printed a set of prototype form elements and used them to cast a concrete slab. There were 24 formwork elements in total, each of which came in one of 12 unique shapes. All of the foam elements were produced using a custom foam extrusion setup leveraging an ABB robotic arm.
The team then placed the foam elements in a timber perimeter and filled it with 'ultra-high-performance fiber-reinforced concrete'. Once cured, the cast slab measured 2m x 1.3m and featured a ribbed structure with point supports in every corner.
The web-like rib layout actually followed the isostatic lines derived from the principal stress pattern of the slab, making it not too dissimilar from a topologically optimized part. In essence, the concrete was cast in the areas where stress was greatest, maximizing the compressive strength of the slab while keeping material use to an absolute minimum.
Construction 3D printing has already made its way out of the academic sphere and is currently seeing use in industry. Earlier this month, Indonesia's Public Works and Public Housing Ministry (PUPR) started trialing concrete 3D printing as a means of meeting the country's demand for affordable infrastructure. In tests carried out alongside construction firm PT. PP (Persero) Tbk and start-up Autoconz, the PUPR used the technology to erect structures layer-by-layer from mortar.
Elsewhere, in the Dutch city of Nijmegen, what is thought to be the world's longest 3D printed concrete pedestrian bridge was recently unveiled. Spanning a length of 29 meters, the structure was fabricated by Rijkswaterstaat, the Dutch Directorate-General for Public Works and Water Management, and designer Michiel van der Kley, in honor of Nijmegen's election as a European Green Capital in 2018.
Subscribe to the 3D Printing Industry newsletter for the latest news in additive manufacturing. You can also stay connected by following us on Twitter, liking us on Facebook, and tuning into the 3D Printing Industry YouTube Channel.
Looking for a career in additive manufacturing? Visit 3D Printing Jobs for a selection of roles in the industry.
Featured image shows a concrete slab cast using 3D printed foam formwork. Photo via ETH Zurich.