Nominations for the 2021 3D Printing Industry Awards are now open, have your say who is leading the industry now.
Robotics start-up Diamond Age has raised $8 million in seed funding to advance its robotics technology and 3D printing capabilities.
The company's goal is to build a suite of 26 end-of-arm robotic tools featuring additive manufacturing technology capable of offsetting more than half of the manual labor required to build a new home. Armed with the new funds, the firm will scale its current robotics platform and build a demonstration house spanning 1,100 square feet.
"The affordable housing shortage is a national problem that I want to help solve because it is deeply personal to me," said Jack Oslan, Co-founder and CEO of Diamond Age. "A few years ago, my son and daughter-in-law almost moved away from the Bay Area because of the housing shortage.
"We need to build high quality affordable single-family homes for the next generation striving for the American dream, and the only way we can solve this problem is with automation."
Diamond Age's robotics platform
According to Diamond Age, the US housing market is currently experiencing a single-family home shortage of almost seven million. In order to address this issue, the company's robotic technology aims to reduce the construction cycle time of building new homes from nine months to just 30 days.
To do this, the company is combining its robotics platform with its in-house developed 3D printing tools that move along a gantry system to print the interior and exterior walls of a house. The firm's Robotics-as-a-Service (RaaS) system comprises 3D printing, mechatronics, and robotics in order to automate new home construction for the housing sector.
"Construction is still an antiquated industry that has yet to experience the full benefit of technology; it is plagued with inefficiency and massive labor shortages," said Suzanne Fletcher, General Partner at Prime Movers Lab, which led the seed funding round. "Diamond Age is building a truly transformative system that will change the buying and building of new production homes forever."
Scaling construction 3D printing
The $8 million seed funding round was led by Prime Movers Lab and Alpaca VC, with participation from Dolby Family Ventures, Calm Ventures, Gaingels, Towerview Ventures, GFA Venture Partners, and Suffolk Construction.
Alongside scaling its RaaS platform, Diamond Age will use the funding to build a 1,100 square foot demonstration house, which the company hopes will pave the way for future partnerships with home builders and developers. The firm's aim is to turn home building into an on-demand product, and one that will provide buyers with greater customization when designing their homes.
"We spent a lot of time in the 3D printing and robotic building space looking for the right team and the right go-to-market that could really become a category-changing and defining company within the real estate construction space," said Ryan Freedman, General Partner at Alpaca VC. "We identified a tremendous opportunity in the amount of efficiency there is to bring in terms of time, quality and labor to the home building market.
"When we met Jack and Russell, we knew this was the team with the vision and the technical expertise to change the game."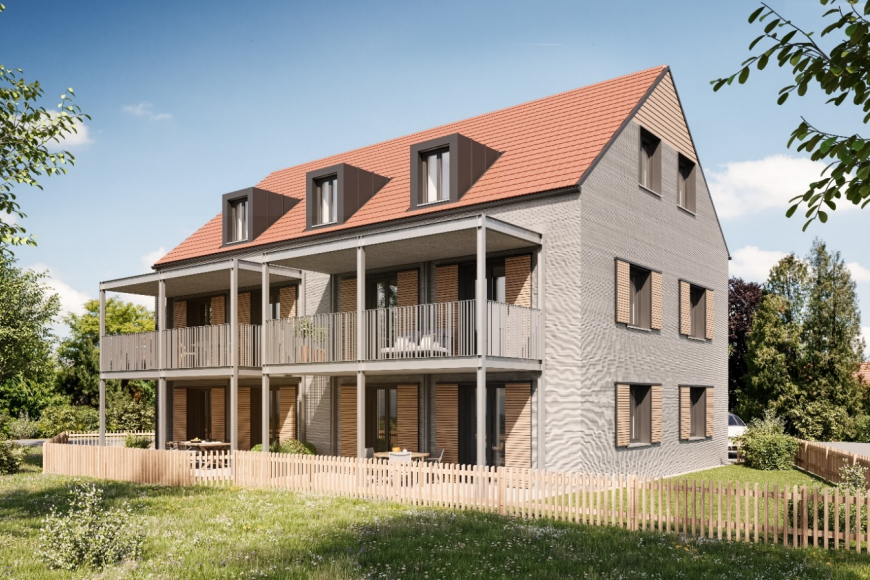 Leveraging 3D printing for cheaper, faster homes
3D printing has been utilized within the construction sector to create proof-of-concept buildings for some time, and now the technology is increasingly being deployed for commercial homes and accommodation.
Last November, Germany-based construction company PERI Group announced the start of a project to construct a "world first" three-floor 3D printed commercial apartment building on-site in Wallenhausen, Germany. Using Danish manufacturing firm COBOD's 3D printing technology, the finished building will consist of five rentable apartments.
COBOD's BOD 2 concrete printer has also been leveraged by PERI for a project run by non-profit Habitat for Humanity, which will see the partners 3D print a single family house. Upon completion, a Habitat-selected family will be chosen to live in the house as part of the organization's affordable housing and poverty alleviation project.
Meanwhile, in March this year, Texas-based construction firm ICON listed its first US-based 3D printed homes on the domestic housing market. Starting at $450,000, the company worked with developer 3Strands to build four multi-storey buildings in an innovative new neighborhood, East 17th Street.
Nominations for the 2021 3D Printing Industry Awards are now open, have your say who is leading the industry now.
Subscribe to the 3D Printing Industry newsletter for the latest news in additive manufacturing. You can also stay connected by following us on Twitter and liking us on Facebook.
Looking for a career in additive manufacturing? Visit 3D Printing Jobs for a selection of roles in the industry.
Subscribe to our YouTube channel for the latest 3D printing video shorts, reviews and webinar replays.
Featured image shows Diamond Age logo. Image via Diamond Age.