Construction 3D printing company Branch Technology has 3D printed a building facade for a financial institution in Chattanooga, Tennessee.
Once complete, pedestrians passing by the Tennessee Valley Federal Credit Union's (TVFCU) new Southside branch, located at 125 West 20th Street, will see the TVFCU's signature wave branding incorporated into the design of the building itself. The ambitious project is the first time Branch has ever used its proprietary robotic arm-based Cellular Fabrication (C-Fab) technology to 3D print an entire building facade, panel by panel.
Todd Fortner, president and CEO at the TVFCU, states, "Several years ago, I had the opportunity to visit Branch Technology when they were located in the Chattanooga Chamber of Commerce's Business Incubator. I was amazed at what could be made on a large scale with 3D printing. I immediately began to think about how we could incorporate this new technology into a future project."
Bridging functionality and aesthetics
The new Southside branch has carved a niche for itself as a brick and mortar option in the local neighbourhood, which is located less than two miles from downtown Chattanooga. When conceptualizing the design, the credit union was dead set on highlighting the characteristics of the nearby Tennessee Valley, all while blending the building into the urban surroundings. Branch worked in collaboration with the TVFCU's original building contractor, Construction Consultants, to realize this vision.
The team used computational design techniques to finalize the complex facade panels before preparing them for 3D printing at Branch's 40,000-square foot manufacturing facility. Filled with a polymer-based fiber-reinforced composite material, the panels flow into each other to form an insulative but lightweight envelope with a wave-like pattern. As well as looking downright cool, the exterior of the facade serves to direct visitors to the entrance of the building, introducing an element of functionality among the artistry.
John McCabe, director of communications at Branch Technology, explains, "The undulating facade is patterned to identify entrances and expand around the building's curvature, serving as wayfinding for visitors. Varying degrees of curvature in the sinuous facade pattern nod to TVFCU's recognizable wave logo. This project is a staple of design freedom offering a one-of-a-kind product outside the literal box of repetitive, conventional construction and facade manufacturing."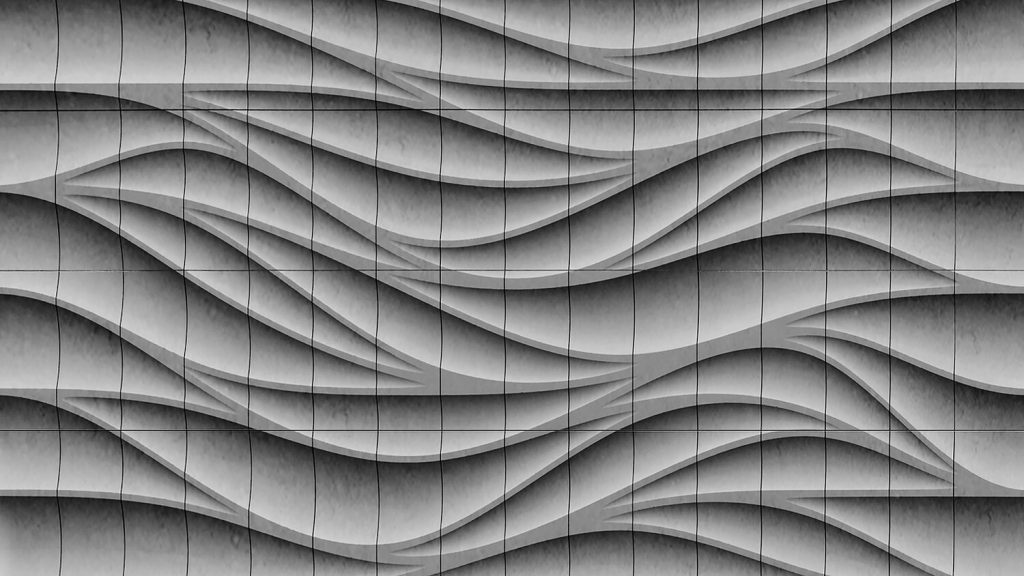 Adding the finishing touches
While the exterior of the Southside branch is almost finished, construction on the interior is set to continue for a few weeks at least. The credit union plans to open the building as a full-service branch in late spring of 2021, at which point it will be the TVFCU's 20th operational branch.
Fortner concludes, "While our competitors are closing branches, we are opening them. We are constantly looking for better ways to serve our membership. We saw a void in our service area and decided to add a branch."
While Branch Technology secures building contracts in the U.S., construction 3D printing is taking off in other parts of the world too. Thailand-based cement business SCG recently 3D printed a 102m² co-working space with the aim of combining aesthetic textured surfaces and structural function. Located in Saraburi, Thailand, the building was designed using digital parametric modeling software and was partially 3D printed with recycled concrete waste.
Elsewhere, in India, construction company Larsen & Toubro Construction (L&T) recently completed the country's first 3D printed two-storey building. With a modest floor space of 65m², the building was fabricated using a large-format concrete 3D printer supplied by OEM COBOD, and is made up of a locally sourced 3D printable concrete mix developed by L&T's own in-house team.
Subscribe to the 3D Printing Industry newsletter for the latest news in additive manufacturing. You can also stay connected by following us on Twitter and liking us on Facebook.
Looking for a career in additive manufacturing? Visit 3D Printing Jobs for a selection of roles in the industry.
Featured image shows a rendering of the front of the Southside branch. Image via Branch Technology.