Aerospace manufacturer Boeing has begun using 3D printing to ramp up its production of a Wideband Global SATCOM or 'WGS' satellite for the US Space Force.
Working as part of a $605 million contract, Boeing is in the process of building the US Space Force's next-gen WGS-11+, a system with much greater mission support and anti-jamming capabilities than its predecessors. By introducing 3D printing into the comms satellite's production workflow, the firm anticipates being able to drastically reduce the device's lead time, from up to ten years down to just five.
"We're moving at record-breaking speed to deliver the unmatched resilience, efficiency, and throughput WGS-11+ offers our warfighters," said Col. Matt Spencer, Space Systems Command Geosynchronous Earth Orbit and Polar Division Senior Materiel Leader. "Boeing's ability to rapidly in­­­­­tegrate the latest commercial technology into our infrastructure gives us a competitive edge on the battlefield."
3D printing flight-ready parts
As a multinational manufacturer with aircraft to build and maintain across a vast portfolio, Boeing is continually seeking out more efficient ways of achieving this. One of the barriers to deploying 3D printing in this area is the high level of regulatory clearance needed for the deployment of parts in end-use applications, but the firm has become increasingly adept at overcoming this with industry partners.
Working with EOS, for instance, the company has previously helped develop an aerospace-grade PEKK, designed specifically to meet the UV and flame retardancy standards set out in Federal Aviation Regulations, and more recently it has qualified Stratasys' Antero 800NA filament as being flight-ready, as well as investigating the potential of sustainable titanium 3D printing powders alongside Titomic.
Boeing is also known to apply additive manufacturing within several areas of its own production workflow, including the build of its 777X jet, which is powered by GE9X engines with over 300 3D printed parts. Similarly, in collaboration with the US Air Force Research Laboratory and Thermwood, it's said to have 3D printed aerospace autoclave tools capable of cost-effectively adapting to iteration.
When it comes to the manufacture of LEO devices, meanwhile, Boeing unveiled its plan to 3D print satellites back in 2017, and it has since launched the SES-15 system with over 50 additive manufactured components, and used the technology to produce everything from metal antennas to modular parts designed to expedite spacecraft production.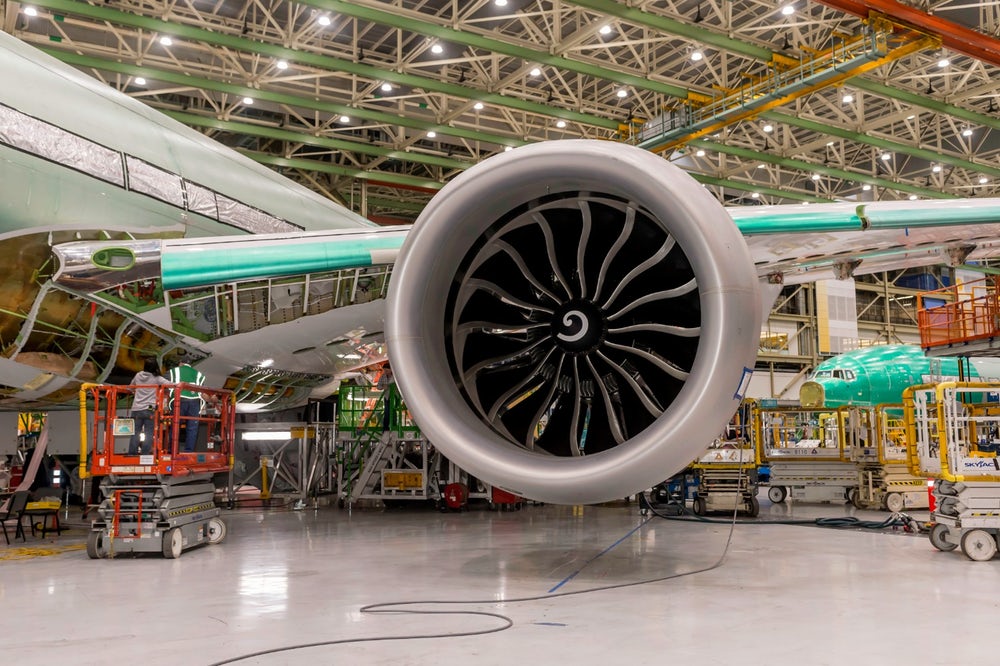 Improving US defense coordination
Since being contracted to do so in 2019, Boeing has been working flat-out to develop the US Space Force's latest WGS system, the eleventh in a constellation designed to connect US, Canadian and Australian forces. Built to replace the older Defence Satellite Communications System setup, which is still used for military coordination, WGS devices are generally said to enable a much higher throughput.
Now, as part of its program, Boeing says it has managed to integrate some of the advances made via its 702X satellite R&D, to take these benefits to the next level. Built around the same phased array technology, the WGS-11+ is set to be capable of generating hundreds of electronically-steered beams at the same time, providing users with more than twice the mission capacity of existing WGS satellites.
What's more, just like the 720X, each individual beam can be shaped and therefore tailored to the needs of a specific operation, meaning that US Space Force adopters stand to gain from improved mission flexibility and responsiveness, while the WGS-11+ can also use dual polarization to narrow beam widths as a means of protecting against interference.
To bring this vision for a revised satellite to life, Boeing met with the US Space Force late last year, at which point they completed a critical design review before entering its production phase. It was at this point that Boeing committed to using advanced manufacturing methods such as 3D printing in the system's build, in a way that could yield significant cost and lead time benefits, while boosting its performance.
In fact, by serially additive manufacturing WGS-11+ parts in their thousands, in a move that's reported to be a ten-fold increase on its previous satellites, the firm anticipates being able to reduce what's usually a 7-10 year waiting time for large spacecraft down to just 5 years, and the finished system has now been penciled in for delivery in 2024.
"We're printing more than a thousand parts for WGS-11+, giving us the capability to introduce customization in a way that improves system performance, without requiring extensive integration times or customized tooling," adds Troy Dawson, Boeing's VP of Government Satellite Systems. "We understand how important speed is to the mission. That production speed translates to effectiveness against threats."
"As we continue to invest in our technology and processes, we know that a similarly capable satellite could be delivered even faster."
3D printing signal-boosting satellites
Of course, Boeing is far from the only aerospace manufacturer that has turned to 3D printing in a bid to improve the lead times and end-performance of its satellites. Early in 2021, Airbus revealed that it had managed to integrate over 500 RF parts into Eutelsat's Hotbird satellites such as switch assembly networks and multi-waveguide blocks, in a way that was said to improve their broadcasting capabilities.
Later in the year, Fleet Space also unveiled plans to launch its fully-3D printed 'Alpha' satellites in 2022. Built around the company's advanced beamforming technology, which functions via an additive manufactured metal antenna array, the systems feature digital signal processing capabilities, designed to unlock greater user connectivity.
In terms of series production applications, Thales Alenia Space revealed that it was mass-manufacturing parts of its Spacebus NEO platform as long ago as 2019. The device was first fitted to the commercial Eutelsat KONNECT satellite, a craft built to deliver a faster broadband connection to areas of Western Europe and Africa.
To stay up to date with the latest 3D printing news, don't forget to subscribe to the 3D Printing Industry newsletter or follow us on Twitter or liking our page on Facebook.
For a deeper dive into additive manufacturing, you can now subscribe to our Youtube channel, featuring discussion, debriefs, and shots of 3D printing in-action.
Are you looking for a job in the additive manufacturing industry? Visit 3D Printing Jobs for a selection of roles in the industry.
Featured image shows a render of what the WGS-11+ is expected to look like. Image via Boeing.