The nominations for the 2021 3D Printing Industry Awards are now open. Who do you think should make the shortlists for this year's show? Have your say now.
The contractors behind the London terminal of the UK's upcoming High Speed 2 (HS2) rail network have revealed that they intend to start using 3D printing within its construction from next year.
Using a technology known as 'Printfrastructure,' the developers aim to create concrete slabs on-site rather than shipping them there, unlocking constant tunnel construction while limiting disruption to existing lines. Set to begin in 2022, the trial will also see the use of graphene-infused concrete instead of steel in certain areas, potentially allowing the line to be built more quickly and sustainably than before.
"Automation enabled by Printfrastructure's 3D reinforced concrete printing creates a factory-like environment that delivers a high-quality product," said Andrew Duck, Temporary Works Manager at contractors SCS JV. "It's important that we give technologies such as Printfrastructure the opportunity to flourish because of the possibilities it offers the industry to make a step change."
"Printfrastructure's reinforced concrete 3D printing both increases the efficient use of materials and reduces our carbon footprint."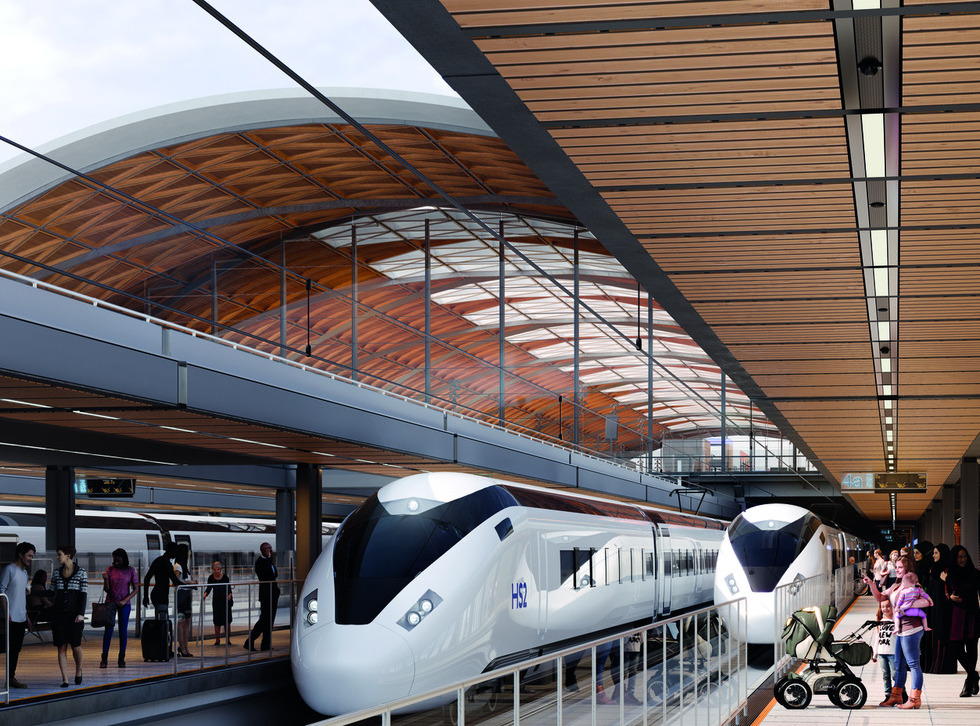 Fast-tracking the stalling HS2
Over the last 20 years, rail travel has more than doubled in the UK, and despite ploughing upwards of £74 billion into network improvements, Network Rail has been unable to keep up with demand. While it could be possible to combat overcrowding with further upgrades, it's estimated that this would lead to 2,700 weekend closures over the next 15 years, causing significant travel disruption across the country.
Aiming to avoid this, the UK's Department for Transport founded a firm called HS2 in 2009, which was set up to build a line with a daily capacity of 300,000, connecting London to northern cities like Manchester and Leeds. However, since its launch, the project has been criticized for causing disruption, falling short of its initial scope and its spiralling budget, which is said to have surpassed £44 billion.
To make matters worse, COVID-19 has delayed construction at many HS2 sites, reportedly leading the project to eat into its £1.7 billion contingency budget, and necessitating further funding in future. In light of HS2's mishaps, the firm's decision to adopt 3D printing could now be seen as an attempt to get the project back on track, especially given the technology's speed and automation potential.
'Printfrastructure' 3D printing
Having been charged with building HS2's London tunnels, SCS JV, a joint venture between Skanska, Costain and STRABAG, has now turned to ChangeMaker 3D and its technology to optimize the process. Known as 'Printfrastructure,' the firm's proprietary process involves using computer-controlled robot-mounted 3D printers to precisely create complex concrete structures to specification.
Once deployed on-site at HS2's London terminal, it's thought that these bots will be able to access otherwise physically-restricted areas, reducing the need for complex and expensive logistical plans. The automated nature of ChangeMaker 3D's process also lends it the potential to reduce any building-induced travel disruption, given that services would normally have to be suspended to keep workers safe.
As an added benefit, the contractors anticipate that the technology will enable the creation of internally-latticed structures, which are not just reinforced but use less material as well, and with this in mind, they are also working with Versarien to integrate graphene into 3D printable concrete, potentially allowing them to reduce the overall project's carbon footprint.
Ultimately, SCS JV believes that deploying ChangeMaker 3D's technology could make it possible to reduce the tunnels' concrete and carbon quantities by up to 50%. What's more, by removing steel from the equation and reducing its reliance on gas-guzzling trucks, the firm believes that adopting 3D printing can help make its entire operation more eco-friendly moving forwards.
"The project SCS JV and ChangeMaker 3D are collaborating on is a fantastic demonstration of the kind of far-reaching innovations HS2 enables," said Rob Cairns, HS2's Innovation Manager. "With a build program spanning the decade and across the country, the project is creating an ideal environment to develop technologies with the potential to transform how major infrastructure is built."
Sustainable infrastructure in-action
Compared to conventional construction technologies, 3D printing unlocks greater geometric customization, enabling structures to be built with robust features while using less material to do so. During the last month alone, several projects have seen this idea put into practise, including the support-free 3D printed bridge erected by engineers from the ETH Zurich's Block Research Group.
Researchers at the Australian UTS School of Architecture, meanwhile, have partnered with design firm BVN Architecture to develop an eco-friendly robotically-3D printed air conditioning unit. Made from recycled plastic, the 'Reef 2' system is composed of interconnected filtering tubes that could help reduce the amount of carbon used within existing setups by as much as 90%.
Taking a similarly sustainability-minded approach, Dutch architecture firm Aectual has managed to turn beach waste into unique 3D printed 'mussel' plant holders. Built from 100% recycled plastic, the plant holders are now being sold as limited edition pieces on Sabato's site, which are designed to "bring the natural beach feeling" into people's homes.
The nominations for the 2021 3D Printing Industry Awards are now open. Who do you think should make the shortlists for this year's show? Have your say now.
To stay up to date with the latest 3D printing news, don't forget to subscribe to the 3D Printing Industry newsletter or follow us on Twitter or liking our page on Facebook.
For a deeper-dive into additive manufacturing, you can now subscribe to our Youtube channel, featuring discussion, de-briefs and shots of 3D printing in-action.
Are you looking for a job in the additive manufacturing industry? Visit 3D Printing Jobs for a selection of roles in the industry.
Featured image shows a concept rendering of trains approaching a HS2 station. Image via HS2.