Addressing the advancements in industrial 3D printing, EMO Hannover 2019, the leading trade fair for the metalworking sector, will introduce an additive manufacturing circle.
From September 16th – 21st, the 300m2 additive manufacturing circle show area will present the latest innovations from service providers, machine and tool manufacturers, as well as software providers within the industry. Furthermore, CECIMO will be organizing the International Conference on Additive Manufacturing that explores productivity in the 3D printing market. 
The new additive manufacturing circle
EMO Hannover has had a principal focus on metal-cutting and forming machine tools, production systems, high-precision tools, automated material flows, computer technology, industrial electronics, and accessories. Occurring every odd-numbered year, there were approximately 2230 exhibitors from 44 different countries, and around 130,000 trade visitors at EMO's previous fair in 2017. 
Among this year's exhibitors and EMO's new additive manufacturing circle, located in Hall 9, are Formlabs, a Massachusetts-based 3D printer OEM, Rolf Lenk, a German manufacturer of industrial tools and machinery, who partnered with GEFERTEC, another exhibitor at the fair, 3D MicroPrint GmbH, and SLS pioneers FKM Sintertechnik GmbH.
"We very much welcome the founding of the additive manufacturing circle," commented Tobias Röhrich, Managing Director of exhibitor GEFERTEC. "The EMO Hannover is simply the ideal 'biotope' for engaging in professional discussions about the new industry standard 3DMP."
"We are expecting to encounter a high-caliber group of customers and users, but are also looking forward to an inspiring exchange with the industry's visionaries. This will lead to many new contacts, perhaps even partnerships, which will benefit us in the short, medium and long term."
Gefertec will be presenting the 2020 machine version of its ARC 405 3D printer and the process head ARC QM Head at EMO. A melt pool control for quality assurance is integrated into the new version of ARC 405. Now the process parameters and video images during welding can be monitored, recorded and documented. 
CECIMO's International Conference on Additive Manufacturing 
On the 17th September, the International Conference on Additive Manufacturing, organized by the European Association of the Machine Tool Industries and related Manufacturing Technologies or CECIMO, is set to take place at Room 3A.
This one-day event aims to explore the latest productivity solutions in the industrialization of additive manufacturing. Key industry leaders are said to deliver their views on where the technology is currently situated. The event will conclude with a panel discussion on accelerating the industrialization of additive manufacturing.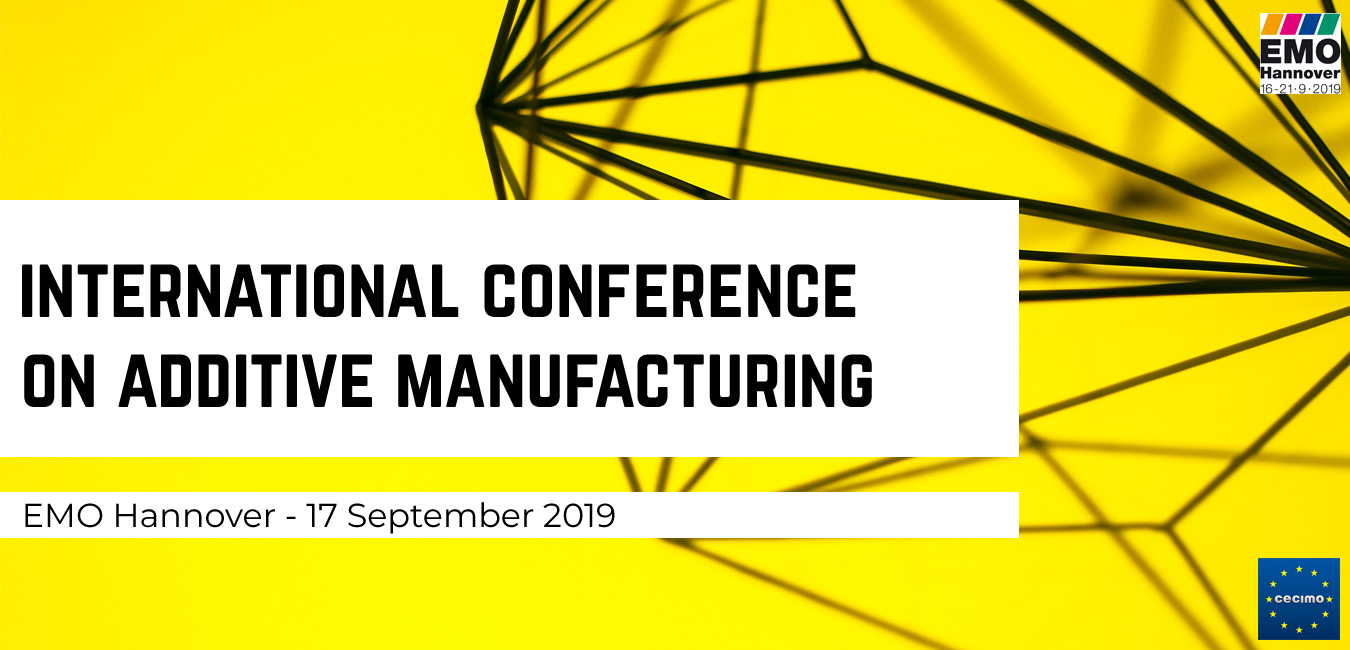 Subscribe to the 3D Printing Industry Newsletter, for live coverage from EMO Hannover. You can also join us on Facebook and Twitter. Looking for a job in the industry? Visit our 3D Printing Jobs board.
Featured image shows EMO Hannover flags. Photo via EMO.