Researchers at the Tokyo Dental College, Japan, developed what they're calling a "one-stop 3D printing lab" for designing and producing inexpensive patient-specific dental models for use in maxillofacial surgery and dentistry.  
The published research is titled Utilizing a low-cost desktop 3D printer to develop a "one-stop 3D printing lab" for oral and maxillofacial surgery and dentistry fields.
One-stop 3D printing lab
Oral and maxillofacial surgery (OMS) is a surgical specialty for treating diseases and injuries related to the teeth, jawbones, head, neck, and face. The focal areas in maxillofacial surgery are small and can be difficult to access. Therefore, it requires highly detailed 3D models which can be studied for diagnostic purposes.
Both the dentistry and maxillofacial field also use 3D models for the purpose of medical education, training, illustration, and surgery simulation. Obtaining these 3D models is a costly and time-consuming process.  
With Tokyo Dental College's "One-stop 3D printing lab," highly detailed dental and maxillofacial 3D models can be obtained on a daily basis.  
As stated in the paper:
"We created an environment for enabling design, fabrication, and the use of patient-specific 3D models in our facility entitled the "One-stop 3D printing lab". 3D models were produced quickly and the cost burden was greatly reduced."
3D printing dental models
The mandible, or lower jaw, was the focus of the college's most recent experiment.
In the first stage, a 3D CAD model was obtained through multiple detector computed tomography (MDCT) and DICOM image data. MDCT is a  procedure which combines computers and x-rays for diagnosis, and DICOM is the medical image standard across hospitals and dental surgeries.
In the second stage, the models were 3D printed using a Japanese brand FDM printer Value3D MagiX MF-2000, from MUTOH Industries Ltd. The accuracy of this printed model was compared with the original digital scan of the jaw using SpGauge 2014.1, a 3D evaluation software.
The researchers fabricated over 300 models from PLA filaments, in the process of experimentation.
The results showed that layer thickness had an effect on quality and the cost of the resulting 3D model. Increase in layer thickness meant low filament usage and shorter printing time.
According to the researchers, the ideal printing settings were layer thickness of 0.3 mm and 50% fill density.
The research paper concluded, "The results obtained using the FDM 3D printer suggested that adjusting the laminating pitch may lead to further reduction of model print time and cost,"
"It was possible to quickly print a 3D model while greatly reducing the cost burden using the low-cost desktop 3D printer in the "One-stop 3D printing lab.""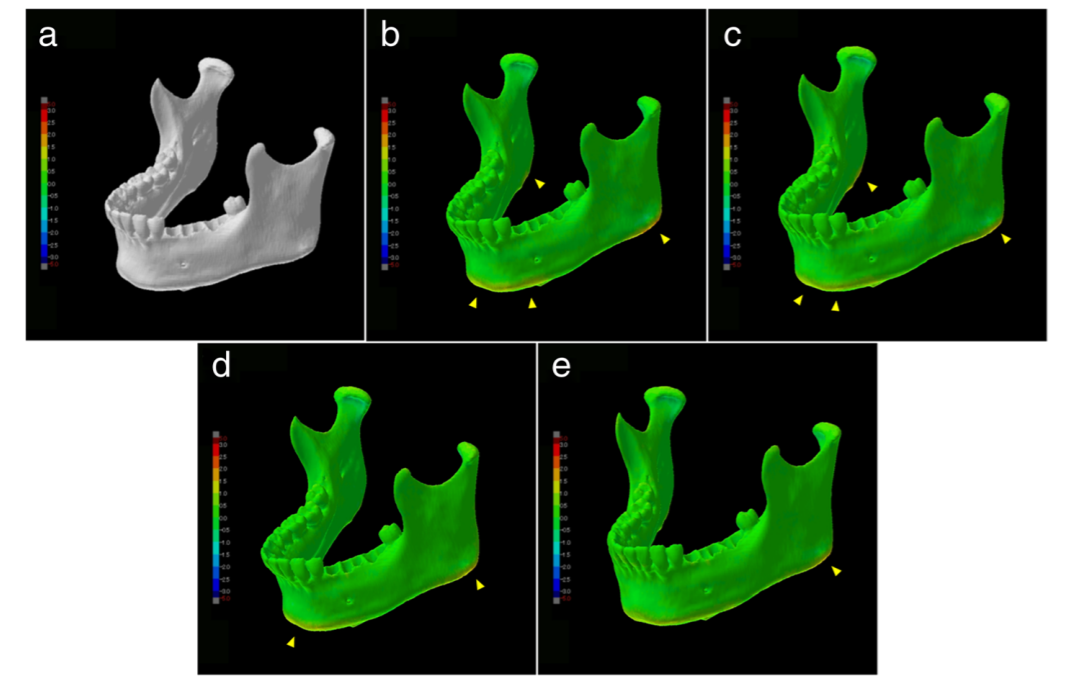 Dental 3D printing
3D printing has had a considerable impact on the dental sector, and 3D printing companies have seen the market potential in this industry.
The California-based orthodontics company Align Technology Inc. specializes in supplying its dental customers with customized 3D printed dental braces.
At the start of this year, the additive manufacturing giant 3D Systems, launched its NextDent 5100 3D printer specifically to be used in the dental industry. Continuing this trend, Formlabs introduced a new resin suitable for 3D printing dental materials in the Form 2, desktop SLA system.
Earlier this month, a joint venture between ElogioAM and 3D4Makers and Perstorp, brought to the market a dental grade filament for FFF printing. 
3D printing has also gained ground in maxillofacial surgery.
Last year, 3D printed titanium maxillofacial implants made by 3D printing specialist Materialise were certified for distribution in the U.S. Earlier this year, at the University Hospital of Wales (UHW), a maxillofacial surgeon and a restorative dental surgeon used a Renishaw 3D metal printer to restore a cancer patient's jaw bone.  
The research paper discussed in this article "Utilizing a low-cost desktop 3D printer to develop a "one-stop 3D printing lab" for oral and maxillofacial surgery and dentistry fields" is published online in 3D Printing in Medicine journal. It is co-authored by Takashi Kamio, Kamichika Hayashi, Takeshi Onda, Takashi Takaki, Takahiko Shibahara, Takashi Yakushiji, Takeo Shibui, Hiroshi Kato.
Subscribe to our 3D printing newsletter to get a good bite of the news, or follow us on Facebook and Twitter.
Interested in a career in 3D printing? Visit our 3D printing job site.
Featured image shows the structure of the mandible bone. Photo via TeachMeAnatomy