German multinational engineering group Thyssenkrupp is to establish an Additive Manufacturing TechCenter Hub in Singapore. A sister-site to the company's German hub of the same name which was launched in 2017, the facility is part of ongoing plans to expand its services across the Asia Pacific region. Its founding is supported by the Singapore Economic Development Board (EDB), which is hopeful that the move will strengthen the city-state's global position in additive manufacturing and Industry 4.0.
Lim Kok Kiang, assistant managing director of the Singapore EDB, comments, "Thyssenkrupp's Additive Manufacturing TechCenter Hub is an exciting addition to Singapore's growing ecosystem of additive manufacturing technology providers. We are delighted that thyssenkrupp has chosen to anchor the Center in Singapore."
"The investment is further testament to Singapore's growing reputation as a hub for additive manufacturing research and deployment in the region and beyond."
From training to manufacturing on demand
Tyssenkrupp's Singapore Additive Manufacturing TechCenter Hub will have both metal and polymer fabrication capabilities, supported by the expertise of the company's engineers. Working closely with the German TechCenter, this hub will carry out part requests for customers in the region, delivering on demand for a variety of different purposes. It will also undertake part identification diagnostics and training, to help companies adopt 3D printing within their existing processes.
Dr. Donatus Kaufmann, member of the executive board of Thyssenkrupp AG and responsible for Technology and Innovation, comments, "Thyssenkrupp has always been at the forefront when it comes to innovation in engineering."
"We have made great strides with our Additive Manufacturing TechCenter in Germany. Establishing a hub in Singapore now reflects our commitment to bring our transformative innovations closer to the Asia Pacific region to meet our customers' needs."
In Germany, the Additive Manufacturing TechCenter Hub is powered by EOS 3D printers. Tyssenkrupp has not yet confirmed which machines will be used in Singapore.
Additive manufacturing Singapore
Singapore is, without a doubt, heavily invested in the development and implementation of additive manufacturing. In 2015, NTuitive, a branch of Nanyang Technological University (NTU) supporting enterprise and innovation, establish the National Additive Manufacturing Cluster (NAMIC) which, to date, has engaged 850 companies in its pursuit of widespread AM adoption. In October 2018, the Maritime and Port Authority of Singapore (MPA) expressed its intent to launch an on-port additive manufacturing facility, and HP recently opened a Digital Manufacturing Corporate Lab in collaboration with NTU.
Prior to this most recent TechCenter announcement from the leading German engineering group, the Thyssenkrupp Marine Systems division signed a memorandum of understanding (MoU) to work on naval applications of additive manufacturing with Singapore's Defence Science and Technology Agency (DSTA).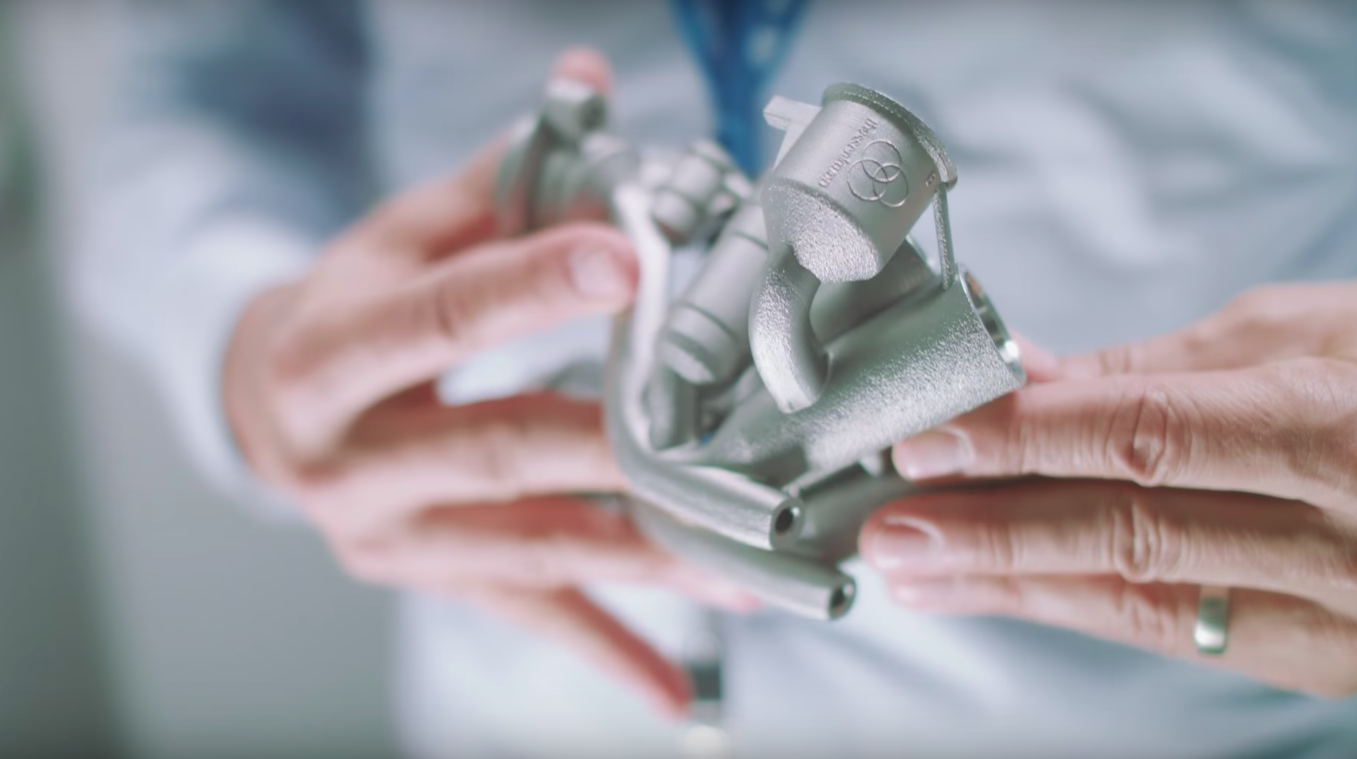 Voting is now open for the 2019 3D Printing Industry Awards. For all of the latest 3D printing in maritime and business news, subscribe to the 3D Printing Industry newsletter, follow us on Twitter and like us on Facebook. Join 3D Printing Jobs to find your next opportunity.
Featured image shows a metal 3D printed engine part printed by Thyssenkrupp. Photo via Youtube/Thyussenkrupp.