The Dimetrodon, an apex predator that roamed the earth over 250 million years ago, long before dinosaurs ever did, has been digitally preserved at the Texas Through Time museum in Hillsboro, Texas thanks to 3D scanning technology from NVision. 
A Texas-based developer of 3D scanners, NVision scanned the fossilized skeleton of the Dimetrodon limbatus for the paleontology museum, which has been described as "crucial in understanding Texas ancient history and past life" by Texas Through Time founder Andre LuJan.
Using the scan data, Texas Through Time plans to 3D print exact replicas of the Paleozoic Era fossil, discovered in Texas, for further study and education. LuJan adds:
"We anticipate many more benefits through using the data for scientific study as well as making affordable replicas available for display and education."
3D printing at the Texas Through Time museum
The non-profit Texas Through Time museum was founded by paleontologist Andre LuJan. It was established to help preserve and promote the rich fossil history attributed to Texas. 
The museum features a wide selection of fossils from all ages and formations, including various rare collections of reptiles, amphibians, sharks, ammonites, dinosaurs, mammals, and petrified wood. Members of the public are able to access the museum's collection of fossils for free. 
LuJan has employed 3D scanning and 3D printing before for exhibits at the Texas Through Time museum. With this experience, the paleontologist insisted that the Dimetrodon  fossil, discovered in the Redbeds of Texas in the early 1980s, was also preserved through the same process. "I felt it was absolutely necessary to have these fossils 3D scanned as it is less damaging than traditional molding and casting," he said. The skeleton's vast age and paleontological value meant that it was necessary to copy it for further study and display without damaging it. Scanning also avoids the use of casting materials that may permanently stain fossils.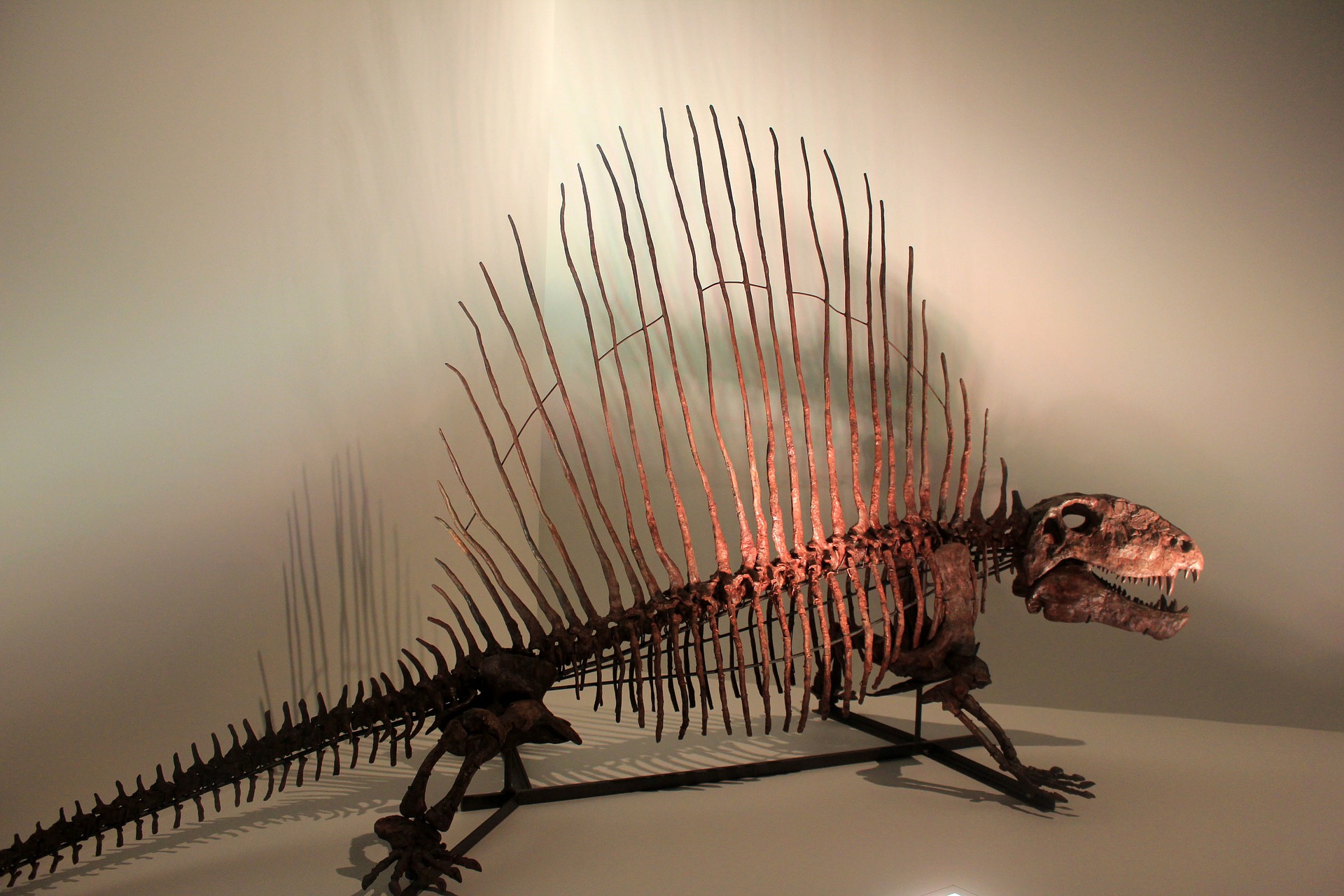 3D scanning a skeleton from the land before dinosaurs
The Dimetrodon is an extinct genus of synapsids, a group of reptiles possessing certain features more in common with mammals than reptiles. A distinctive feature of the Dimetrodon limbatus is its sail, or fin, protruding from its back, created by a network of elongated neural spines connected by skin. 
Often mistaken for a dinosaur, the four-legged predator actually became extinct some 40 million years before the first appearance of dinosaurs. It lived during the Early Permian period, a division of the Paleozoic Era that lasted roughly from 295–272 million years ago.
In order to preserve the ancient creature's fossil for further study, LuJan reached out to NVision, a local firm that delivers both contract scanning services and 3D scanner systems sales to firms in North America. Founded in 1990, the company develops non-contact optical measurement systems for the purposes of reverse engineering and inspection. Previously, NVision collaborated with the Nasher Sculpture Center in Dallas to help produce 3D printed replicas of historical sculptures for the visually impaired. 
"I was strung along and even had a no-call no-show for scheduled work. I was about to give up when I found NVision on a Google search. Steve Kersen, the president of NVision, was awesome in answering questions and scheduling the job. We knew we had found our service provider. NVision being local was also very convenient," adds LuJan.
Scanning was completed using the NVision's portable HandHeld laser scanner, which comes attached to a mechanical arm for increased accuracy when scanning, and integrated software used to convert the point cloud to an .stl polygon mesh. 
All scanning of the Dimetrodon and other Permian fossils was completed onsite at the museum in two days. Performing the scanning operation at the museum helped to minimize the potential for damage to the rare fossils. "There are lots of challenges when working with fossils, the first and foremost being that they are fragile and irreplaceable," comments LuJan. "NVision's HandHeld scanner was a perfect fit for our static mounted skeleton. In the past we have used fixed base scanners where each individual piece of the skeleton must be separately placed on a scanning turntable and damage occurred in the process. This time zero damage occurred during the job."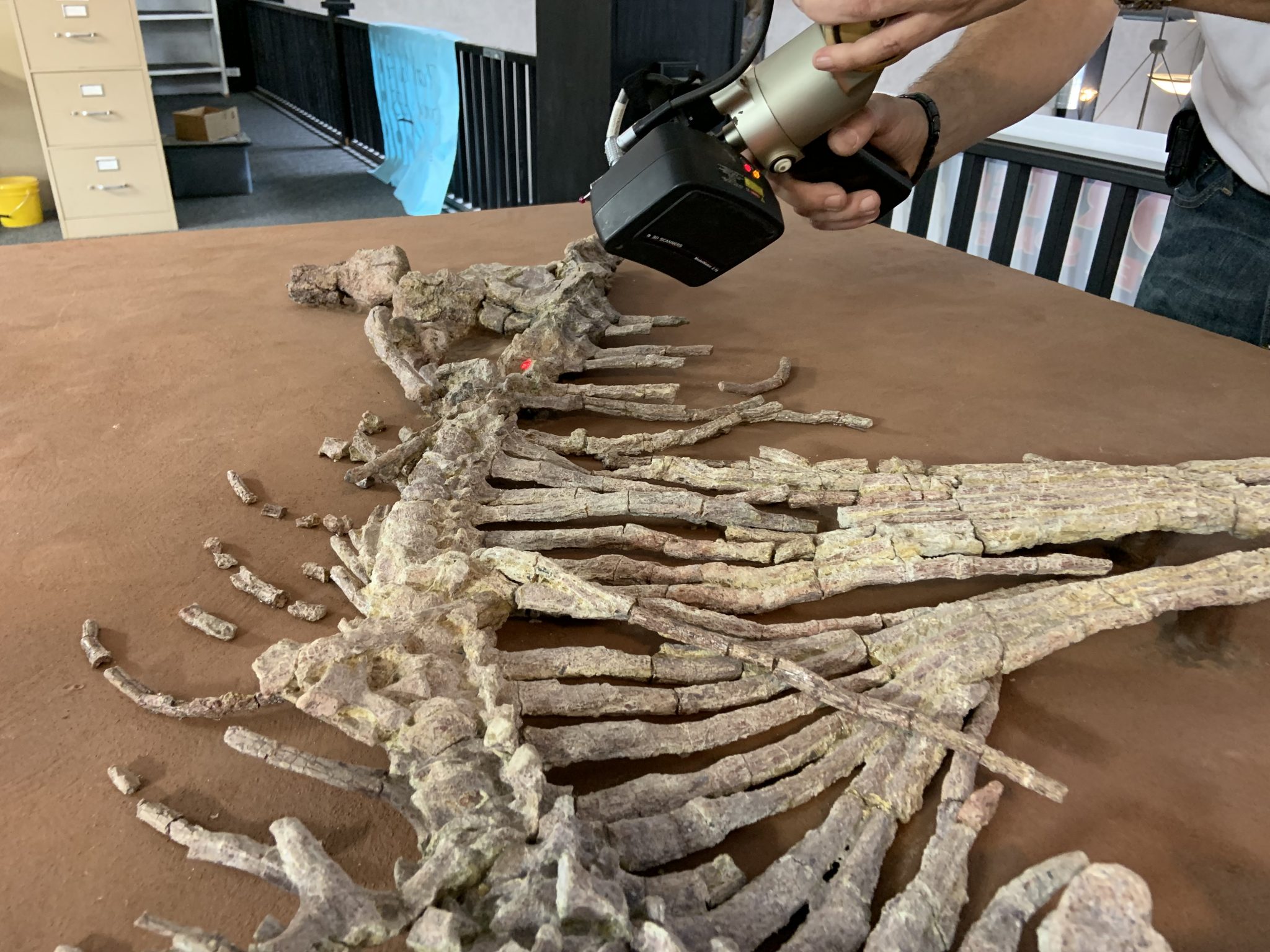 The benefits of scanning and 3D printing fossils
3D scanning and 3D printing are proving integral technologies in the field of paleontology, as it enables the exact replication of priceless fossils without damaging the specimens in question. As such, institutions like the Naturalis Biodiversity Center in the Netherlands have leveraged 3D technology to help reconstruct ancient skeletons for display. Naturalis, working with Builder 3D Printers, was able to replace the missing bones of a triceratops skeleton using fossil scans of other dinosaurs earlier this year.
In 2018, Belgium 3D printing solutions provider Materialise was hired to 3D print a replica of Lier mammoth using scans of its skeleton. The mammoth fossil, composed of  320 bones, has been scanned, digitally reconstructed and placed on display at the Stadsmuseum Lier in Belgium. Dr. Mietje Germonpré, Resident Paleontologist of the Royal Belgian Institute of Natural Sciences (RBINS) and Advisor on the project, commented:
"3D printing is increasingly proving to be an extremely useful tool in the field of paleontology, allowing us to study fossils without damaging the precious originals, and collaborate virtually on the same fossil with colleagues around the world."
Subscribe to the 3D Printing Industry newsletter for the latest news in additive manufacturing. You can also stay connected by following us on Twitter and liking us on Facebook.
Looking for a career in additive manufacturing? Visit 3D Printing Jobs for a selection of roles in the industry. 
Featured image shows Dimetrodon skeleton. Image via Yinan Chen on Pixabay.