Formula 1's most successful team Scuderia Ferrari has turned to 3D printing in an effort to improve the aerodynamic performance of its challenger for this year's world title.
Earlier this season, during practice at the 2022 Australian Grand Prix, the Italian outfit deployed 3D printed sensor mounts onboard its F1-75 race cars. According to Andrew Cunningham, the eagle-eyed General Motors (GM) engineer who spotted the parts, they were likely to have been used to hold the electronics in place, that were needed to assess the efficacy of a new front wing configuration.
"These 3D printed sensor mounts were fitted on the Scuderia Ferrari F1-75 during the Formula 1 Australian Grand Prix Friday practice session," Cunningham explained via a Linkedin post. "The Scuderia tested a new front wing that weekend and likely wanted to measure inboard and outboard front wing height under pitch, roll, and heave via laser ride height sensors."
Ferrari's low-key 3D printing adoption
Having raced in Formula 1 since 1950, winning fifteen world drivers' titles and sixteen constructors' championships, Ferrari understandably remains one of the biggest brands in the automotive world. However, while the Italian manufacturer's race and road cars tend to be surrounded by glitz, glamor and prestige, its additive manufacturing activities have tended to go under the radar in recent years.
Back in 2017, it was revealed that the Scuderia Ferrari Formula 1 team had begun using 3D printing to develop pistons for an updated engine design it planned to introduce that season. At the time, it was said that additive manufacturing the parts from steel alloy provided them with greater strength and heat resistance than before, while unlocking opportunities for weight-saving via geometric optimization.
Though it's impossible to tell how intrinsic and effective Ferrari's adoption of the technology was that season, it did rise to second in the constructors' championship that year, with the team only finishing behind the all-conquering Mercedes M08.
Elsewhere, away from the manufacturer's core business, enthusiasts have also previously utilized additive manufacturing in the restoration of some of its classic vehicles. As long ago as 2016, 3D printing was used to 'RestoMod' a 1987 Ferrari 328 GTS into a Ferrari 288 GTO, while combining the technology with scanning, Redesign Sports Ltd has even managed to reverse engineer a Ferrari 225.
Seeking an F1 title-winning edge
While Scuderia Ferrari led both the drivers' and constructors' championships when it rolled up in Australia, it has since ceded top spot in both of these, reflecting the importance of R&D to the team's fortunes this season. The Scuderia's most recent 3D printing application was unearthed by the detective work of Andrew Cunningham, an Additive Manufacturing Product Development Engineer at GM.
Cunningham says that the sensor mounts on show that weekend are likely to have been made from unfilled or fiber-filled nylon, printed via Selective Laser Sintering (SLS) or MultiJet Fusion (MJF). Though he added that this may "raise a few eyebrows," he explained how the technologies' "stiffness, impact resistance and cost," make them ideal for producing a means of holding sensors in place.
"Every time I see parts like this made with AM, I think about how much work and time is saved by not having to manufacture these via another method such as composite layups or machining," he added. "The tape securing the wiring is not a simple household type, but aircraft leading-edge protection tape that provides high stretchability, smooth surface finish, and no residue at a high cost of ≈ $1/foot."
Scuderia Ferrari's sensor mounts follow a ChronoGP report dating back to March, which suggested that the team had started 3D printing cylinder block elements of the engine of this year's car. Specifically, leveraging a form of Selective Laser Melting (SLM), the team is said to have integrated cooling channels into redesigned piston heads, in such a way that it has improved the engine's top-end mileage.
On the roadcar side of its business, Ferrari has also stepped up its adoption of additive manufacturing recently, by using it to optimize the performance of the new SP48 Unica. The one-off supercar was not just prototyped using the technology, but it also features unique grilles across its front intakes, that were 3D printed into a tessellated pattern.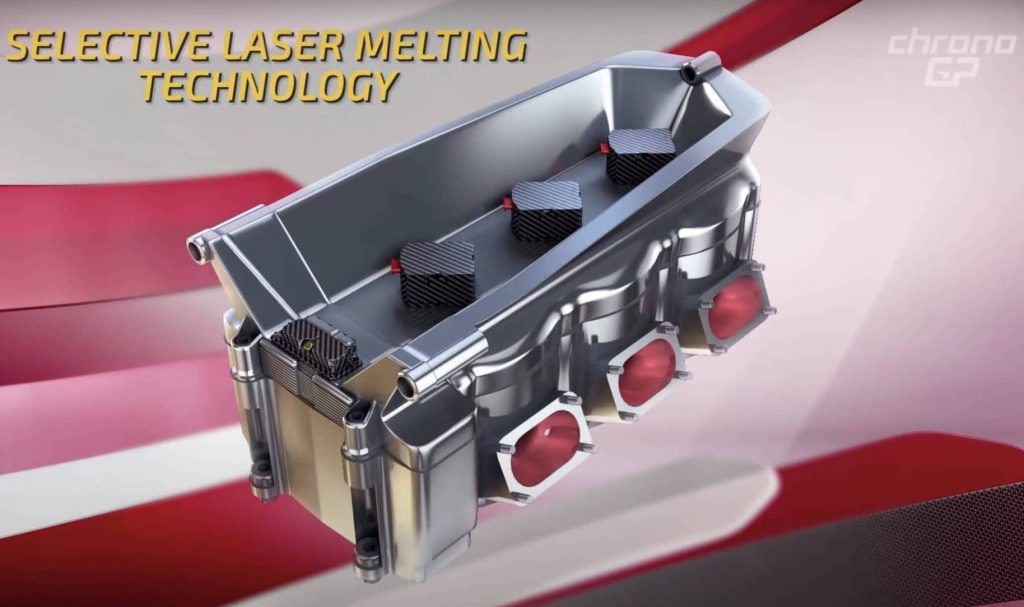 Additive manufacturing in Formula 1
Given the rapid iteration required of teams racing in Formula 1, it's hardly surprising that 3D printing has become widely adopted up and down the grid, even if the sport's high level of competition means that they don't always disclose this. Earlier this month, in an interview with 3D Printing Industry, Pat Warner revealed that as much as 70% of the bodywork on Alpine's F1 car is prototyped via 3D printing.
The Williams Racing team has also utilized Nexa3D's NXE400 system since the start of the 2021 season, to 3D print polymer motorsport parts. Similarly to Alpine, the team leverages the technology to manufacture functional wind tunnel components, in a way that's designed to help it better understand the aerodynamic properties of its race cars.
On the flipside, fewer teams have taken the step to metal 3D printing end-use parts of their cars, despite Scalmalloy being approved for Formula 1 applications two years ago. One outfit that has made progress in this area is Alfa Romeo F1 Team ORLEN, whose 2021 'C41' car featured 304 3D printed parts, and 2022 challenger is said to incorporate unique structural metal 3D printed Formula 1 components.
To stay up to date with the latest 3D printing news, don't forget to subscribe to the 3D Printing Industry newsletter or follow us on Twitter or liking our page on Facebook.
For a deeper dive into additive manufacturing, you can now subscribe to our Youtube channel, featuring discussion, debriefs, and shots of 3D printing in-action.
Are you looking for a job in the additive manufacturing industry? Visit 3D Printing Jobs for a selection of roles in the industry.
Featured image shows a 3D printed sensor mount attached to the front of Scuderia Ferrari's 2022 Formula 1 car. Photo via Andrew Cunningham.