Prodways Materials, a subsidiary of French 3D printing specialist Prodways Group, has launched an e-commerce website, prodwaysmaterials.com, for additive manufacturing materials.
"The launch of this ecommerce site is another strategic step forward for Prodways Materials," said Emanuel Mesaric, CEO at Prodways Materials.
"Thanks to its expertise in machines, its own team dedicated to the development of additive manufacturing materials, as well as industrial partnerships and R&D, Prodways Group continuously offers and develops premium 3D printing materials whose excellent performance paves the way to new, promising applications for industry."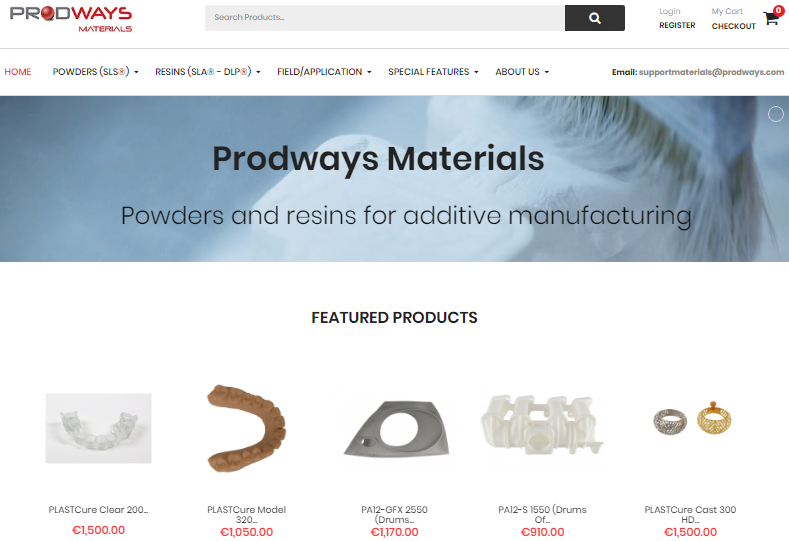 The Prodways Materials platform
With a reported 88% growth in revenue for the first half of 2018, Prodways Group continues to confidently operate within the 3D printing industry. The company manufactures and develops 3D printing technologies/machines such as the ProMaker LD-3 MovingLight DLP 3D printer while providing services for custom part production.
Seeking to strengthen customer accessibility for high-quality 3D printing materials, Prodways Materials has unveiled its e-commerce website which offers a full catalog of stereolithography (SLA) and Digital Light Processing (DLP) resins, as well as powder materials for selective laser sintering (SLS).
Resins and powders can be located according to application with the website's Field/Application search category. Thus, CE-certified resins for surgical components can be found under the Medical or Dental category while TPU-70, an elastomeric powder, can be found under the Footwear category as this is used to create ultra-flexible soles.
Furthermore, Prodways Materials' PA12, PA11, and TPU powders, have been categorized within the Automotive category for its high mechanical strength. "With the new e-commerce website our goal is to enable easier access to Prodways Materials' expertise in the development of new 3D printing materials," added Sébastien Vercruysse, Business Development Director at Prodways Group.
Advancing the European 3D printing industry
Prodways Group has made numerous strategic moves over the past few years to expand its technologies presence within the European markets, i.e. jewelry manufacturing. Most recently, Prodways Group acquired Solidscape, a wax 3D printer subsidiary of Stratasys. Speaking on this acquisition, Raphaël Gorgé, Chairman and CEO of Prodways Group, explained:
"THE ACQUISITION OF SOLIDSCAPE DOVETAILS WITH PRODWAYS GROUP'S OVERALL STRATEGY IS A UNIQUE OPPORTUNITY TO BOLSTER ITS MACHINE SALES BUSINESS AND EXPAND ITS PORTFOLIO OF TECHNOLOGIES, WHILE GAINING EXCELLENT GEOGRAPHIC COVERAGE AND TEAMS RENOWNED FOR THEIR EXPERTISE IN ADDITIVE MANUFACTURING."
Prior to this, Prodways Groups closed a 75% stake in fellow French company Interson-Protac, that uses 3D printing to make custom hearing aids. In addition, the company completely acquired AvenAo Industrie, a French engineering firm to demonstrated its commitment to Industry 4.0 developments.
Keep up with the latest 3D printing news by subscribing to the 3D Printing Industry newsletter. Also, follow us on Twitter, and like us on Facebook.
Searching for new talent or seeking a career change? Search and post 3D Printing Jobs for opportunities and new talent across engineering, marketing, sales and more.
Featured image shows the Prodways Materials website. Image via Prodways Materials.