Software developer MakerOS has made its comprehensive 3D printing business management software free to use.
In a bid to "democratize product development", the company intends to make it much easier for engineers, designers, and digital manufacturing SMEs to emerge in an already competitive market space. Larger businesses will also be able to utilize an additional set of paid premium services if needed.
Mike Moceri, CEO and founder of MakerOS, states, "There is a good opportunity for new businesses to get involved in the industry, and for existing medium and larger-sized businesses to grow and increase their margins, with the MakerOS platform. We've already proven that with a few of our clients."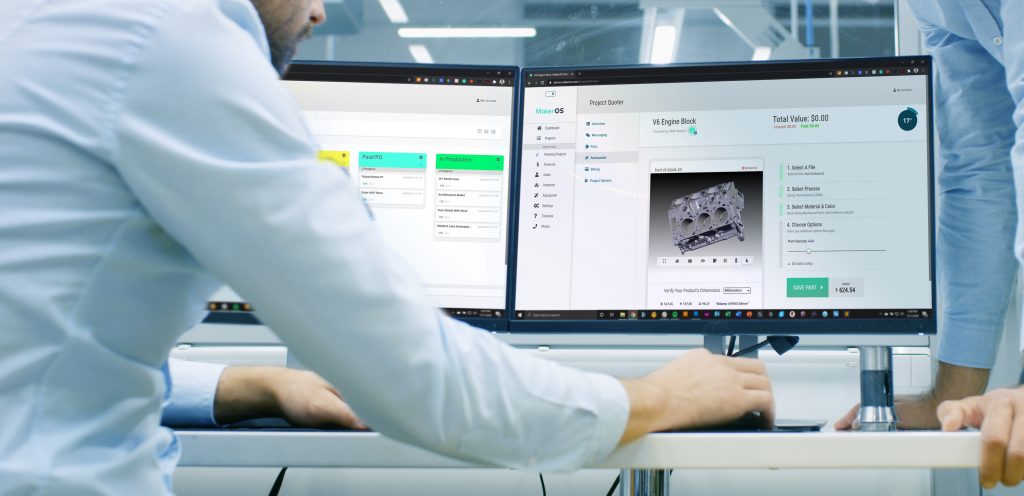 What is MakerOS?
The MakerOS software platform comprises a number of tools designed to allow 3D printing companies to better manage their manufacturing workflows. The all-in-one product addresses the need for a whole host of functionality such as job costing, project management, client relations, and even a 3D file viewer all in one place. The heart of the software is composed of an easy-to-use project management and job submission system. The centralized dashboard is accessible to both manufacturers and clients, fostering a collaborative environment and enabling ongoing project transparency.
MakerOS also features an autoquoter which quite simply automates the part quoting process. Compatible with almost every established 3D printer, the autoquoter also syncs with a company's current inventory, resulting in quotes that are more accurate price-wise and realistic time-wise.
Taking it one step further, MakerOS also provides its own custom online invoicing system which allows users to create and send amenable invoices while tracking payment statuses. The company has even partnered with payment system developer Stripe to increase its offering of payment options.
Finally, the platform allows any manufacturing business to add a personalized client portal to their website, providing a free project intake system to improve efficiency and productivity. The portal consolidates everything related to the project in one location, and even allows for real-time chat functionality to ensure excellent client communication at every stage of the 3D printing workflow.
John Kray, founder and CEO of Hydra Research, a MakerOS client, adds, "MakerOS has really streamlined our project management for our 3D services. The biggest benefit we have seen is the ability to have all communication, CAD/reference files, and invoices accessible in one easy to use online portal."
Workflow management software in 3D printing
While it may not be the only business management software in the 3D printing industry, MakerOS is carving a niche for itself among smaller customers with limited funding. Users of the free MakerOS package will be provided with 10 employee licenses, 30GB of file storage, and unlimited customer slots. For larger-scale customers, however, the 'Business' package might be a better fit. Priced at $239 a month, the premium option provides 20 employee licenses, 300GB of file storage, unlimited API access, a VoIP phone system, and ongoing email and phone support services.
Although slightly different, software developer 3D Control Systems, the parent company of 3DPrinterOS, recently launched its own additive manufacturing workflow management software, ZAP. The AI-powered platform is intended to help manufacturers cut operational costs and improve production efficiencies with a full suite of production management functionality, including a machine-agnostic MES.
Elsewhere, software provider Gravity Pull Systems also recently launched a workflow optimization system for industrial 3D printing. Dubbed Synoptik, the software is aimed at service bureaus and manufacturing companies serving a wide variety of industries such as aerospace, medical and automotive.
Subscribe to the 3D Printing Industry newsletter for the latest news in additive manufacturing. You can also stay connected by following us on Twitter and liking us on Facebook.
Looking for a career in additive manufacturing? Visit 3D Printing Jobs for a selection of roles in the industry.
Featured image shows the MakerOS user interface and integrated 3D part viewer. Photo via MakerOS.