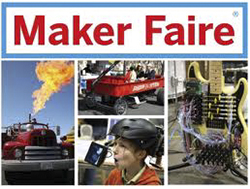 Maker Faire has grown to become the most popular show for the burgeoning Maker Movement since it opened the doors for the first time in San Mateo, CA back in 2006. The latest Bay Area event in 2012 gathered some 100,000 makers and enthusiasts to learn and share what they are making. Organisers have most recently announced that a Maker Faire event will be taking place in Rome in Italy this year between 3rd– 6th October, in collaboration with Arduino and Make magazine.
As the popularity of Maker Faire has increased over the years, additional flagship faires were launched in 2010 in Detroit and New York City. Community-driven, independently produced Mini Maker Faire events inspired by Maker Faire are now being produced around the United States and, indeed the rest of the World. The Rome event will be organised by Massimo Banzi and Riccardo Luna and they will be in charge of structuring, selecting and searching for content through a virtuous circle between the international Arduino community and makers from all over Europe.
The Maker community is still fragmented in Europe in comparison with their US counterparts, and the organisers' mission is to change this. As Massimo Banzi put it: "unlike traditional fairs, the individual maker does not pay to exhibit his inventions. Quite the contrary, our goal is to favour the participation of as many people as possible, including children and teenagers, like in the United States"
The family-friendly faire attendees range from tech enthusiasts to crafters, educators, tinkerers, hobbyists, engineers, artists, science clubs, students, authors and commercial exhibitors. They are of all ages and backgrounds. Maker Faire's mission is to entertain, inform, connect and inspire these thousands of Makers and aspiring Makers.
Please save the dates and get the latest updates from the Maker Faire website here.