Here are my top five picks for 2015, which are excerpts from my book, 3D Printing Will Rock the World:
Caress of the Gaze
As companies and customers use 3D printing to push the limits of customization, entirely new products will emerge.  A great example is Behnaz Farahi's 3D printed "Caress of the Gaze" garment, which looks like a mash-up between a soft porcupine and Van Gogh's "Starry Night," turned into a short, woman's poncho. Farahi, a designer and PhD candidate at the University of California, embedded motion sensing cameras that cause the garment to react to onlookers, altering its form and undulating in response to precisely where and how intensely the watcher is watching (see it in action here). Imagine the black eyes that may result!
Bioprinting skin, bones, and joints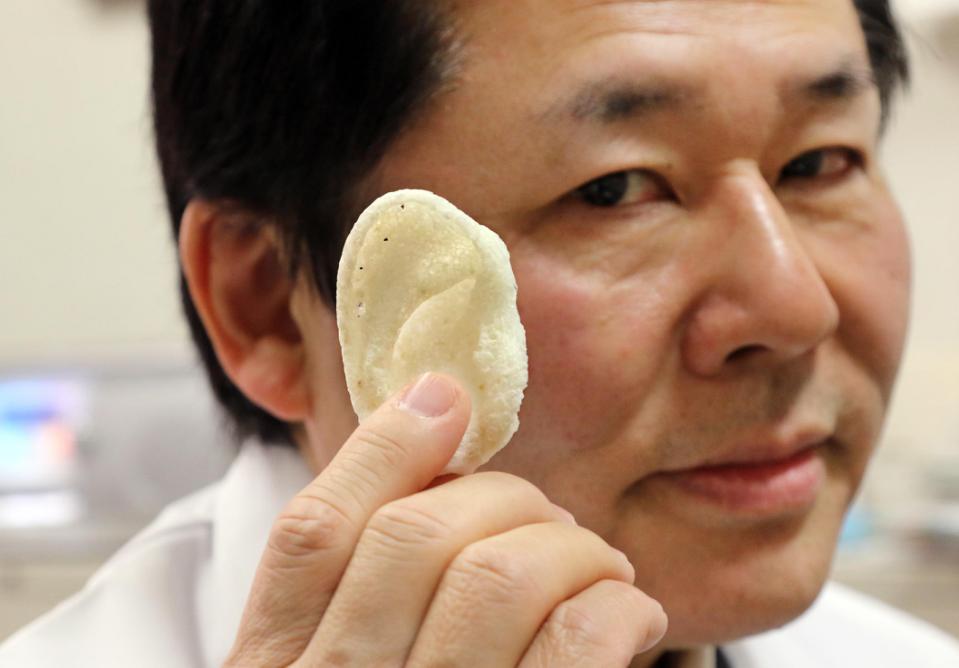 Bioprinters are a specialized form of 3D printer used to print tissue and organs. Much like desktop inkjet printers jet ink, these machines jet living cells, along with support material called scaffolding. So many companies and academic institutions are developing bioprinters that it is hard to keep up, but notable developers include these Japanese researchers who are bioprinting skin, bones, and joints.  Andrew Wheeler, "Japanese Researchers Pursue Next Gen Bio-3D Printer for Skin, Bones, and Joints," 3D Printing Industry News, January 22, 2015, http://3dprintingindustry.com/2015/01/22/japanese-researchers-bio-3d-printer
Voxel8
A Boston-based start-up called Voxel8 took the first commercial step toward building 3D printers that create fully functional products, such as its first product, a quadcopter. Voxel8's machine used Material Extrusion to print the body of the drone with a polymer while simultaneously printing the internal circuitry with conductive silver ink. The machine paused at preprogrammed points during the build process to allow the operator to insert electronic components, such as the motors. When the printing was finished, the 'copter flew out of the printer.  The company's founder, Jennifer Lewis, believes Voxel8's machines will be able to make fully functional devices, without human intervention, within a few years. Michael Molitch-Hou, "CEO Jennifer Lewis on the Future of Electronics 3D Printing and Voxel8's Huge $12M Funding," 3D Printing Industry News, July 24, 2015, http://3dprintingindustry.com/2015/07/24/voxel8-ceo-jennifer-lewis-on-how-12m-in-funding-will-fuel-the-future-of-electronics-3D printing
The ESA & Airbus Test Fire 3D Printed Spacecraft Parts
The poster children for 3D printing today are the aerospace, automotive, and health-care industries. The companies using 3D printing for aerospace are among the largest and most influential in the world, and they are using 3D printing to streamline manufacturing and reduce costs.  The European Space Agency and Airbus successfully test-fired a 3D printed spacecraft engine combustion chamber and thruster nozzle. During the thirty-two-minute test, the parts withstood a temperature of 1,253 degrees Celsius (2,287 degrees Fahrenheit).  Michael Molitch-Hou, "3D Printing Under the Fire: Platinum Thruster Part Seems Space-Ready," 3D Printing Industry News, June 17, 2015, http://3dprintingindustry.com/2015/06/17/3D printing-under-the-fire-platinum-thruster-part-seems-space-ready/
John Hornick's "3D Printing Will Rock the World" Rocks
Of course the fifth of my five top stories for 2015 is "John Hornick's '3D Printing Will Rock the World' Rocks", for obvious reasons.
Happy holidays!