Gantri, a California-based light manufacturer, has unveiled its own 3D printer named Dancer. Using a patent-pending process based on an FDM multi-gantry system, the Dancer is designed for the production of the company's light fittings. It leverages a total of four gantries alongside a rotating circular build plate. Manufactured at the company's San Leandro facility, the Dancer 3D printer is for internal manufacturing only, and will not be commercially available.
Speaking with Gantri CTO Christianna Taylor, 3D Printing Industry finds out more about the company and its new Dancer 3D printer. "Gantri's mission is to empower designers to create by using advanced technologies," said Taylor.
"Our goal is to push for the adoption of digital manufacturing as a viable alternative to today's industrial manufacturing system in producing high-quality consumer grade products." 
Creating a direct-to-consumer platform for designer using 3D printing
Founded in San Francisco, Gantri provides a platform for designers to realize their ideas using its proprietary 3D printing process, and deliver these designs direct-to-consumer. According to Taylor, "The benefits of our process are that it's a digital manufacturing process that opens up our design platform to designers who wouldn't otherwise have an option to create and sell a product directly to consumers."
Using 3D printing, Gantri promises to provide an efficient and sustainable alternative that overcomes the cost and time for designers launching a new product in today's industrial manufacturing model. Previously, the company was using the Ultimaker 2+ Extended to manufacture lights. However, as the company expanded, it needed to improve its manufacturing capabilities. "We looked at existing 3D printing products from HP and others but none of those met our unique needs at Gantri," explains Taylor. Instead of adopting an industrial system like one from the HP Multi Jet Fusion range, which would be expensive, the company decided to develop its own system. The answer for Gantri was the creation of an FFF-based machine with multiple print heads.
Gantri Patented multi-gantry system
The key feature of Gantri's Dancer 3D printer centers on the coordinated multi-gantry system. Using a rotating circular build plate, the system's four gantries operate together to simultaneously 3D print a singular part. The intention is to eliminate the "deadzone" void in the middle of the build platform. Other features include a 18″R x 24″H build volume with a custom-designed frame machined from aluminum. Gantri has developed a translation algorithm for converting 3D models for its multi-gantry system without additional input from the user. The printers are also integrated with Wi-Fi capabilities, and connects directly to the company's online order system. "Dancer is an amazing innovation," adds Taylor, "It combines advanced hardware, software and industrial engineering to make FDM 3D printing drastically more efficient."
The essential benefit of the Dancer 3D printer for Gantri is that it cuts the lead time for the company's "Made for you" production line, which are lights 3D printed from scratch. Production of the lights with the patent-pending 3D printer will take two weeks, instead of the usual four. The 3D printer will be introduced to replace the company's existing fleet of machines from November 2019. Explaining how Dancer will fit into Gantri's ecosystem, Taylor states "Dancer utilizes our digital design process and seamlessly starts as the first step of hardware in the process followed by finishing, assembly, quality assurance and shipping."
"Incorporating Dancer into that process speeds the entire manufacturing line up and allows Gantri to maintain the level of quality and luxury that customers have come to know us for when buying our lights." 
Gantri's investment into digital technologies will not stop at the Dancer 3D printer either. Taylor says the company also aims to implement additional digital technologies into its manufacturing platform, like advanced robotics and AI, in order to diversify its materials and categories for both the designer and customer. "It's the first in a long line of innovations that will allow the Gantri platform to grow into other Home Goods categories," concludes Taylor.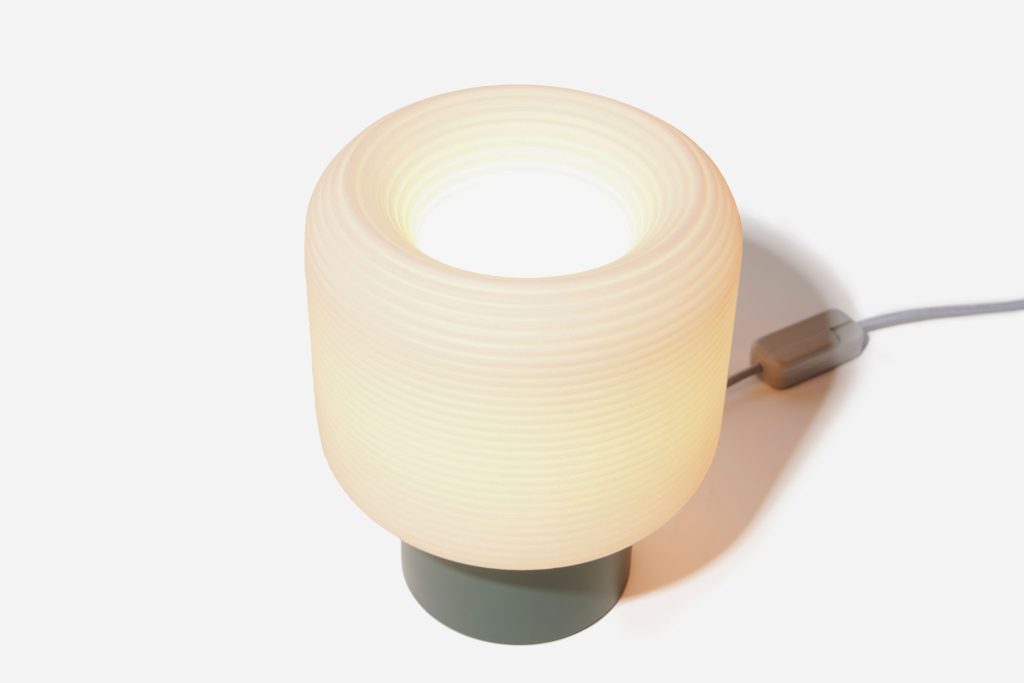 3D printing sustainable consumer products
While Gantri has now manufactured its own 3D printer for producing its designer lights, it is not alone in using 3D printing to manufacture sustainable consumer products. London-based 3D printing service bureau Batch.works unveiled its first full homeware collection developed using 3D printing in May 2019. Designed in partnership with studios UAU and Bold Design, the collection is 3D printed from entirely from bio-based PLA plastic, and plastic reclaimed from water bottles and packaging. 
HEXR helmets are custom 3D printed bicycle helmets produced using SLS 3D printing from EOS. They utilize a 3D printed honeycomb core, made using Polyamide 11, a 100 percent plant-based material produced using castor beans. 
Recently, independent U.S.-based footwear brand Oliver Cabell released a new line of shoes made using 3D printing. Titled "Phoenix", each sneaker is 3D printed from seven recycled water bottles. 
Other 3D printed lighting collections include the Pneumatic Objects collection from Swiss designer Christophe Guberan and the All of the Lights installation from Budmen Industries.
Subscribe to the 3D Printing Industry newsletter for the latest news in additive manufacturing. You can also keep connected by following us on Twitter and liking us on Facebook.
Looking for a career in additive manufacturing? Visit 3D Printing Jobs for a selection of roles in the industry.