This week marks the 10th anniversary of the RepRap project. At 3D Printing Industry we're interviewing some of the earlier pioneers and leading figures in the open source and FFF 3D printer world.
Ed Sells became involved in the very early days of the RepRap project when he was a studying at the University of Bath. He was designed and built the first Mendel printer, and also (together with Dr. Adrian Bowyer) made the RepRap Darwin, the first RepRap 3D printer. Ed Sells wrote his PhD, 3D Printing: Towards a Self-Replicating Rapid Prototyping Machine.
In this article Ed Sells talks about designing the early RepRap 3D printers, the evolution of self-replication and the need for Open Source in 2018.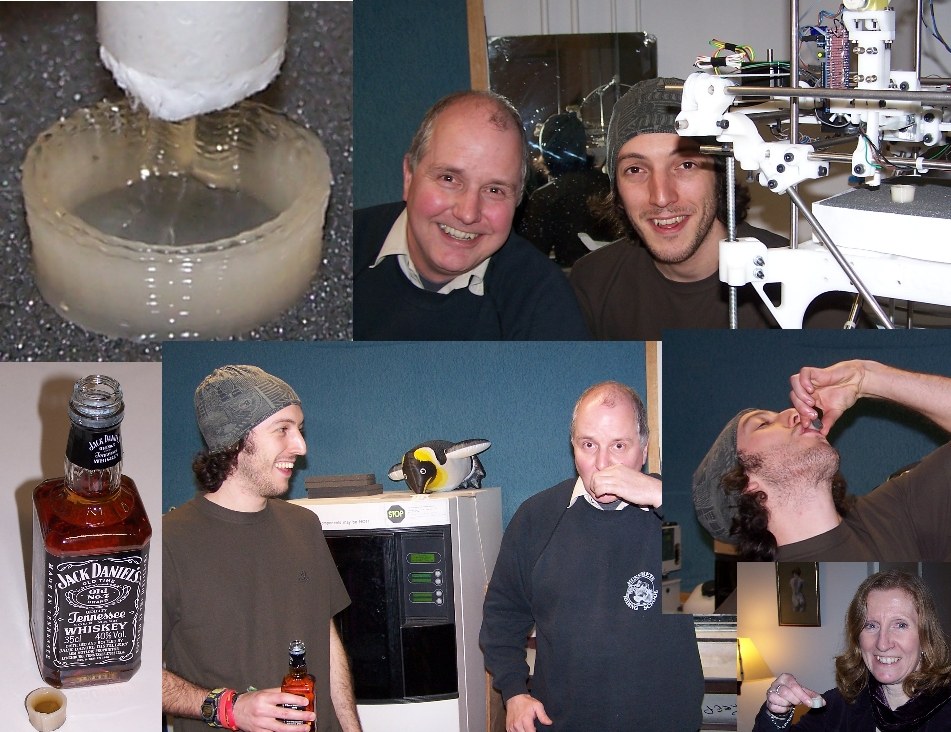 Michael Petch: How did you come to be involved in the RepRap project, please can you tell me a little about your role in the project?
Ed Sells: By total luck, I got Dr B as my supervisor whilst I was studying Mechanical Engineering at the University of Bath – we always had a good time in his office, answering some of the bigger questions.
As I finished my undergrad I remember mentioning to him that I wasn't ready to quit being a student and start looking for a job (I wasn't ready to be that unhappy 😉 ) and that's when he showed me his latest idea, RepRap… and his offer of three years designing self-replicating machines for a PhD was a no-brainer.
As lead on the mechanical design, I started by designing Darwin*. It was tough – the point about RepRap was to use as few shelf items as possible, and so it was a bit like throwing out the entire engineering library and starting all over again. I wasn't even allowed to use ball bearings… that's a killer when you're trying to design a 3D positioning system! Instead we printed our own bushes and adopted assembly techniques which gave us the constraints we needed, and in doing so we demonstrated areas in which the machine could self-replicate.
Importantly, Darwin took a big step towards proving Adrian's hypothesis, that the rapid-prototyping process (soon to be labelled by the media as 3D printing) was capable of achieving large chunks of self-replication. But as a first attempt, Darwin failed in its ability to be reliable. I could see that makers following the project were struggling to assemble the design properly. I'd overconstrained the axes, the components were too delicate, and assembly required too much mechanical love. And so mid-way through writing the thesis I downed tools and designed Mendel.
Mendel stripped everything back to first principles (can't beat a triangle, right?), used fewer parts and was much simpler to assemble. The release coincided with some stable software and better extrusion techniques and the success with the community was immediate – all of a sudden RepRap's started popping up everywhere. I was late on my thesis deadline, but RepRap got the mechanics it need to… well… replicate. And it did.
Here's a tree of the design evolution that spawned from there.
*to be entirely accurate the first version of Darwin was called ARNIE. ARNIE was the first internal iteration, which iterated into Darwin – the first RepRap release. ARNIE stood for Another Replicating Novelty Invented by Ed'n'Adrian.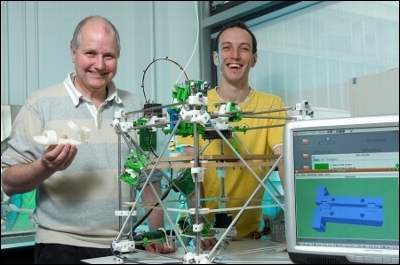 Michael Petch: What are your thoughts about how RepRap has developed over the past decade?
Ed Sells: My thesis was called "Towards a Self-replicating Machine". Looking back now, it could also have been called "Towards a Cheap 3D Printer". As well as an immediate effort towards self-replication, we opened up a multi-billion dollar industry now known as 3D printing. And that's been no bad thing for self-replication.
Over the past decade we've seen small businesses (Lulzbot, Prusa, Printrbot etc) push 3D printing technology into the hands of everyone, and in doing so the technology has been exposed to some intense competition. In turn, this has hugely strengthened the technology's performance and reliability.
And for RepRap, by definition of self-replication, that kind of evolution was expected to happen. When we released 3D printing, it was young and fragile. Competition has toughened it up no end. And that's what self-replication needs, a strong 3D printing backbone from which it can reproduce.
Michael Petch: Are you still working with 3D printing, what are you currently working on?
Ed Sells: I'm not working in 3D printing development at the moment. I may come back to it soon, now it's matured a bit. I'm having a lot of fun with art and software these days.
Michael Petch: What is your perspective on the state of Open Source  in 2018 and is there still a need for OS projects?
Ed Sells: I think OS is healthy and proven.
Is there a need for OS? We'd be doomed without it!
Michael Petch: What is 3D printing currently missing, what would you like to see?
Ed Sells: I had hoped to see more electro-mechanical printed components by now. And donuts.
Do you have any other RepRap thoughts you'd like to share?
When the original Pirate-bay site caught wind of our project, they put a link on their homepage to the RepRep website. The volume of traffic brought the whole University of Bath's network down for about 24 hours.

Huxley was my third and final machine design (and favourite). I wasn't supposed to be working on it – I think I had more thesis to write – so I developed it with Patrick Haufe in secret. That said, Adrian was kind enough to sign some blank order forms, so I think he knew something was in the works. We spent weeks on it in the lab, with some pretty late nights, before finally sitting down to dinner with Adrian and his wife Christine. We'd put it on the center of the table under a tea-towel, kind of like a turkey under a dish. The unveiling was pretty special. I think that's the first time we started talking about printing food….

The first item we ever printed was a shot glass, designed by Vik Olliver. It was an honour and a privilege to celebrate with Dr B by shooting whiskey in the lab with our very own tools. It was an amazing time, it really felt like we were on the edge of something disruptive. Turns out we were.
The RepRap 10th Anniversary series continues
You can read more in the RepRap 10th Anniversary series here. Make sure you don't miss the forthcoming interviews with other RepRap pioneers, subscribe to the 3D Printing Industry newsletter and follow us on social media.
Want to work in additive manufacturing or looking for a 3D printing job? Sign up for our free jobs service now.
Featured image shows version 2 of the RepRap Mendel. Photo via RepRap.