Large scale additive manufacturing developer Ai Build has entered into a partnership with German industrial equipment supplier Hans Weber Maschinenfabrik.
With extrusion and grinding expertise dating back to the 1980s, Hans Weber is entering the 3D printing market through new business unit WEBER Additive. Ai Build's cloud-based 3D printing software will be used by the company for operation of its new large-scale extrusion systems.
The product of Ai Build and WEBER Additive's partnership so far will be exhibited to the public for the first time at the K 2019 trade fair in Düsseldorf, and at Formnext 2019 in Frankfurt.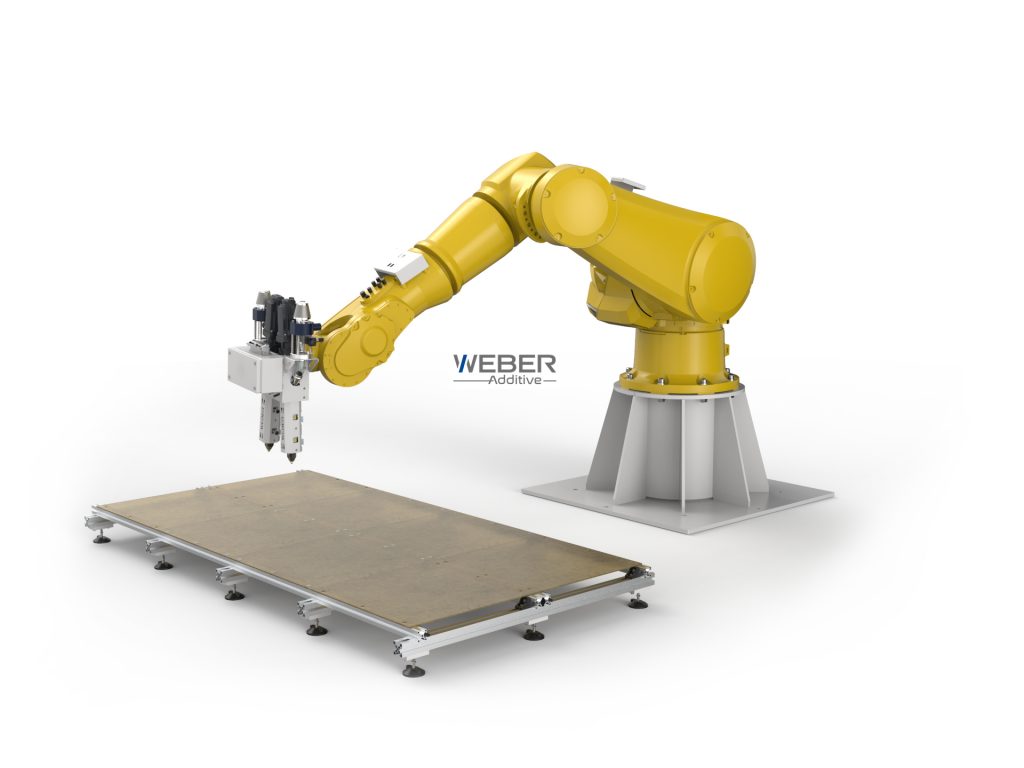 Ai Build's "factory as a service" offering
A software-driven company, Ai Build focuses on developing solutions for large-scale additive manufacturing using robotic arms. The company has its own hardware, the AiMaker, and this is offered commercially as part of a package encompassing AiSync software, and AiCell infrastructure (an enclosure for the AiMaker).
Under the new partnership, WEBER Additive will be making use of AiSync web application. AiSync is specifically developed to program multi-axis toolpaths capable of controlling a 6-axis robotic arm. These toolpaths, as described by Ai Build, "are not constrained by slicing layers" meaning that designers  harness the potential of truss-like structures and lattices – which form the core of many successful large-scale constructions. AiSync is also optimized for high production speeds, which is essential given the scale of the objects it is designed to work with.
"With the combined expertise of the two companies in complex software (AiSync) and high-quality mechanical engineering, " comments Markus Weber, executive board of Hans Weber Maschinenfabrik, "we will be able to offer strong, unbeatable complete solutions for future-oriented additive manufacturing and thus exceed limits."
The WEBER Additive DX
WEBER Additive's first foray into 3D printing is the DX machine, which is scheduled for official launch in early 2020. Operated by a single-screw extruder, the DX utilizes pelletized feedstock, which also helps with extrusion speed. Polymers and "highly filled, fiber-reinforced or even soft materials" are reported to be suitable for use in the machine.
The DX and a selection of sample objects 3D printed with the platform will be presented by Hans Weber Maschinenfabrik at Formnext 2019 in hall 12.0, stand E51F, and at K2019 in hall 16, stand F06.
For 3D Printing Industry coverage of all the latest events and product releases subscribe to our newsletter, like us on Facebook and follow us on Twitter. Seeking a career move? Visit 3D Printing Jobs.
Featured image shows AiSync software for planning multiaxis 3D printing toolpaths. Image via Ai Build