It is now only five days until Frankfurt Messe opens its doors to the biggest additive manufacturing show in Europe, and the press releases for Formnext 2018 are still coming in thick and fast.
While many upcoming releases will remain under embargo until next week (stay tuned) 3D Printing Industry has collated all of this week's announcements in one place so you don't miss a thing.
Following RIZE's launch of the full color XRIZE 3D printer, and EOS' new LaserProFusion polymer technology, we have news from AMFG, SLM Solutions, Henkel, 3D Lab, Royal DSM,  Nanoe, ESI, Tethon 3D, Ackuretta Technologies and 3D Systems.
We also have exclusive comment from Konrad Glowacki, Co-Founder of Sinterit; Michael Bogomolny, Co-Founder & CTO of Paramatters; Pia Harlaß, Head of Marketing at DyeMansion; and André Drochner Key Account Manager 3YOURMIND.
ESI to launch metal additive monitoring platform 
Manufacturing software and service provider ESI has developed the "Integrated Computational Material Engineering platform (ICME): ESI Additive Manufacturing" According to the company, ICME: ESI Additive Manufacturing provides "a complete suite of tools addressing heat source/feed stock interaction to identify manufacturing defects and residual stresses."
Find out more from ESI in hall 3.0 booth J49.
Powder melting visualization in ICME: ESI Additive Manufacturing. Image via ESI
Ackuretta Technologies to ship FreeShape 120
The FreeShape 120 is the latest "professional chair-side 3D printer" from Taiwanese manufacturer Ackuretta Technologies.
In Frankfurt, the company will be accepting presale of the machine which is expected to be shipped from the end of this month.
Lucas Wiltse, Commercial Director at Ackuretta, comments, "The FreeShape 120, along with Ackuretta's affordable Qura Resin line, opens the door to the unique benefits of 3D printing to a wide range of users in the dental, jewelry, and engineering industries."
Tethon 3D launches preorders for metal/ceramic DLP
New UV curable ceramic and metal resins will be presented in samples from Tethon3D, which was given the economic means to develop its forthcoming DLP 3D printer in August 2018.
Set to launch in the second quarter of 2019, Tethon3D will also be accepting preorders of the system at Formnext.
See Tethon 3D ceramic and metal resins in hall 3.1, booth 30D.
The first desktop ceramic and metal 3D printer?
Traditionally a ceramic nanopowder manufacturer Nanoe, headquartered in France, is set to launch its first 3D printer at Formnext next week.
The Zetaprint is a desktop ceramic and metal 3D printer which will be launched alongside a new Stainless steel 316L Zetamix filament.
In addition, the company plans to release a line of adapted FFF 3D printers complete with debinding vessel and furnace for €10,000.
Visit Nanoe in hall 3.0, booth A74
3D Systems and transforming the manufacturing process
Leading 3D printer manufacturer 3D Systems has said that its DMP Platform, Figure 4, and ProJet® MJP 2500 IC 3D printer will headline its booth at Formnext this year.
Vyomesh Joshi, President and CEO at 3D Systems, comments, "At Formnext 2018, we are not only showcasing the most extensive, integrated portfolio of additive manufacturing solutions, we are also demonstrating how our customers are able to transform the manufacturing process, and thus their businesses."
The latest solutions and machines from 3D Systems can be found in hall 3.0, booth F10.
Royal DSM adds new material profiles
Royal DSM Novamid ID 1030, Novamid ID 1030 -CF10, Novamid ID 1030 -CF10 and Arnite ID 3040 3D printer filaments have been added as profiles on e-Xstream Digimat-AM simulation software.
With this addition, industrial users are better prepared to predict the outcome of 3D print jobs, limiting the chances of failure.
Nirali Surati, Product manager Additive Manufacturing Solids at DSM, explains, "One of the most important enablers is the capability to predict the behaviour and performance of 3D printed parts in applications,"
"Thanks to the collaboration with e-Xstream Engineering our customers now have the toolbox to design and predict reliable parts with the performance required for their application."
Find DSM Additive Manufacturing and e-Xstream in hall 3.0, booth E01.
Henkel makes Formnext premiere
For the first time in 2018, German chemical and consumer goods company Henkel will be making its debut, alongside competitors like BASF, that have exhibited before.
Henkel recently inaugurated a new multi million Euro 3D printing materials R&D facility in Ireland and will be launching new resins and Loctite post-processing adhesives at the show.
Henkel are exhibiting in hall 3.1, booth H59.
3D Lab launches ATO lab metal powder atomizer
3D Lab, a Polish 3D printing service bureau and official 3D Systems reseller, is to launch its ATO Lab unit next week.
A metal powder atomizer, the ATO Lab system is designed for use by researchers, and is capable of several hundred grams of throughput.
See the ATO Lab at 3D Lab, hall 3.0, booth G20.
SLM Solutions presents the Divergent car chassis
Following on from last year's large scale exhibit of the SLM 800 metal 3D printer German manufacturer SLM Solutions will be displaying the Divergent3D 3D printed car chassis.
The product of a longstanding collaboration between the two companies, the modular frame of the Blade supercar is set to be an exhibition highlight.
See SLM Solutions and Divergent3D in hall 3.0, booth D70.
DyeMansion brings full RAL color to SLS
On DyeMansion's forthcoming exhibit at Formnext 2018 Pia Harlaß, the comapny's Head of Marketing, says, "The requirements for end-use parts produced with Additive Manufacturing are growing every day. Providing the perfect finish for every application is key to bring AM to the next level,"
"At this year's Formnext, you can experience the next step into a colorful future for your 3D-printed products with a greater color variety and completly new finishing possibilities,"
"We will showcase the entire RAL range for SLS parts, a new surfacing technology that can rival with conventional injection molded parts and lots of thrilling applications enabled through DyeMansion technology."
DyeMansion can be found in hall 3.1, booth G61.
A bright future for Sinterit SLS 
In the lead-up to this year's event, Sinterit has been gradually releasing a series of new desktop SLS materials. The company's most recent release is Flexa Bright, a white version of the new TPU Flexa Soft material.
Speaking to 3D Printing Industry, Konrad Głowacki, Co-founder of Sinterit, says, "Formnext is always a perfect place to talk about the market needs […] This year, we are going to present not only two desktop-sized SLS 3D printers but thanks to the countless conversations with the people from various industries, we will show the whole range of new powders for selective laser sintering,"
"Now we are sure that we have the widest material portfolio in desktop SLS sector."
Find Sinterit in hall 3.1, booth G41.
Paramatters to launch generative design update 
Michael Bogomolny, Co-Founder & CTO topology optimization and CAD software developer Paramatters, says that the company is due to launch an updated version of its CogniCAD program at Formnext next week.
According to Bogomolny, "CogniCAD by ParaMatters is the only generative software product with a fully automated workflow based on in-house developed Topology Optimization, High Resolution Finite-Element Analysis and Computational Geometry, that requires no manual adjustment or reconstruction,"
"Designs generated by CogniCAD satisfy all challenging engineering design requirements, compatible with all CAD systems and ready for manufacturing within tens of minutes up to few hours."
Visitors can demo the product firsthand at the XPontentialWorks stand in hall 3.0, booth B01.
Automated production planning from 3YOURMIND
And German 3D software developer 3YOURMIND is to present its new automated planning solutions for additive manufacturing at the show. Commenting on the company's exhibit André Drochner Key Account Manager at 3YOURMIND, says, "We have achieved this by centralizing information in one main platform, by quicker and easier finding what parts are good business cases for 3D printing, by automating pricing formulas for external and internal orders, and now also by automating the production planning."
Find 3YOURMIND in hall 3.1, booth G70.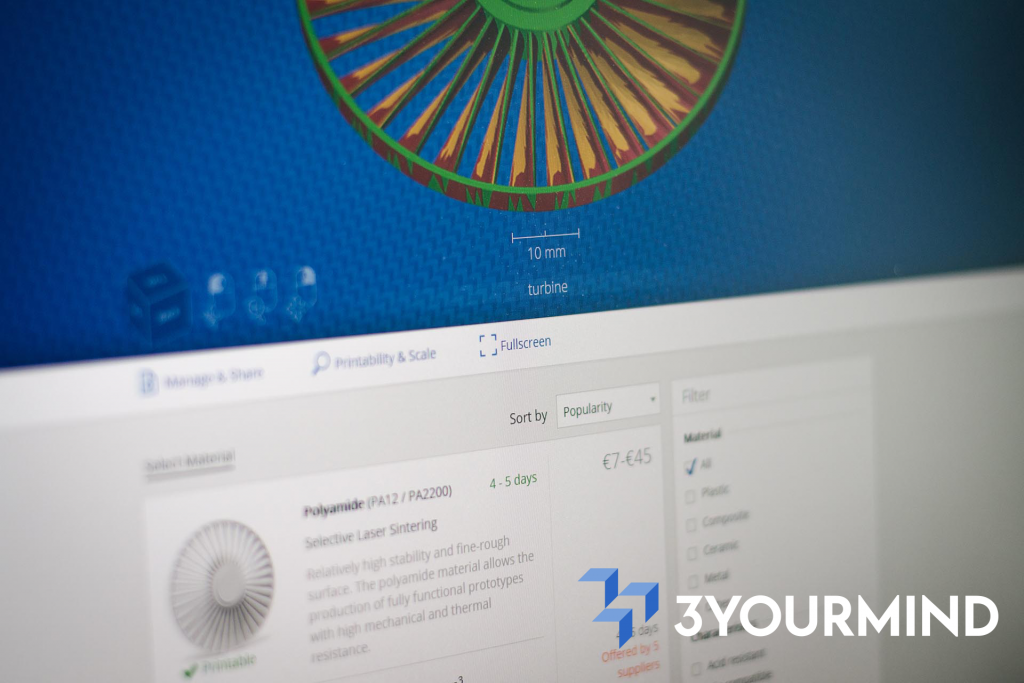 See the full Formnext 2018 floorplan here to prepare your schedule and appointments.
Keep up to date with Formnext 2018 and other industry events. Subscribe to the 3D Printing Industry newsletter, join us on Facebook and on Twitter. For new opportunities across additive manufacturing visit 3D Printing Jobs. 
Featured image shows 3D printed parts using Vitrolite. Photo via Tethon3D.