Advanced manufacturer FATHOM  has launched a new agreement to promote the cross-industry adoption of additive manufacturing. In the agreement, the California-headquartered service bureau is partnering with 3D software specialist and authorized Stratasys reseller GoEngineer.
Together, the two entities will offer complimentary services to their customers "to meet," says Michelle Mihevc, Co-Founder and Principal at FATHOM, "the ever-increasing demand for advanced tools and services that enhance and accelerate a company's product development and production processes."
The "next step" in digital manufacturing
FATHOM is an ISO certified manufacturer of custom prototypes and production grade parts. From its two production facilities, one in Oakland, California, and the other in Seattle, Washington, it currently offers consultation and training, contract engineering, CNC machining, injection molding and a range 3D printing technologies from FDM through to DMLS.
The company is one of the early customers of Nano Dimension's DragonFly 2020 PCB 3D printer and, more recently, an F370 3D printer from Stratasys' F123 line of industrial FDM systems.
Explaining the ethos behind FATHOM manufacturing with a view to the future of 3D printing Rich Stump, also principal and co-founder of the company, told us, "While many futurists have over-speculated the factory of the future and where 3D printing is going, FATHOM has been busy building one. The need for design freedom and faster speeds for product development and manufacturing is the base of everything we're focused on."
The latest partnership then is the "next step" of this vision, as emphasized by Ken Coburn, Founder and President at GoEngineer:
"We are taking that next step to help companies along their journey into digital manufacturing. As partners, we are going to help implement and apply advanced technologies in creative new ways."
Combined expertise
GoEngineer is located in 12 states across North America, including Texas, Nevada, Washington, Oregon and 7 offices in California alone. In addition to 3D printer sales, GoEngineer provides CAD/CAM solutions such as SOLIDWORKS and CAMWorks.
As such, FATHOM is to entrust it ongoing machine sales and customer support to GoEngineer. In return, FATHOM will handle GoEngineer customer inquiries for prototyping and manufacturing services.
Brad Hansen, CEO at GoEngineer concludes, "FATHOM is doing amazing work and they are so in touch with advanced manufacturing,"
"By combining their thought leadership, capabilities, and expertise with our own, it's going to create an experience that will be almost impossible for anyone else to match."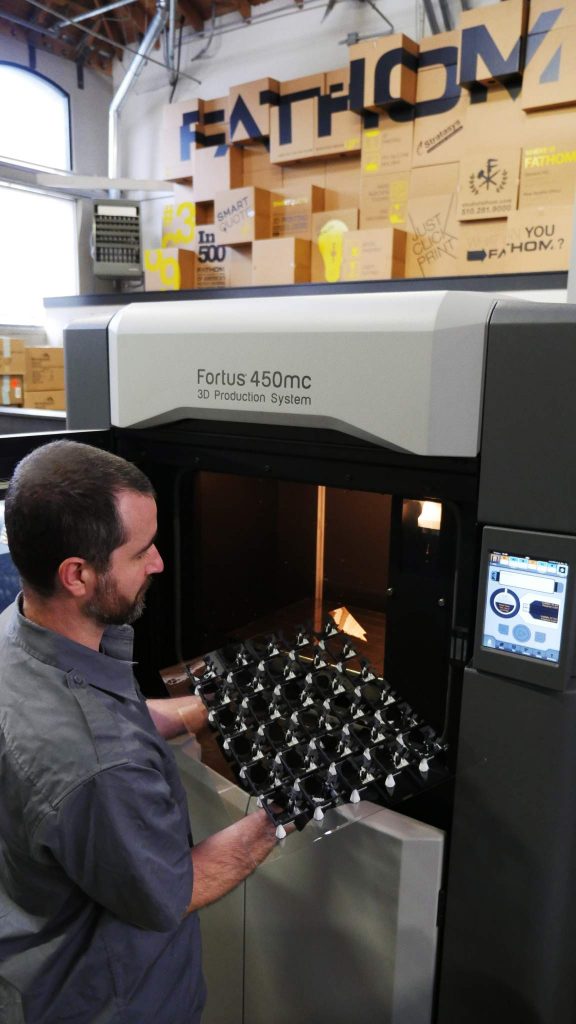 For all of the latest 3D printing business news follow us on Twitter, like us on Facebook and sign up to our free, daily newsletter.
Looking for new talent or seeking a career change? Search and post 3D Printing Jobs for opportunities across engineering, marketing, sales and more.
Featured image shows a Stratasys Fortus system at FATHOM's Oakland facility—direct digital manufacturing is a growing application need. Photo by FATHOM.