We hope you're dressed for the occasion because the much anticipated 3D printer for clothes is finally here!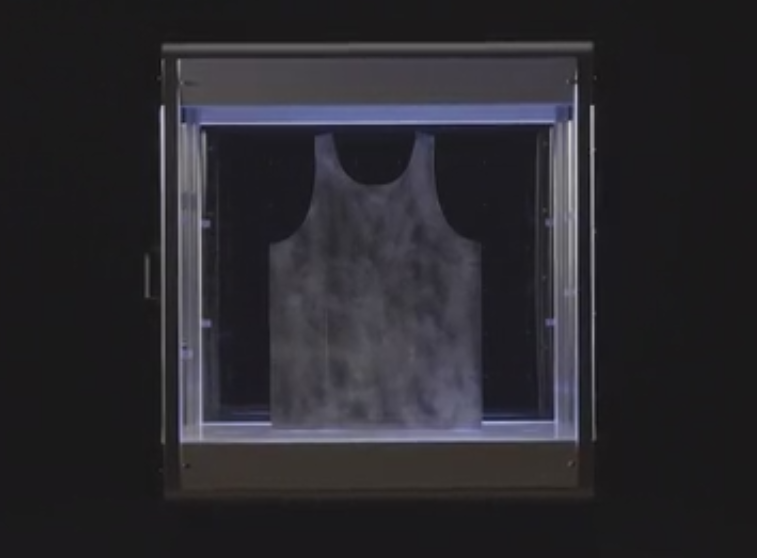 The Electroloom team has recently launched its Kickstarter campaign, thus giving you a chance to actually get your hands on the technology and be a part of what is quite likely to be a milestone in the evolution of 3D printing. To be clear, this isn't the 3D printing we've seen in fashion with stiff nylon dresses, plastic assemblies that are far more ornamental than actually wearable. This is the new cloth.
It's been more than a year since the team of Aaron Rowley, Marcus Foley and Joseph White conceived the idea of 3D printing non-woven fabric. What started in 2013 as an experiment with metal chopsticks and some fibers on a kitchen floor has now become a prototype for potentially – the world's first 3D fabric printer, Electroloom.
Instead of rushing their idea, the team spent the last year working patiently and dedicatedly to realize their proof of concept. During their time studying biomedical engineering, they were inspired by the way in which blood vessels could be engineered using cardiovascular tissue.
"While we dreamt of digitizing clothing, and sharing garments as files across the Internet, the actual technological solution seemed elusive. Until we made a strange connection between metal chopsticks and blood vessels."
They then applied the same principles to bond fibers using metal chopsticks and an electric field. They met with some success doing this and later, entered their idea into a competition sponsored by Alternative Apparel, an innovative clothing company based in San Francisco. They won the competition and this spurred them on to fully realize their concept. Later by July 2014, they developed their first prototype and produced their first fabrics. They also joined a startup accelerator program to fine-tune and consolidate their technology as a business venture. Their measured approach and steady progress eventually led to this – a non-woven digitally designed textile that flexes, folds and flows just like any other woven textile.
A piece of cloth that could be created automatically using an electric field – or what they call – Field Guided Fabrication (FGF). FGF is essentially an electrospinning process that takes a liquid solution, converts it into solid fibers that are then deposited and bonded onto a 3D mold. The 3D mold is placed inside a chamber with an internal electric field that guides and bonds the fiber onto the mold.
"Most people say it looks like magic. We tend to agree. By the time the job is done, the numerous fibers that have been deposited will have formed a single, seamless piece of fabric that retains the shape of the mold."
So far, they've made sheets, tank-tops, skirts and beanies. The material or liquid solution the nano-scale fibers are made from is a custom polyester/cotton blend. Right now, the fabrics are all white but they're working on introducing more colours, like blue and yellow, and more materials, like silk and acrylic blends.
This doesn't mean that we're a few months way from never needing to shop for or stitch our own clothes anymore. Their Kickstarter campaign isn't about releasing the final product, but about creating the opportunity for designers, hobbyists, DIY'ers, and enthusiasts to work on their developer kit – Electroloom Alpha.
"Electroloom is still in its infancy; we've only been working on the technology for about a year and a half. This dev kit program is a way for us to engage with early adopters, who in many ways will be the pioneers responsible for bringing this technology to fruition. We're looking for people who want to use, explore, break, hack, and improve our machines, so that ultimately we can provide a more robust and reliable technology."
They'll be giving out a limited number of developer kits to keep their resources and efforts more focused, so if you want one, you better get there quick. They're also giving out samples of fabric and electrospun tank-tops and skirts. It's a rather unique chance to get your fingers on a piece of new-age clothing.
Humans have come a long way from wearing animal hides. In just the last few centuries, we've gone from needles to sewing machines, from hand-weaving coarse fibers locally to an explosion of ready-made clothing worldwide. And now, the Electroloom points towards a new age of clothing – not just customized and on-demand, but clothes made at the push of a button – by you.