3D Printing Industry brings you the highlights of Black Friday deals offered by 3D printing companies including Aleph Objects, Proto Pasta, B9Creations, ColorFabb, iMakr,  Sculpteo, XYZPrinting, ZMorph, Zortrax and more.
Discounts from iMakr, Aleph Objects and ColorFabb
iMakr is offering up to 50% off, with discounts available on a range of 3D printers and 3D printing materials. Shoppers can also get a further 7% discount by using the code BLACKNL17 at checkout.
Aleph Objects, manufacturer of LulzBot 3D printers, is offering its "biggest sale ever" with discounts on a number of its products, together with free shipping on all orders over US$50. As part of the promotion, LulzBot 3D Printers are 20% off, selected tool heads are 15% off, Printed Solid Enclosures are 15% Off and 3mm Filament is Up To 75% Off. Prices will go live at 0:00am on Friday 24 November and can be found here.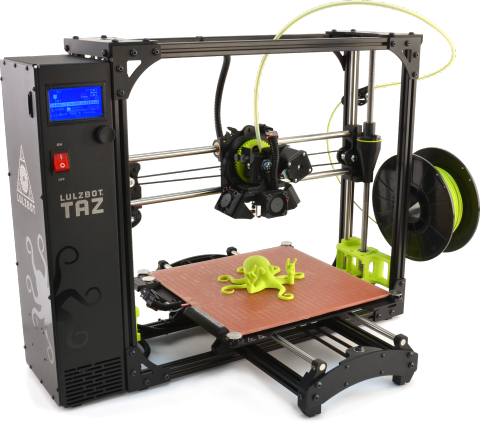 ColorFabb is offering a 25% discount on its filaments with the code BLACKFRIDAY. Also on offer are LulzBot and Robo 3D printers, which have a 10% discount.
3D printer discounts
Zortrax is offering up to $1000/€900 off 3D printers. Deals are available on the M300, M200 and Inventure 3D printers. More information about the Zortrax Black Friday deal is available here, while the offer is redeemable via Zortrax resellers.
ZMorph's Black Friday to Cyber Monday deal is 15% off all ZMorph 3D printer sets bought from the company's online store, together with free worldwide shipping. ZMorph's full range of 3D printer can be found on its online catalogue.
XYZprinting is offering exclusive discounts of between 28 and 42% its products for Black Friday. Of particular note are the Da Vinci Jr. Pro and the Da Vinci 1.0A 3D printers, which have 33% and 40% off their retail price respectively. More deals can be seen in the image below and found on the XYZprinting website from Friday.
Scanner and material discounts
Sculpteo is offering 25% off all orders above $150. The offer applies plastic 3D printing and laser cutting materials, finishes and technologies, and can be redeemed with the checkout discount code BLACKDILE3D. The deal will last from 15:00 PT on Thursday to 23:59 PT on Sunday.
B9Creations has slashed $1500 off the full price of a B9 Scan 350 3D scanner to the first of its customers. The B9 Scan 350, capable of 3D scanning items in under 5 minutes, is only available under this offer from Black Friday to Cyber Monday. Customers can contact the company directly via the B9 Scan 350 page to request a discount code.
Proto Pasta is offering a range of discount codes for savings on their 3D printing filaments. Here's the list of codes:
10off119 for 10% off orders over $119
15off179 for 15% off orders over $179
20off239 for 20% off orders over $239
FREEWORLD for $10 off international orders over $59.
E3D is running a range of promotions for Black Friday. Full details are available here, and the deals include:
10% off site-wide with discount code BLACK17
Massive discounts on filaments including Taulman, Ninjaflex, spoolWorks and Colorfabb
Add an E3D mug to your basket and get it *free* for orders over £100
And finally some cheeky introductory offers on the new E3D merchandise
E3D Black Friday offers will stay open over the weekend and thru Cyber Monday.
For more updates on new products and deals, subscribe to our free 3D Printing Industry newsletter, follow us on Twitter, and like us on Facebook.
Featured image shows "Black Friday" letters 3D printed from ColourFabb's 3D printing filament materials.