Desktop 3D printer manufacturer Anycubic has unveiled the latest addition to its Kobra series of desktop 3D printers, the Kobra Plus, designed specifically for advanced users.
With an increased build volume compared to the original Kobra, the Plus is engineered to deliver optimum printing results faster and more easily while granting users greater freedom regarding part design. Anycubic has also introduced two new Silk and Matte PLA 3D printing filaments as part of the launch.
"We're introducing Kobra Plus as an advanced edition to the Kobra product line," said James Ouyang, Vice President of Anycubic. "We manage to retain the fast printing speed on Kobra Plus in an even more stable way, with upgrades to the most significant features from the Mega X.
"It ensures advanced 3D printing users can quickly get the best printing results and fulfill their imagination in a larger printing dimension."
The Kobra series
Having made a name for itself in the consumer-grade sector thanks to its widely-popular Photon series of resin 3D printers, Anycubic introduced its Kobra product line in March this year with the launch of its Kobra and Kobra Max machines.
Highlights of the Kobra series include an upgrade to Anycubic's leading-edge LeviQ auto bed leveling technology, which eliminates the need to calibrate the printer manually, making it easier for users to level their printer and yield more consistent results.
The Kobra is an entry-level FFF desktop 3D printer designed for individuals new to 3D printing or who wish to expand their STEM and maker skills, while the Kobra Max offers large-scale 3D printing capabilities, a more stable operation and even print thanks to its 45 x 40 x 40 cm build volume and double Z-axis.
Now, the company has introduced the Kobra Plus as an advanced option for desktop users wishing to strike the balance between optimal printing results, speed, and ease of use.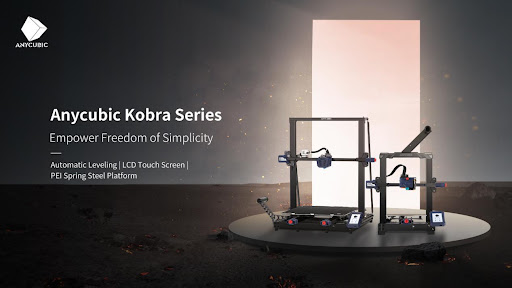 The Kobra Plus
Equipped with a build volume of 30 x 30 x 35 cm, the Kobra Plus is designed to leave more space and freedom for users to fabricate any variation of cubic shapes, and print numerous objects in one print run in order to achieve their design ambitions with fewer prints.
Like the rest of the Kobra series, the Kobra Plus features Anycubic's LeviQ leveling system which automatically detects a 25-point to the printing platform to compensate for hotbed unevenness, making leveling an easier and worry-free process for the user.
The Kobra Plus' print speed is increased to 80-100 mm/s, reportedly delivering twice the speed of other competitive machines on the market which offer an average rate of around 50 mm/s. The printer's separated bowden extruder ensures a stable and rapid printing speed, and its dual Z-axis design enables fast printing with better print stability.
A 45W metal heater bar accelerates the melting of the filaments, while the printer's dual cooling fans are capable of running at a maximum speed of 6,000 PRM to cool layers during the printing process. Dual metal gears also guarantee smooth filament transport.
Meanwhile, the machine's printing platform is made from carborundum glass to lock parts onto the platform during printing and facilitate easy removal once the part has cooled. A filament runout sensor detects filament surplus, with users able to resume printing after restoring from turning off the machine.
Alongside the launch of the Kobra Plus, Anycubic has released two new unique texture 3D printing filaments, Silk and Matte PLA, which are available in multiple tones and colors.
The Kobra Plus 3D printer will be available for purchase from the Anycubic store and other select channels on 15th June 2022 at an early bird price of $399 for the first 2,000 printers sold. Once this initial run is sold, the Kobra Plus will retail at $499. Those interested can subscribe for an early bird notification here.
Subscribe to the 3D Printing Industry newsletter for the latest news in additive manufacturing. You can also stay connected by following us on Twitter and liking us on Facebook.
Looking for a career in additive manufacturing? Visit 3D Printing Jobs for a selection of roles in the industry.
Subscribe to our YouTube channel for the latest 3D printing video shorts, reviews, and webinar replays.
Featured image shows the Anycubic Kobra Plus. Image via Anycubic.