America Makes, the Ohio-based national accelerator for additive manufacturing, has announced that it will open its third Satellite Center for 3D printing research and applications. The new center will be opened at the National Institute for Aviation Research (NIAR) located on the campus of Wichita State University (WSU), a platinum-level member of the America Makes institute. The center will focus primarily on 3D printing applications in aerospace.
The location of the third Satellite Center was established through an MoU between America Makes and WSU-NIAR, which was revealed at the America Makes TRX+ event, held at the National Center for Aviation Training (NCAT) in Wichita state. 
"On behalf of all of us at America Makes, we are pleased to announce the selection of NIAR as the site of our third America Makes Satellite Center," said America Makes Executive Director John Wilczynski. 
"As our next America Makes Satellite Center, NIAR will have the unique distinction of being our first industry-specific Satellite Center solely focused on advancing the use of additive manufacturing within the aerospace industry."
Accelerating the adoption of 3D printing in America
Headquartered in Youngstown, America Makes was founded by the U.S. Department of Defense (DoD), and is managed by the National Center for Defense Manufacturing and Machining (NCDMM). With 220 member organizations from government, industry and academia, the national accelerator aims to create a hub of advanced manufacturing innovation. It is part of the Manufacturing USA network, and has taken great strides to push forward and promote the rapid adoption of additive manufacturing in a multitude of sectors. 
Among its achievements, the institute has helped the U.S. Army launch a program to integrate additive manufacturing into its supply chains; it has established a national 3D printing education program; and it has also unlocked a wealth of research opportunities specific to the sector. Significantly, America Makes has collaborated with organizations like the American National Standards Institute (ANSI) to develop an additive manufacturing roadmap as well.
Expanding its reach to push AM forward
America Makes Satellite Centers are designed to extend the reach of the accelerator's mission to advance the progress of additive manufacturing in the United States. The first Satellite Center was opened in 2015, at the Keck Center, University of Texas. In March 2019, a second Satellite Center was earmarked for Texas A&M Engineering Experiment Station (TEES), a part of Texas A&M University System in College Station, Texas. The third center at NIAR differs from the other two Satellite Centers as it focuses specifically on applications of additive manufacturing in the aerospace industry, as per its expertise. America Makes will work with NIAR to certify and qualify additive technologies for use in aerospace.
"Our goal for the Satellite Centers is to leverage the existing collaborative partnerships and further grow them into a larger ecosystem of additive specialization," comments Erin O'Donnell, America Makes Director of Partnerships & Community Relations. "With NIAR joining the America Makes Satellite Center infrastructure, we are very excited to focus on certifying and qualifying additive technologies within the aerospace sector." 
"The outcomes of such an effort are poised to have a tremendous impact on our membership community, the aerospace sector, and the additive manufacturing industry."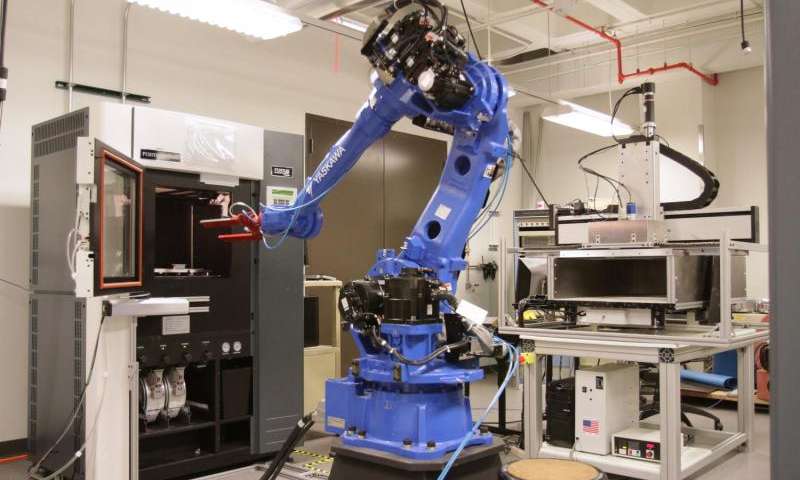 Subscribe to the 3D Printing Industry newsletter for the latest news in additive manufacturing. You can also keep connected by following us on Twitter and liking us on Facebook.
Looking for a career in additive manufacturing? Visit 3D Printing Jobs for a selection of roles in the industry. 
Featured image shows Wichita State's National Institute for Aviation Research. Photo via WSU.