3D printing news to be Sliced today features: 3D Hubs, IKEA, Bea Åkerlund, DyeMansion, Materflow, Wazp, Roboze, Inovsys, Fridman Gallery, Spatial and Made in Space.
3D Hubs announces winners of 2017 Student Grant
Online 3D printing platform 3D Hubs has announced the winners of its annual student grant competition. The $500 grant is awarded to three students across the three different categories of: Product Design, Architecture and Engineering.
In the category of product design, Loughborough University's Abidur Chowdhury won the top prize for her 'Aer' design. The system is intended for those who sufferer with asthma to encourage them to take their medication.
The winner in the engineering category was Dani Clode's Third Thumb prosthesis. The Royal College of Art graduate was awarded for her novel approach to the concept of artificial limbs.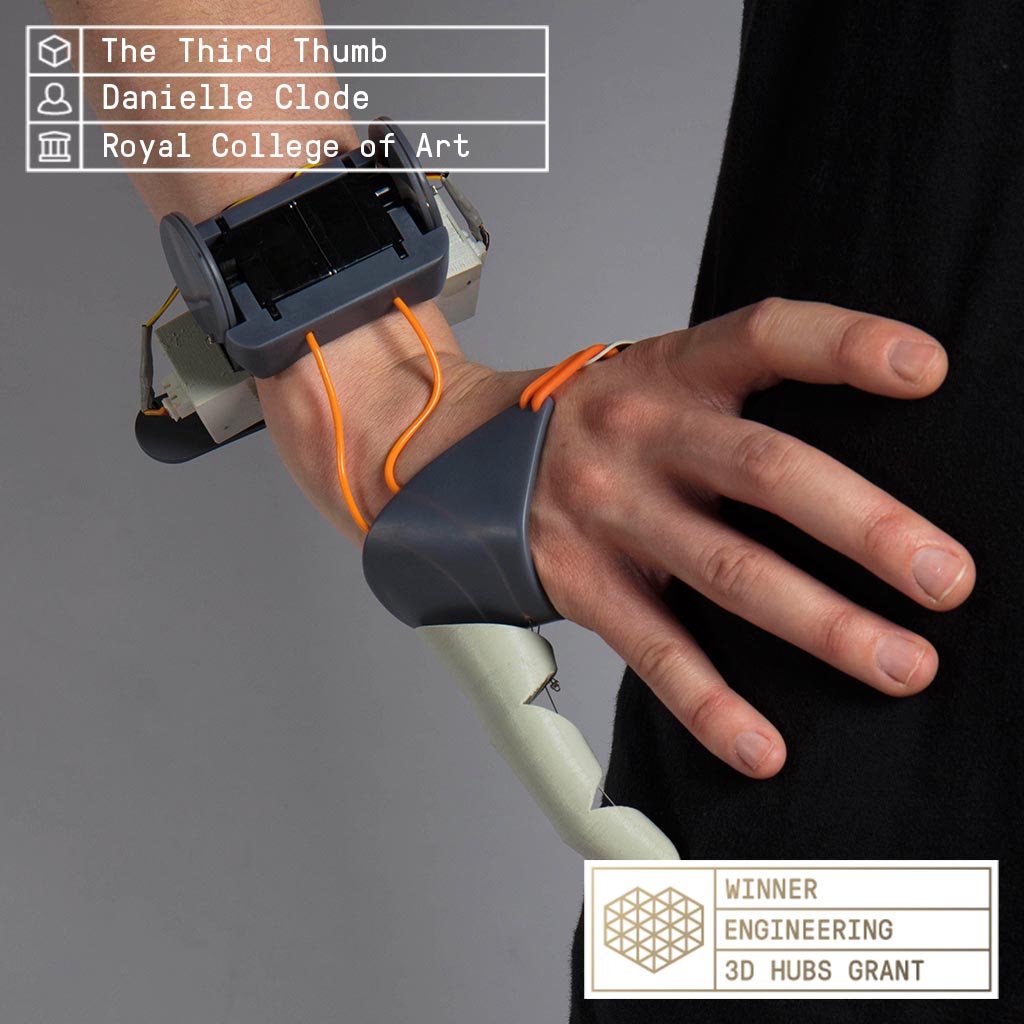 Finally, the winner of the architecture category was the Micro-Housing design by Deniz Haklar and Jordan Gracia from Rice University. The Texan university has become a hub for 3D printing research in recent years and has recently been given a $5 million grant for 3D printed cancer research.
Roboze to develop aerospace and medical materials with Inovsys SAS 
Italian 3D printing company Roboze has signed a partnership agreement with technology company Inovsys. Based in France, Inovsys will acquire a Roboze 3D printer as part of the agreement and work on developing new materials for aerospace and medical applications.
Roboze recently updated its product line with an upgraded Roboze One 3D printer to operate with a larger range of materials.
IKEA introduces 3D printed OMEDELBAR collection 
Swedish retail company IKEA, famous for its flatpack furniture, has revealed it is venturing into the world of 3D printing. The collection is result of a collaboration with stylist Bea Åkerlund, famous for working with the likes of Madonna, Beyoncé, Lady Gaga, and Rihanna.
The first 3D printed item in the collection is a decorative hand which, as IKEA points out, demonstrates the increased possibilities of additive manufacturing. Leading the project is Jakub Pawlak, Trader Free Range IKEA Poland, and he explains the motivation for IKEA to stay ahead of manufacturing trends,
Traditionally the technology has been used for prototyping in high-tech industries or moulds used for traditional production methods. Now, we are closing fast on the breaking point where 3D is cost efficient in mass production. In that context, the OMEDELBAR hand will have its place in design production history,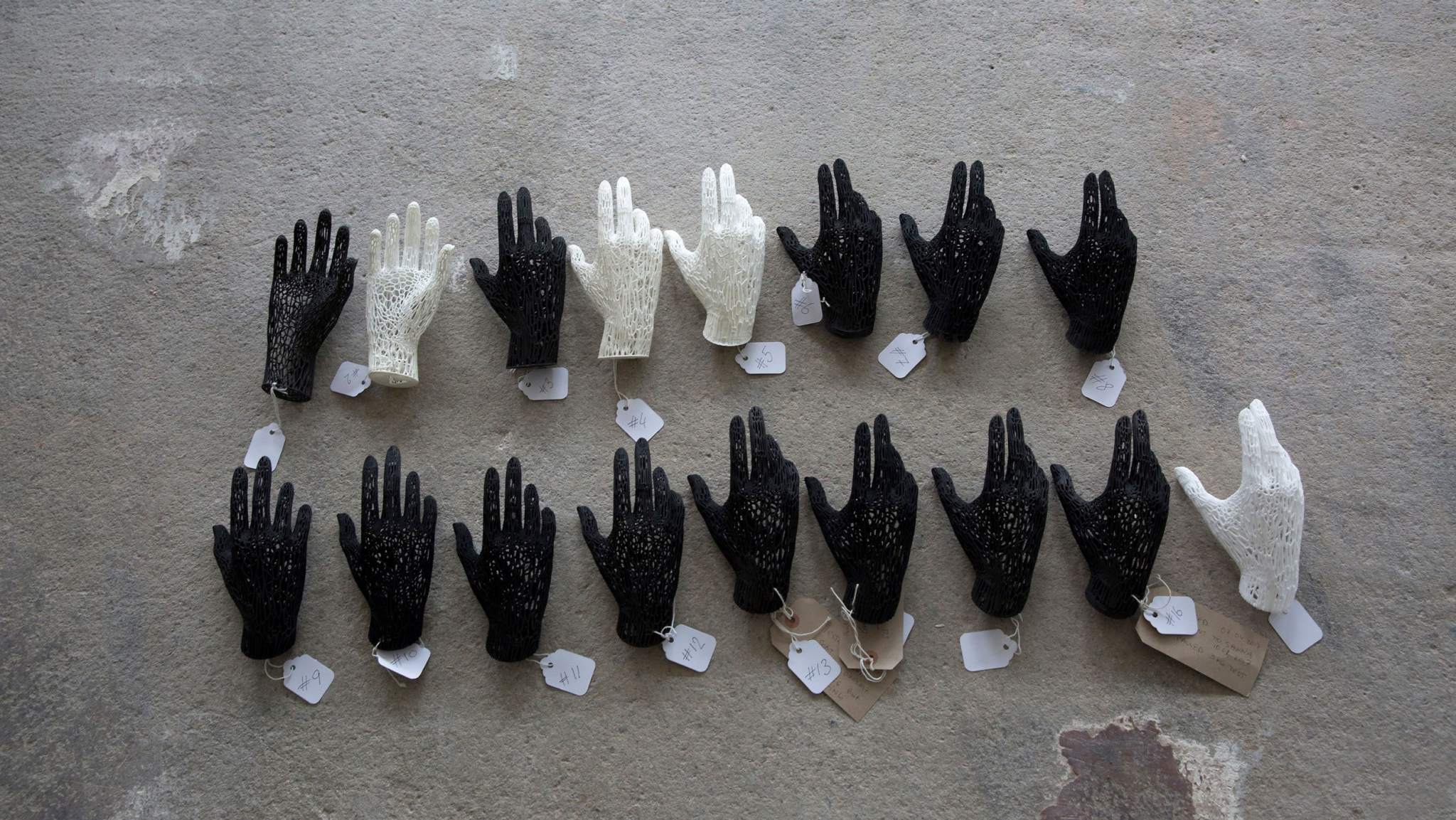 IKEA is collaborating with a cluster of companies to produce the hands which are set to go on sale some time next year. Irish 3D printing bureau Wazp has been enlisted to manage the supply chain of the hands, while Finnish company Materflow is entrusted with 3D printing. Once printed on a Selective Laser Sintering 3D printer, German post-processing company DyeMansion handles the finishing touches. DyeMansion has developed a range of systems to add color to 3D printed parts.
NYC Gallery to present 3D printed Chelsea Manning exhibition 
The Fridman Gallery in New York is set to host a unique exhibition dedicated to 3D printed portraits of former U.S Army soldier, Chelsea Manning. Artist Heather Dewey-Hagborg has created 30 3D printed portraits using DNA of the transgender ex-soldier sent from prison.
Having been incarcerated in 2013 for leaking sensitive information to WikiLeaks, pictures of Manning were prohibited. This prompted Heather Dewey-Hargborg to generate possible portraits of Manning using DNA from cheek swabs and hair clippings. Manning was released in May and the project has been the result of two years of development.
Spatial Corp launches new web-based 3D modelling viewer
Colorado company Spatial Corp, a subsidiary of French software providers Dassault Systemes, has launched a new online 3D viewer platform. The system allows users to view 3D models in a wide range of CAD formats on any browser-compatible device.
The platform is intended to protect data by only allowing specific data to be shared and also to reduce file sizes. Senior Product Manager at Spatial, Brian Rohde, explains,
Spatial has worked diligently to deliver a simple, easy-to-use interface for users to be able to load their 3D models and go. During the development of this viewer, we focused on best practices to ensure we delivered the best performance possible. As a result, large models can be viewed in a matter of seconds.
Dutch surgeons implement 3D printed guides in cardiac surgery
Surgeons at the St. Antonius Hospital in the city of Utrecht, Netherlands have used a 3D printed guide of a patient's sternum in heart surgery.  The 3D printed breast bone was used to help secure the sternum following cardiac surgery.
With the guide, the surgeons noted a considerable reduction in surgery time. Using the 3D printed model for the first time, the surgeons were able to complete the procedure in an hour and a half rather than the usual three hours.
Made in Space expands material use on ISS
Made in Space, creator of the microgravity 3D printer aboard the ISS, has begun using advanced polymer – PEI/PC. The 3D printer, known as the Additive Manufacturing Facility (AMF), has previously been printing in ABS but the PEI/PC material is up to three times stronger.
As a result, Made in Space hopes more functional parts can be produced with the machine. President and CEO of Made In Space, Andrew Rush said,
Made In Space is proud to add PEI/PC to the suite of materials it is manufacturing in space with. Our team has been regularly printing parts in space with AMF for over a year now. This unparalleled knowledge base of in-space manufacturing operations will enable us to deliver future in-space manufacturing solutions in the most cost effective and efficient ways possible.
UK's $100m space boost 
Elsewhere in the aerospace industry, the British government has pledged $100 million to the development of a new satellite facility in Oxfordshire. The facility will be developed at the Harwell science campus near Oxford and is expected to be completed by 2022. It will be known as the National Satellite Testing Facility (NSTF) and is intended to support satellite production in Britain.
British company Surrey Satellite Technology is one company that may benefit from the NSTF as it ramps up its use of 3D printing in satellite production. Jo Johnson, the UK's science minister said,
From Cornwall to the Highlands and islands of Scotland, the UK space sector underpins industries worth more than £250bn to the UK economy, and through our Industrial Strategy we will unlock the sector's potential to grow further. Located in a cluster known for research excellence, these new facilities will help UK companies be more competitive in the global market for space technology and support our ambition to capture 10% of the global space market by 2030.
Fly fossilized in 3D printed part
Finally, presenting the "21st Century fossil". Dr Richard Johnston, an associate Professor of engineering at Swansea University, has shared images on twitter of a fly lodged in his 3D print. The part has since been dubbed a modern day fossil and one can only hope future archaeologists find the part causing widespread confusion.
For all the latest 3D printing news, subscribe to the most widely read newsletter in the 3D printing industry, follow us on twitter and like us on Facebook.
Featured image shows the Sliced logo over an image of the 3D printed OMEDELBAR hands. Original image via IKEA Today.