3D printing is making strides in helping the blind and partially-sighted communities to 'see' the world around them in new and innovative ways.
From simpler objects like 3D printed puzzles with Braille inscribed on them and characters from children's books to paintings, maps, and even an individual's memories, this technology is making small but important breakthroughs in how visually impaired people perceive their environment.
Curated 3D printables platform, MyMiniFactory has several objects on their site available for free download that are aimed at helping visually impaired children. They partnered with two high schools of Ioannina in Greece in which students were asked to design objects carrying messages written with the Braille alphabet. The objects were then shared with blind children in order to use 3D printing as a way to create a new medium of collaboration between blind and non-blind people.
1. Book Illustrations
Designer Eva Sbaraini transformed characters from the French book Le Petit Prince (1943) into 3D printable models for blind children.
"The initial concept behind transforming the illustrations from 2D to 3D was to create resources to improve the experience of literature for the blind and partially sighted through rendering illustrations and graphics from well-known fiction into tactile objects and reliefs," says Eva.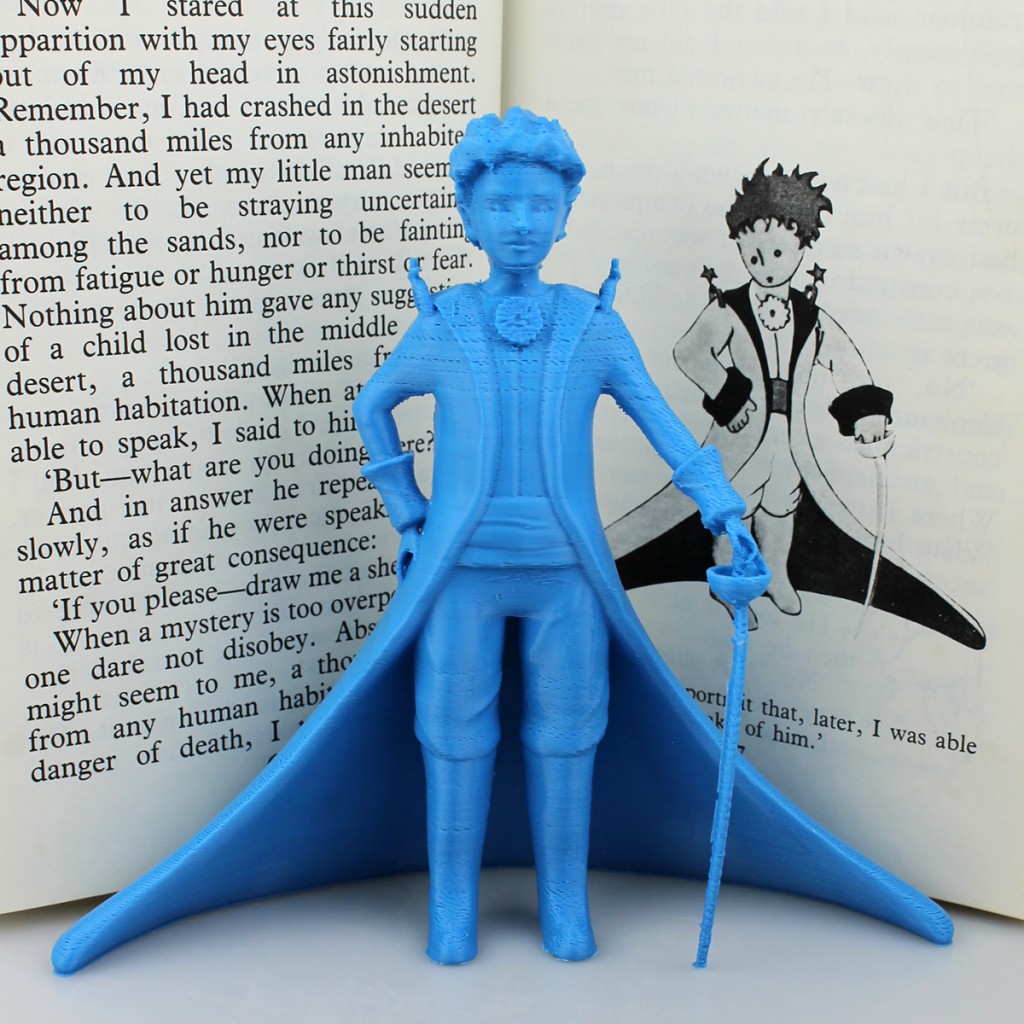 2. Touchable Works of Art
Can you imagine being born without your sight or going blind later in life from a disease? When people try to explain what something looks like to you or you try to remember what a photo from a particular event looks like, it just isn't the same as seeing it for yourself.
People around the world are coming up with ways to let blind people 'see'. John Olson, a former photographer for LIFE magazine, has co-founded a company called 3D PhotoWorks that developed and patented their own printing process for works of fine art.
"It's a three step process, in which we in step one take any conventional two dimensional image and convert it to 3D data. Once that data has been converted, we send it to a machine that sculpts the data out of a block of substrate. It gives that image length, width, depth and texture. And once that's been sculpted it goes through a printing process where we lay the image back down on top of the relief in perfect registration. So what you end up with is a three dimensional print that has length, width, depth and texture," said Olson.
3. Navigating Space
Members of the Hasso Plattner Institut (HPI) have developed a display system for the blind using a 3D printer printhead called Linespace. It is basically an interactive "visualization" system for the blind in which maps are created using a voice controlled computer.
"We use Linespace to give blind users access to the type of software packages that normally only sighted people can access, namely the type of software that helps them to make sense of complex data. So far, we have created a simple homefinder program, a spreadsheet program that can read and write Microsoft Excel, two simple games, and a simple programming environment," explain the creators of the system.
4. Reliving Moments
So now, the visually impaired can interact with their favourite books, artworks and computer software, but what about their own memories?
'Touchable Memories' is a social project that 3D-prints old photos for the blind so they can touch, feel, and relive their cherished moments. Think of it as Braille for photos. Developed by Spanish creative agency LOLA for troubled startup Pirate3D, the purpose of this experiment is to show how technology and 3D printing can be used to make an impact in people's lives.
Even if you only went blind later in life, you have the memories of looking at photos, but those memories gradually fade and you are left with only a distant, hazy thought of a special moment in your life. This project makes a memory tangible again so that blind people are able to remember those special moments like never before.