Voting in 2018 3D Printing Industry Awards closes in one week. Then on May 17th, leaders in the 3D printing industry will meet in London for the announcement of the winners.
At our gala-event, the winners will be presented with a unique trophy. As in the previous year we asked MyMiniFactory to invite their global community of 3D designers to submit ideas for the trophy. This year we also worked with Protolabs to realize the winning design. Protolabs is the world's fastest manufacturer of custom prototypes and on-demand production parts.
From over 100 designs, and after much discussion with our partners at Protolabs and MyMiniFactory, we selected the wonderful Triumph Spire by Sruthi Venkatesh as this years winner.
A Protolabs spokesperson said, "This winning design really caught our eye as a team, for its originality, intricacy and complexity. The design really showcases the level of projects that 3D Printing is now able to reach, and what designers and engineers can expect to obtain to help take their products further. A great design, and congratulations to Sruthi."
Focus and determination
Sruthi is currently studying at The Bartlett School of Architecture, University College London and working on working on her thesis, the design and manufacture of a robotic observatory as part of the University College London Observatory. I asked Sruthi about the thinking behind her winning design.
"The structure and design of the Triumph Spire consciously incorporates prominent twists and turns. This symbolizes the idea for the 3D Printing Industry Awards that, despite complex twists and turns, anything can be achieved when one works with focus and determination.
The form of the trophy was envisioned to be fragmented into smaller components with microfeatures rather than a complete singular solid form. Each fragment was oriented to face a different axis in order to create a dynamic effect. This gives the trophy a sculpted look and creates a different visual effect at each side. The center portion was left solid to accentuate the surrounding microfeatures.
The trophy was consciously designed to exploit the advantages of 3D printing. Traditionally, making nested microfeatures was a tedious task. However, currently with additive manufacturing like 3D printing, the same can be made with ease."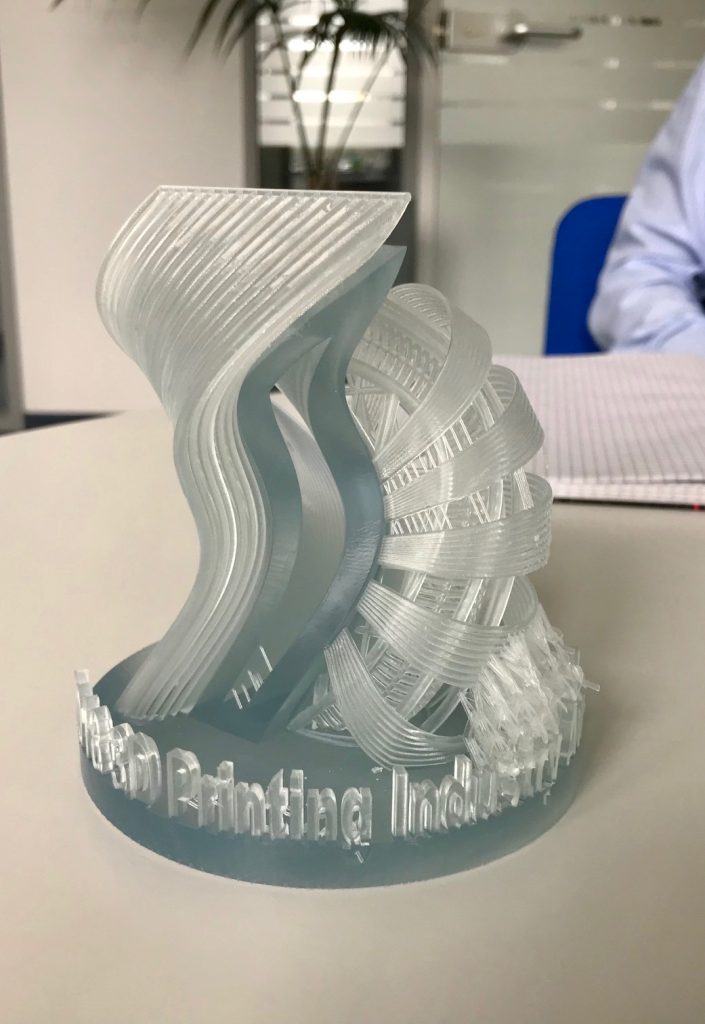 A robotic observatory
Sruthi is currently focused on her thesis at the Bartlett School of Architecture, a project that makes extensive use of her 3D design skills and utilises 3D printing.
"At present, I am working on my thesis which is to design and manufacture a robotic observatory as part of the University College London Observatory. It is a group project wherein each person has a specific role. Most of the design process is done in Fusion 360, a cad/cam software.
It has a collaboration feature which allows multiple members to work in a single file making the file management easier. Within the software, we create components that can be test fitted, and this is followed by the process of simulating the motion of the components which helps us understand the feasibility of the working of the joints.
Also, it is a simple and straightforward process to 3D print from Fusion 360. So far, we have been 3D printing the mechanical joints and smaller parts of the enclosure for quick testing of fragments of our design.
My role in the project is to solve the technical requirements of the enclosure such as vibration control and reduction of dew formation through exploring the enclosures of the skin design. I would like to explore the possibilities of manufacturing the entire panel through 3D printing in the upcoming days."
Autodesk's Fusion 360 was a winner in the 2017 3D Printing Industry Awards. For 2018, our readers have nominated Autodesk Netfabb as one of the leading 3D printing software tools.
3D printing and the built environment
"I have always been fascinated with the construction industry and how it is adapting to changes in the way things are being manufactured, the fascination of which led me to choosing the program I am currently studying in UCL.
One of the factors that interests me about 3D design is that it is a widely used and accepted platform for communicating concepts and is used right until the execution/construction stage.
The direction of prefabrication processes is heading from file to factory towards file to site. Mobile 3D printers could be deployed at sites for construction thereby subsequently reducing construction time and resources.
MIT has successfully deployed a mobile 3D printer which 3D printed a concrete structure in less than 14 hours. I believe the potential for 3D printing on site is immense. The process of 3D scanning and 3D printing damaged/incomplete parts of historic buildings, like Antoni Gaudi's Sagrada Familia which is being constructed, also intrigues me."
We look forward to welcoming Sruthi at our gala dinner on May 17th, and thanks to all those who entered designs this year.
Make your vote in the 2018 3D Printing Industry Awards before the form closes on May 10th.
If you'd like to attend this years event we have a very limited number of tickets available. Contact us for more details.
More outstanding designs for the 2018 3D Printing Industry Awards trophy
With so many designs to choose from, it was not an easy task to select a winner. Here is a short selection of some of this years favourites.
For all the latest 3D printing news – subscribe to the 3D Printing Industry newsletter, follow us on Twitter, and like us on Facebook. Follow the Awards with the hashtag #3DPIAwards.
The 3D Printing Industry Jobs is live. Post a job or discover your next career move now.